There's no doubt that Americans are obsessed with avocados.
From avocado toast to guacamole and even macaroni and cheese, there's pretty much no limit to how we use this creamy, versatile fruit. But can you ever have too much of a great thing? Well, get your toasters ready, folks, because a woman in Hawaii thinks she may have come across the biggest avocado in the world.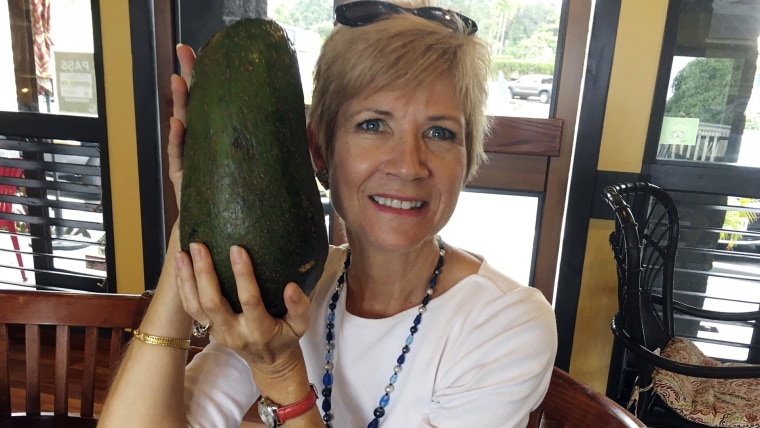 Pamela Wang of Kealakekua, Hawaii says she stumbled upon the 5-pound avocado during a walk. She says she knew instantly that she had found something special.
"I see avocados every day, and I pick up avocados every day, but this one … it was hard to miss," Wang told West Hawaii Today. "It was as big as my head."
Wang took the giant fruit to her local farmers market, the Pure Kona Green Market, and showed it to various produce purveyors. This particular avocado isn't a Hass — the variety commonly found in most supermarkets today — but rather an oblong-shaped variety type known as a "Daily 11," which are about three times larger than the standard fruit. The giant avocado Wang found had actually fallen from a neighbor's tree.
After conferring with other friends and local experts, Wang decided that her avocado might really be something special so she contacted Guinness World Records to see if she had a true record holder on her hands.
So is Wang's fruit big enough to mash the competition?
"We can confirm that we have received an application for the Guinness World Records title of heaviest avocado," a representative for Guinness World Records told TODAY Food when asked about Wang's submission. "Our Records Management Team will need to review any evidence submitted by the applicant."
Guinness says it receives nearly 1,000 record applications a week so it can take their officials between 12 to 15 weeks to verify new world record holders. But Wang has a pretty good chance of claiming a new title soon.
"According to our database, the current record for the heaviest avocado is 2.19 kilograms (4 pounds 13.2 ounces)," a Guinness representative confirmed to TODAY via email. That avocado was grown by Gabriel Ramirez Nahim in Venezuela and officially weighed on Jan. 28, 2009 in Caracas.
Whether Wang's avocado is a record holder or not, we just want to know if it actually tastes any good! Like Hass avocados, Daily 11s also have creamy, green flesh but because they're so large, it's hard to keep them fresh.
We predict a whole bucket of guacamole in Wang's future — hopefully she'll share with her friends and that neighbor with the special avocado tree.