For some, Valentine's Day is all about love notes and stuffed teddy bears. For others, it's the perfect excuse to indulge in a pricey three-course meal, followed by an impossibly large box of chocolates. And why not? It was known as the "feast" of St. Valentine, after all.

V-Day is the second most popular holiday for dining out (Mother's Day wins that prize), and last year, one-quarter of Americans were expected to eat in a restaurant with their loved ones, according to the National Restaurant Association. Even President Obama managed to take the first lady out on the town.
As the holiday falls on a Friday this year, there should be no shortage of diners willing to brave crowded rooms and unusually expensive menus for a candlelit culinary experience. But while there are so many restaurants offering special V-Day menus this year, there are a few that stand out for creativity.
Here are five unusual options for Valentine's Day feasting: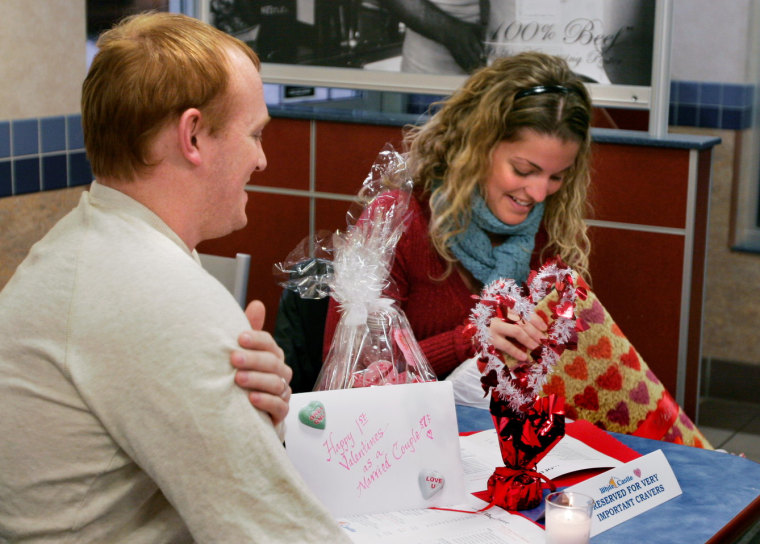 A Beyonce-themed menu at Brucie
Diners whose love for Queen Bey rivals their love for their significant other may want to check out Brucie's Beyonce-themed dinner in Brooklyn, which includes cleverly named dishes like "I Am Pasta Fierce" and "Jay-Ziti." Of course, patrons will get to nosh to the sounds of Beyonce and Jay-Z all night long.

"My general manager, Megan, and I were thinking of what we could do for this year's Valentine's Day to make it special," Brucie owner Zahra Tangorra told TODAY.com. "We looked at each other and naturally thought Beyonce. She's having her moment now, and we've been listening to her record nonstop."
The theme may be playful, but the food will be as carefully calculated as an album by the pop queen herself. 

"Everything we do is always matched by the seriousness and integrity of the food," Tangorra said. "We have a young and ambitious and creative staff."
This isn't the first time they've hosted a themed holiday dinner: In years past, they've held a "True Blood" themed V-Day meal and a "Christmas on Halloween" dinner. Check out the full menu for this year's (non-prix fixe!) special here.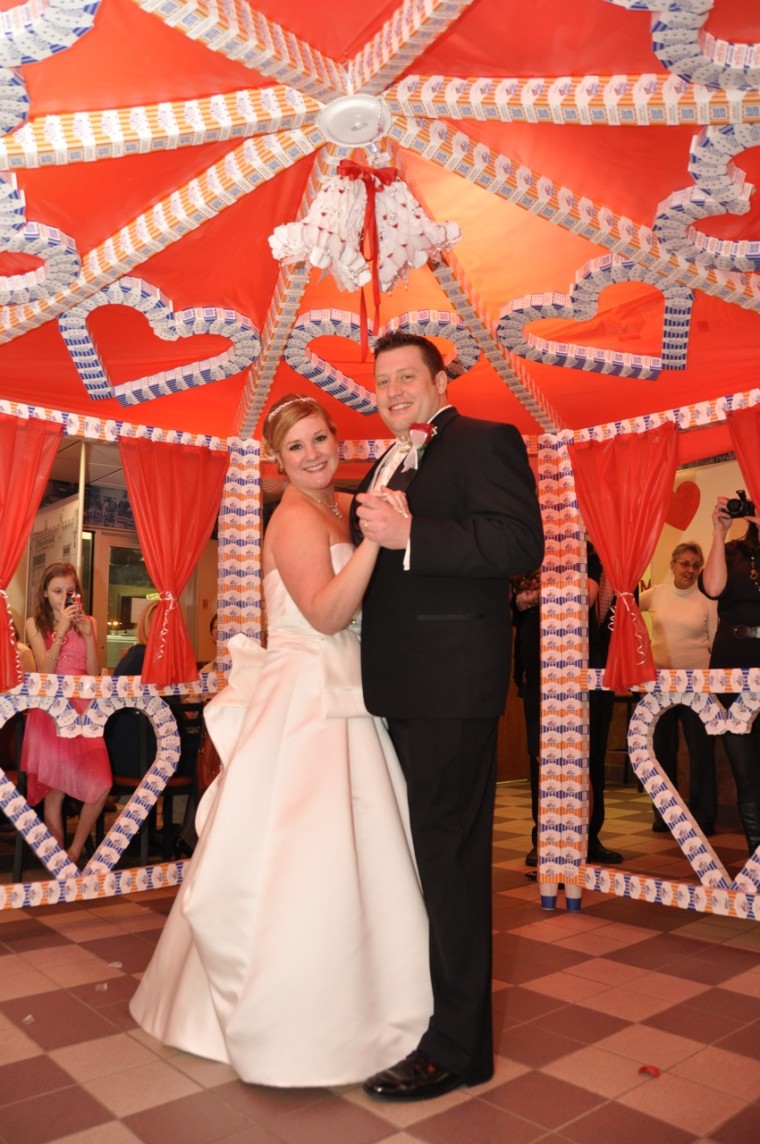 White Castle
Every Valentine's Day, White Castle's 400 locations turn into "Love Castles," featuring printed menus, white linen tablecloths and dinner by — in some cases, hamburger-scented — candlelight. Stores are decked out with red and white lace and suspended cupids.

Getting in on this fast food love fest will require some planning ahead: The dinner requires reservations, and all locations were booked up last year.
"We expect an even bigger turnout this year, and have extended hours — starting earlier and ending later so we can make sure more people get the chance to satisfy their Valentine's Day cravings," White Castle vice president Jamie Richardson told TODAY.com.
The tradition started over 20 years ago in St. Louis and Minneapolis, according to Richardson. This year, 10 weddings will take place in a White Castle on the big day.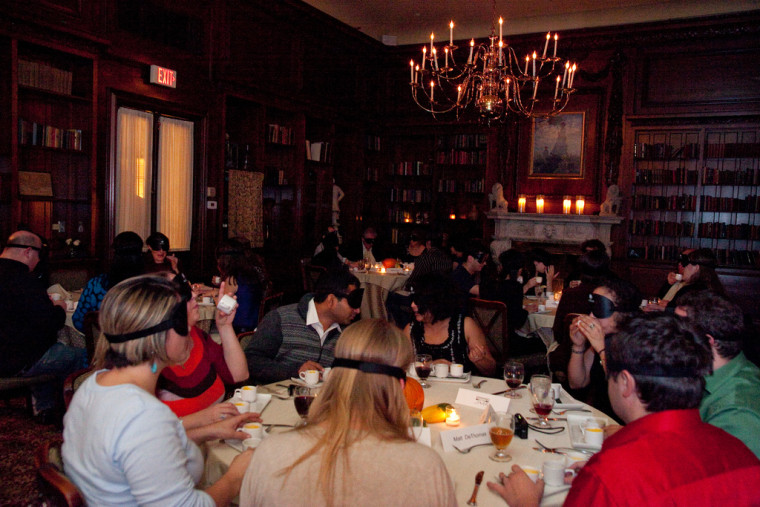 Dining in the Dark
Blindfolds aren't just for the boudoir anymore — they're showing up in restaurants too. At Boston's Dining in the Dark, blindfolded lovebirds can enjoy a four-course meal in a turn-of-the-century mansion with wine and music.

Now this isn't necessarily the most romantic choice: Diners can't see their dates and will be seated with strangers. The upside? It's an opportunity to experience food in a sensuous new way — and no one will be blamed for bad manners.
While Dining in the Dark is exclusively in Boston, there are several other establishments offering similar experiences in cities across the country. 
'Downton Abbey' dinner
Valentine's Day on "Downton Abbey" offered plenty of intrigue this year: Anonymous notes! A love card for Lady Edith! Married men on the prowl!

For those wishing to spend the year's most romantic holiday in high Eduardian style à la their favorite television lords and ladies, Western Reserve Public Media is hosting a "Downton Abbey" themed benefit dinner at the Sheraton Suites Akron-Cuyahoga Falls in Cleveland, Ohio.
Dining like an aristocrat isn't cheap: The $125 tasting menu includes "Lady Mary's Crab Canapes" and "The Crawley Sisters Stuffed Mushrooms."
"Attendees will enjoy a fabulous multi-course meal that would make Mrs. Patmore beam," station spokesperson Toni Hayumi said in a statement. "That will be followed by a dance performance by Akron's Martell School of Dance. The dancers will then invite those who are interested to receive basic waltz instruction, just in time for the live music to begin."
Guests are encouraged to don their finest '20s attire.
McDonald's
On a budget, or just have a hankering for a Quarter Pounder with cheese? This year, select McDonald's restaurants across the country will be offering a candlelit dinner with free musical entertainment.

At the McDonald's in Napoleon, Ohio, large sandwiches will be "buy-one-get-one-free," and diners can end their meal with a special strawberry shortcake for dessert. The tradition started over 14 years ago, and has proven to be an enticing option for diners looking to celebrate on a budget.
"It's very popular," general manager Deb Stevenson told TODAY.com. "We're standing room only for part of the time."