/ Source: TODAY contributor
Take a walk through the French Quarter in New Orleans and it seems that almost every other sign you see touts a muffuletta sandwich; but the original, that dates back to 1906, is available only at Central Grocery on Decatur Street.
The muffuletta is one of the largest sandwiches in our search, the bread measures 10 inches round, and while the descendents of the original sandwich inventor may tell you that many of the people who order the sandwich share this delicacy … our visit found a dozen or so people enjoying the entire sandwich by themselves. The secret ingredient, besides the special recipe for the sesame bread, is Central Grocery's homemade olive spread. It's by far the best olive spread that I've ever tasted, and when added to the meat and cheese creates a perfect balance between all the ingredients.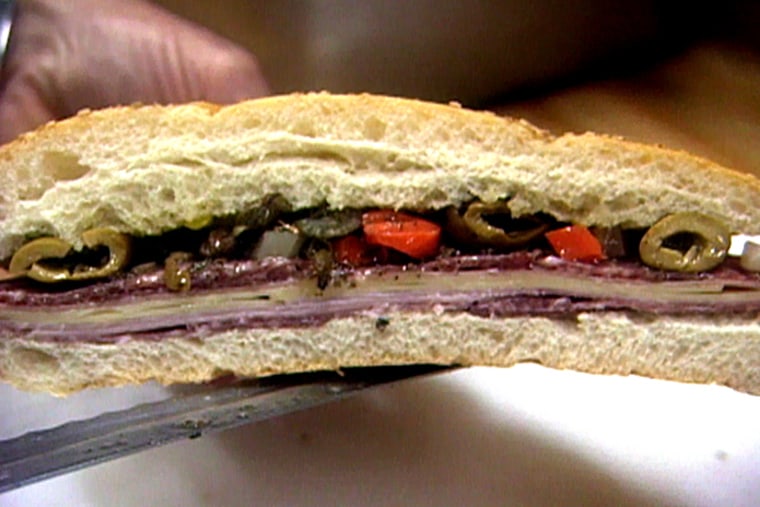 When I asked a few of Central Grocery's customers about the sandwich (and why it should be considered for the Best Sandwich in America), I found out that they were divided almost equally between local New Orleans residents who came in for the sandwich on a regular basis and very loyal visitors who made it a point to come for their muffuletta every time they come to the French Quarter. One male customer from Wisconsin, who'd just landed at the airport, came for the sandwich before he even checked in to his hotel. Another customer had been born and raised in New Orleans, but when she married moved to Maryland … she too makes Central Grocery her first stop every time she comes home.
Central Grocery is just that — a grocery store — with shelves lined with some of the finest imported Italian foods and wines. The store did have a little damage from Hurricane Katrina, but most of the original posters, some water-stained, still adorn the high walls … and if you close your eyes for a brief moment, you almost expect that when you open them you are back in the early 1900s waiting patiently on a long line for what just may be the Best Sandwich in America.Phil Lempert is food editor of the TODAY show. He welcomes questions and comments, which can be sent to phil.lempert@nbc.com or by using the mail box below. For more about the latest trends on the supermarket shelves, visit Phil's Web site at .