As someone who follows an anti-inflammatory diet, I'm constantly prepping leafy greens for meals — about 3 pounds every week on average.
Washing and drying all that produce is a total drag and it used to take me up to 10 minutes to prep a single head of beautiful (but completely dirt-filled) lettuce from the farmer's market.
And then I got what I think is the ultimate salad spinner and it's completely simplified my meal-prep routine.
OXO Good Grips Salad Spinner, $30, Amazon
This item is also available at Walmart, Bed Bath & Beyond and Sur la Table.
I actually owned my first OXO Good Grips Salad Spinner a few years ago and loved it then. I say "owned" because a former roommate liked my spinner so much that he took it with him when he moved out.
It comes in three pieces: a bowl, a colander-like basket and a lid with a handle that you pump to twirl water out of food. The device sort of reminds me of my favorite amusement park ride called the Gravitron — but it's for lettuce. As it spins around and around, centrifugal force pushes the water to the sides of the container, leaving behind perfectly crisp produce. It's easy to stop the spinning with the press of a button, too.
My ex-roommate and I aren't the only ones who are fans of this device. Over 2,000 people have given it a 4.5-star rating on Amazon and the people over at America's Test Kitchen also think it's the best salad spinner on the market.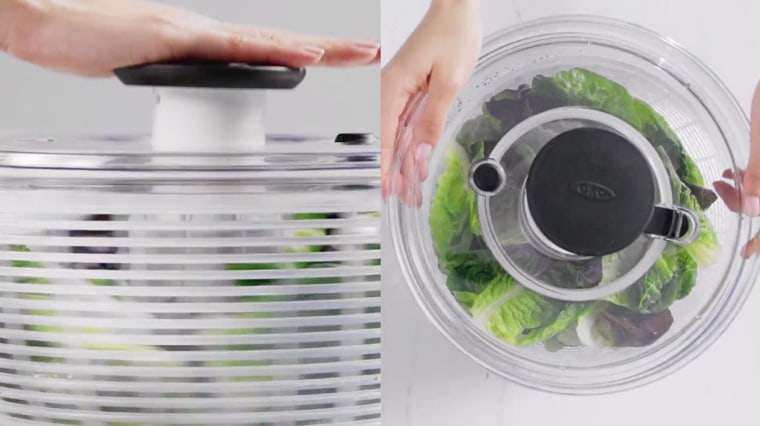 Here are five reasons why I love it.
1. It helps me use fewer paper towels.
I have a little addiction when it comes to paper towels. Just like potato chips, if I bring some home, they won't last long. I definitely use way too many at a time, especially when it comes to drying greens. Having this salad spinner back in my life has helped me cut down on my paper waste significantly. Also, it's pretty fun to use!
2. I can wash and dry my lettuces so much more quickly.
I'm a big fan of green leaf, red leaf and oak leaf lettuces — all of which are notoriously hard to clean because of their many folds. Without the spinner, properly washing and drying one or two heads would take up way too much valuable Netflix-binging time.
Romaine lettuce collects a smaller amount of water, but still gets a quick spin. I sometimes eat smaller lettuces like pre-washed arugula and mixed baby greens right out of the bag if I'm super lazy, but I usually prefer to give them a good rinse, too. Surprisingly, this salad spinner does a great job at drying them while keeping the delicate leaves intact and unbruised.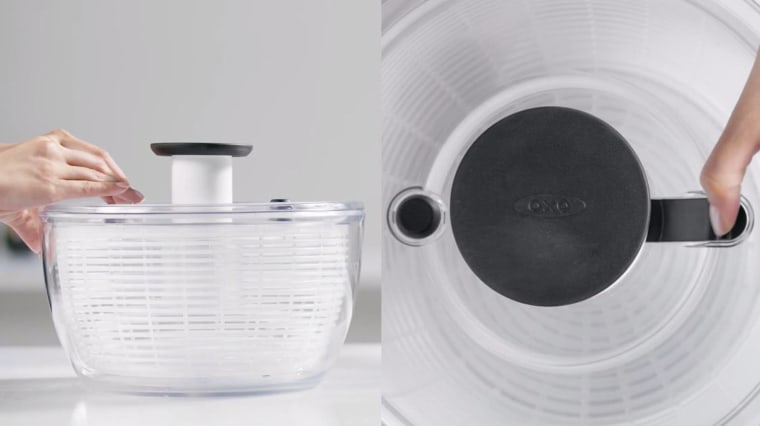 3. The basket doubles as a colander.
I place salad toppings like washed and chopped fennel and cucumbers (also anti-inflammatory foods recommended by my doctor) in the spinner's basket so excess water can drain out of each component.
4. The salad can be served in the clear bowl.
Plastic bowls are often pretty unattractive, but this one has a good shape that doesn't look out of place on the table of an elegant dinner party. Right now, I'm obsessed with the combination of peppery arugula with crispy fennel which I dress simply with lemon juice and olive oil and serve under pan-seared salmon.
5. It's very durable.
Before my former roommate walked off with my first spinner, I had used it for about six years and it was still in great shape. Another cool feature I appreciate is that the pump on top collapses and becomes flat with the touch of a button, making everything in the unit easy to store. Also, the spinner can be washed in the top rack of my dishwasher if needed, but I usually just give it a quick rinse and let it dry out in the dish rack — ready to go for my inevitable next salad.
OXO Good Grips Salad Spinner, $30, Amazon
This item is also available at Walmart, Bed Bath & Beyond and Sur la Table.