Forget crying over spilled milk.
Chopping an onion is what really brings on the tears in the kitchen, not just because it can be tricky, but because the vegetable's profuse fumes (or rather the chemical that turns into a sulfur-containing gas) make our eyes water.
At my house, we usually opt for holding a slice of bread in our mouths in an effort to soak up the fumes — or at least block them from getting to our eyes — but we still wind up in tears.
Crying while cutting isn't just uncomfortable but it obscures your vision, making the task for difficult and more dangerous. Plus, cutting any type of veggie into a supremely uniform size can be tricky and has resulted in more than one cut finger — at least for me.
We regularly cook spaghetti (because everyone in our family actually eats it without complaining) but our favorite recipe calls for chopped onions. But I never can seem to get them to be the right size. Usually, I cut them too big, because I simply don't know how to easily chop them in one batch.
During a recent visit to my father's house, I noticed a nifty little chopping tool. Insert veggie, push down and — violà! — the whole chopping process was complete. No crying or bleeding involved.
I was sold and hopped online to see what I could find. This particular tool falls under the category of vegetable choppers and they're not just relegated to onions. You can chop everything from tomatoes and peppers to cheese and eggs. Some don't work as well, however, for harder veggies like potatoes and carrots.
Adoric Life 3-in-1 Vegetable Chopper, $19, Amazon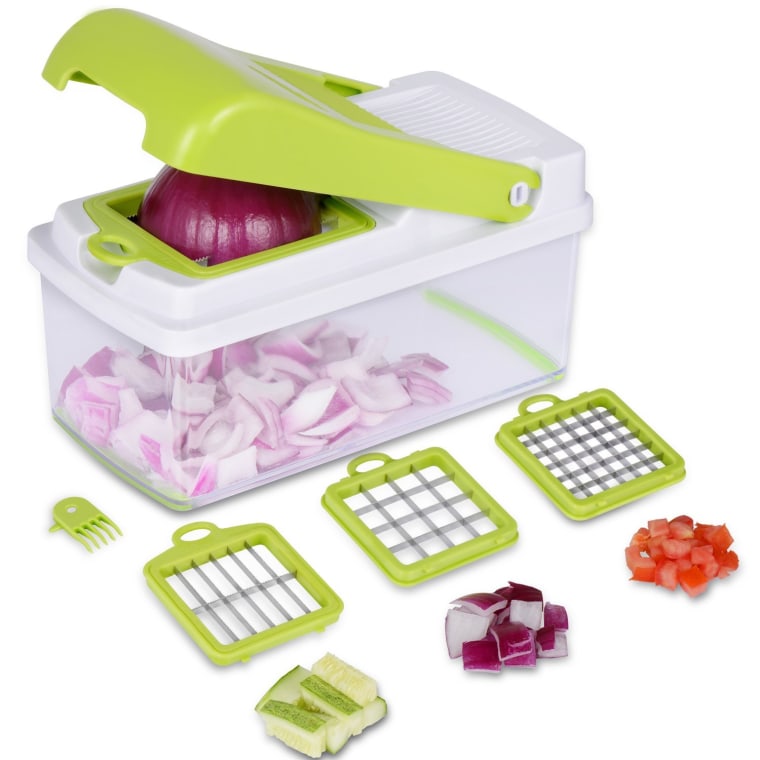 This versatile gadget comes with three different blades, giving you a range of cutting and dicing options. I put my new gadget to work immediately, chopping onions for spaghetti, of course. I first peeled the onion's skin and cut it into several large slices (you can also cut the onion into halves or quarters). I chose the smallest blade configuration and then placed each slice, one at a time, on the slicing insert.
Then all you have to do is push down on the chopper with a bit of pressure and your chopped veggies are collected in the plastic bin below
One of my favorite money-saving tricks is to buy blocks of cheese and cut them into squares rather than buying the higher-priced, pre-sliced cheese squares. They're a great after school snack for smaller snackers.
While it's easy to clean the chopper with a quick spritz in the sink, food does get stuck in the pieces, so the device comes with a small tool to remove stubborn residue. However, the blades on each insert are quite sharp, so be careful when switching and washing, and keep it away from children. This chopper also comes with a one-year warranty.
Perhaps the best part of it all, all the onion fumes stay in the plastic bin — and away from your eyes!
Here are some other top-rated choppers available on Amazon:
Fullstar Vegetable Chopper & Mandoline Slicer Dicer, $39, Amazon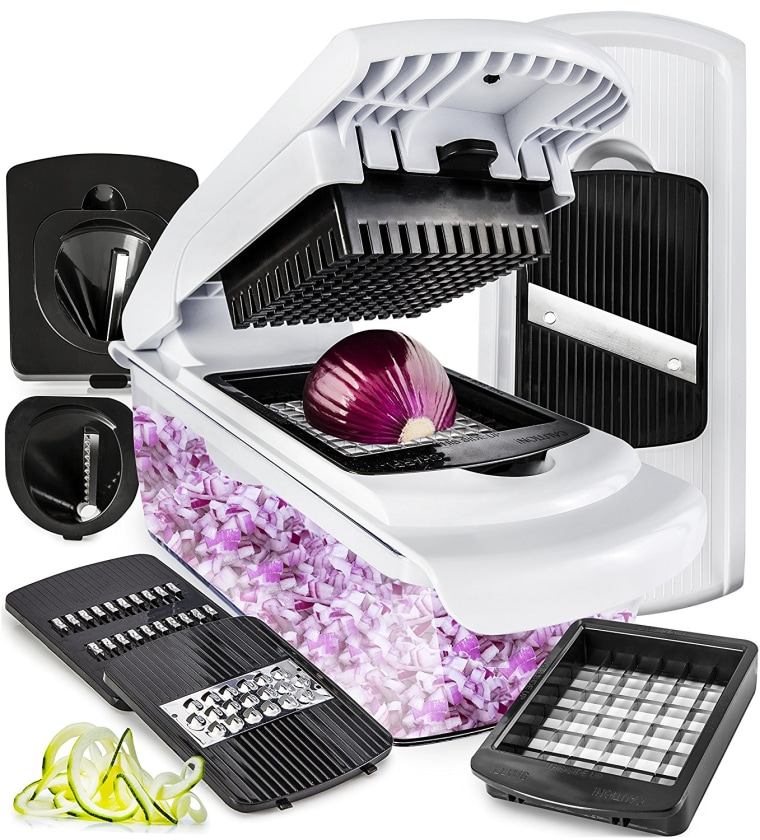 This device is likely the best deal if you can snag it on sale and it's also the top-selling chopper on Amazon. Not only does it chop vegetables, it also slices to make items like french fries or onion strings. You can also create delicate slices. It comes with a cheese grater and a blade for julienne-style slicing and can be washed on the top rack of your dishwasher. The company offers a 100 percent money-back guarantee if you're unhappy, too.
Onion Chopper Pro by Mueller, $22, Amazon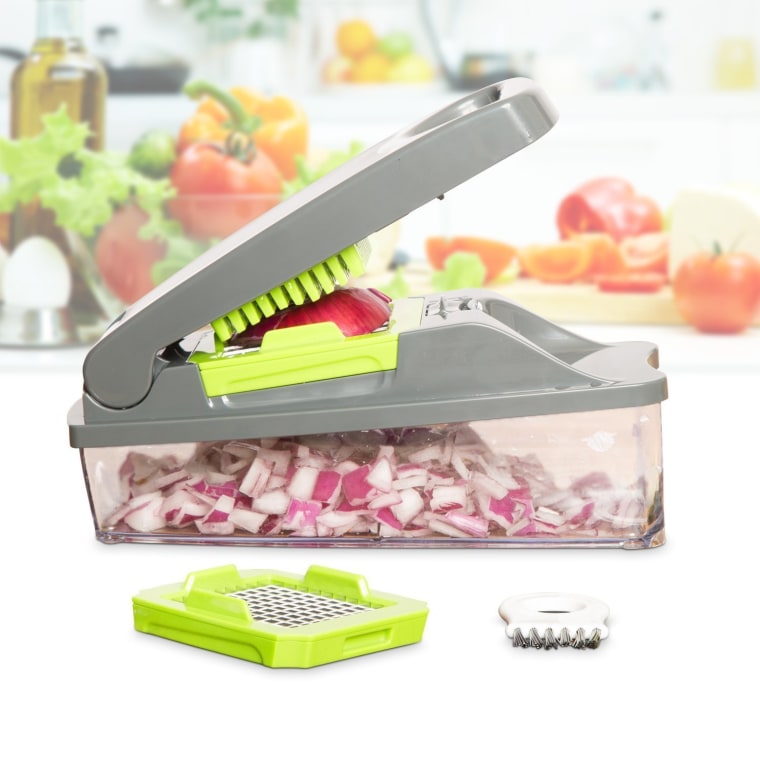 This option is ranked No. 2 among Amazon's best-selling vegetable choppers and promises to cut harder vegetables, as well. However, it only comes with two blades, so you won't have as much of a range of sizes. It is dishwasher safe and comes with a lifetime warranty.
Prepworks by Progressive Chopper, $18, Amazon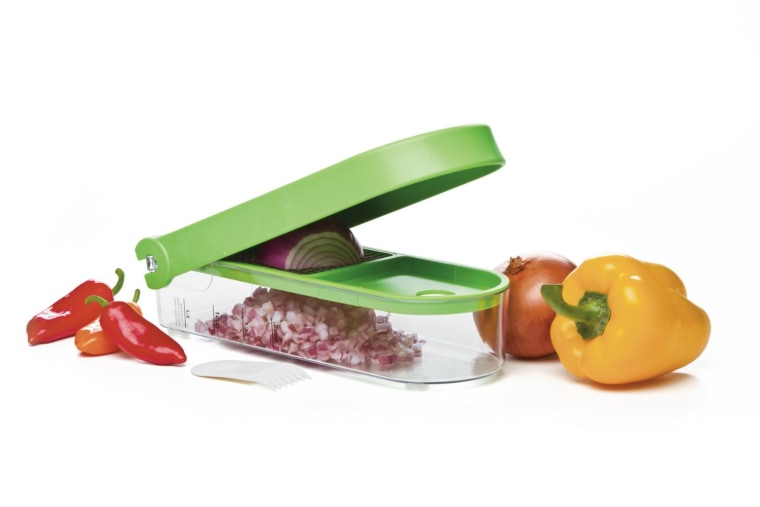 This option is the simplest and smallest of the bunch and it's designed specifically to chop onions, though the company says it can also handle peppers, cucumbers, apples and carrots. As a helpful addition, the plastic bin has measurements along the side, so you can quickly see how many cups you have chopped. It comes with just one blade, which dices finely, but you can wash it in the dishwasher.
Looking for more help around the kitchen? Check out Martha Stewart's favorite, must-have cooking tools.