Unless we're eating something right off the tree, it's hard to know which packaged foods are actually made solely with natural ingredients.
One reason is because the Food and Drug Administration (FDA) doesn't regulate the term "all natural" on products, which renders those words meaningless. Since there are now thousands of ingredients on the FDA's list of allowable food additives, any of them could end up on your plate.
The best definition of an "all-natural" food is one that contains no artificial flavors, colors or sweeteners. To know for sure which foods and drinks truly are natural, it's best to read their labels, or use a guide like one available at Eat This, Not That! It may take some extra time, but it's the best way to know what you're consuming.
My team at Eat This, Not That! traveled to the Natural Products Expo East in Baltimore, Maryland, and discovered plenty of the most delicious new products on the market. All of them are free from artificial flavors, colors and sweeteners, so you can really enjoy them — naturally.
Here are the 10 best new natural foods and drinks of 2018.
Swapples Frozen Waffles, $5.49 (usually $7), SwapFoods
This item is also available at retailers in the Mid-Atlantic region.
Made with starchy yuca root instead of wheat, this chewy, vegan frozen waffle is perfect to enjoy with a smear of cream cheese or vegan butter. They're available in sweet flavors (Blueberry and Cinnamon) and savory varieties, like Tomato Pizza and Garlicky Greens. The savory Everything Swapples are made with a sprinkle of everything bagel-flavored ingredients including sesame seeds, poppy seeds, onion, sea salt and garlic. Pop one in the toaster and it's ready in minutes. It's a savory breakfast for gluten-free and grain-free eaters.
Tip: Try topping the Everything flavor with cream cheese, avocado, eggs and greens. Top the Tomato Pizza flavor with cheese and basil. Top the Blueberry flavor with almond butter. Top the Cinnamon flavor with jams or jellies.
Lavva Yogurt, $3, Jet
This item is also available at Whole Foods, Wegmans and Safeway.
We're not exactly sure how Lavva founder and CEO Liz Fisher made this plant-based yogurt achieve a texture that's so similar to dairy yogurt, but we're excited that she did. It's made with cassava root, plantains and pili nuts, which are rich and buttery nuts that are cultivated in volcanic soil in Southeast Asia. The yogurt is sweetened with mango instead of cane sugar and the result is a creamy treat with 50 billion probiotic strains.
Tip: Top this yogurt with granola, strawberries, blueberries and shaved coconut.
Made In Nature Veggie Pops, $5 each, $30 for a pack of 6, Amazon
This item is also available at Walmart and Costco.
Here's a delicious all-veggie snack that's made without potato starch, rice or other common fillers. It's made with only vegetables, beans, nuts and seeds and come in three flavors: Broccoli Cheddar, Salt & Pepper and Sour Cream & Onion. The pops are full of kale, chickpeas, carrots, nuts, seeds and more. Altogether they are packed with vitamin B 12 and have 7 grams of protein per serving. Also, the delicious little super snacks are certified organic.
Taali Water Lily Pops, $4 each, $18 for a pack of 4, Amazon
Popped water lily seeds are a popular snack in India and have a long history of being used as an Ayurvedic medicinal food. But they are relatively unknown in the U.S. Taali, which was founded by two recent graduates of Harvard Business School, hopes to change that by offering popped lily seeds in a variety of flavors for different tastes, such as Tikka Masala, Sriracha Spice, Tangy Turmeric, Himalayan Pink Salt and White Cheddar. They are delightfully crunchy, deliver a touch of protein and won the Best Savory Snack category at Expo East.
Fishpeople Ready, Set, Salmon, $8, Fishpeople Seafood
This item is also available at GreenWise Markets and coming soon to AmazonFresh.
Smoked salmon is easily available, but this ready-to-eat oven-roasted wild Alaskan salmon isn't filled with as much salt. Salmon is packed with omega 3 fatty acids and protein and each serving is made without artificial colors, flavors, preservatives or antibiotics. Plus, it comes in three flavors: Slow-Roasted Original, Lemon Zest + Herb and Rainbow Peppercorn.
Tip: Try the pre-cooked salmon in salads, wraps and bowls.
Hail Merry Sweet Potato Cups, $2 to $3, Visit Hail Merry for locations.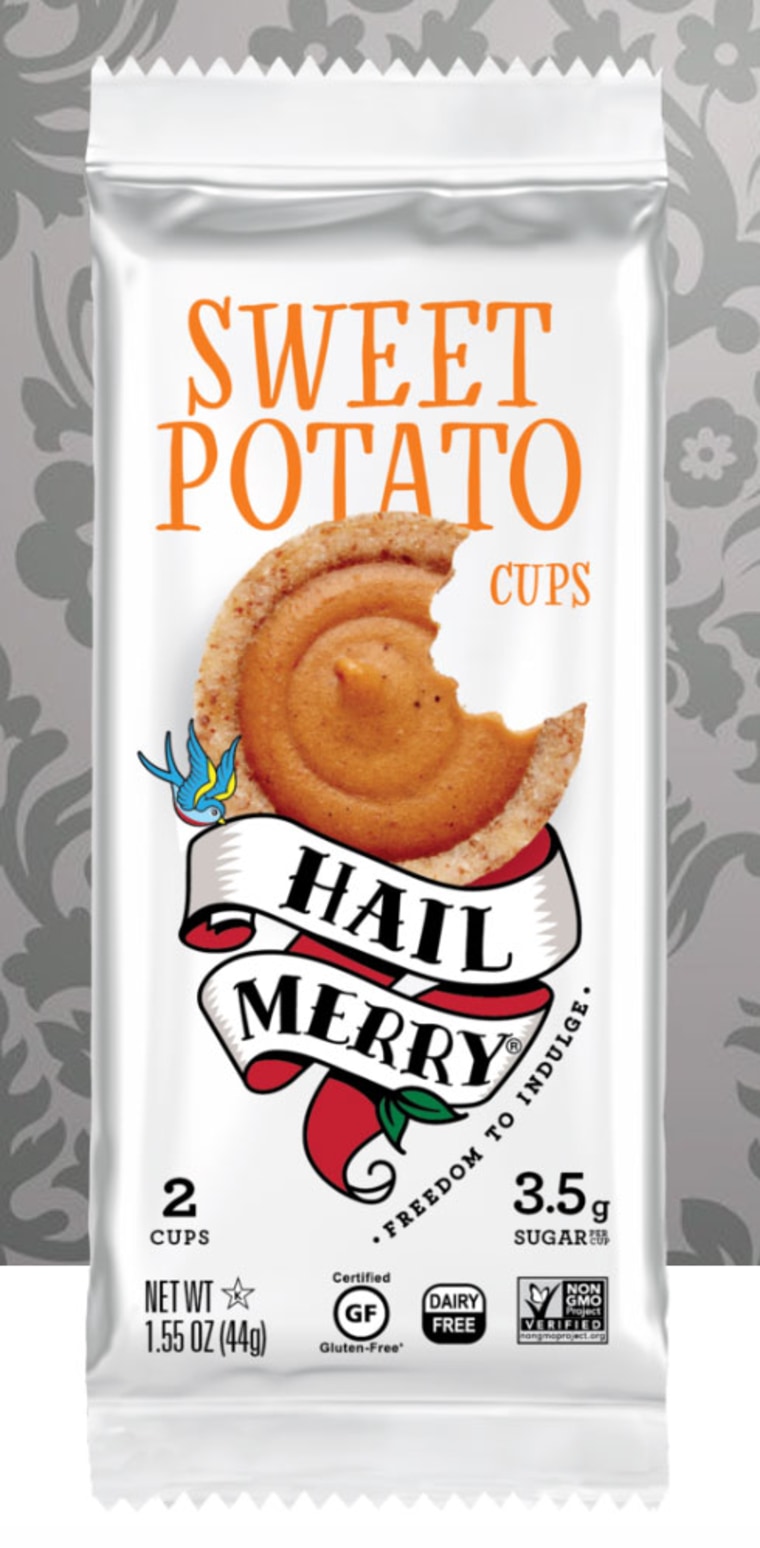 This item is also available at Whole Foods and Sprouts.
Consider replacing Reese's Peanut Butter Cups with these sweet potato cups which were a hit among the Expo East judges. They are made with organic shredded coconut and organic maple syrup, as well as sweet potato ... and they taste just like little pies. The best part is that each pack is 7 grams.
Rule Breaker Chocolate Chunk Blondies, $2, Amazon
These better-for-you blondies feature an unexpected healthy ingredient: chickpeas. The protein-packed legume blends right into the dessert, so you can't even taste them. Also, the blondies are free from the top eight allergens: wheat, tree nuts, peanuts, dairy, eggs, soy, fish and shellfish.
Tip: Consider blending chickpeas into homemade blondies, when preparing your own at home. It's a sneaky way to get kids to eat their veggies.
Origin Almond Cold-Pressed Almond Juice, $40 for a pack of 6 (usually $60), Origin Almond
This item is also available in certain Whole Foods for $5.
Made from pressed almonds, this refreshing beverage has higher protein, fewer carbs and fewer calories than most other cold-pressed juices on the market. Amazingly, the bottle itself is made of almond meal — a byproduct of almond juice production.The company also uses the leftover almond skin in its sister skin-care brand Clean as Kale.
Bitter Love Tart Cherry Drinking Bitters, $3 each, $25 for a pack of 6, Amazon
Handcrafted cocktail bitters are trendy with the hipster crowd, and this sparkling non-alcoholic drink is an easy way to enjoy them at home. It's made with a blend of cherry juice and lime juice, plus a bunch of tonics extracts including ashwagandha root, artichoke leaf extract, gentian extract and wormwood extract. As its name suggests, the drink is more bitter and tart than sweet, but it's incredibly refreshing.
Supernatural Plant-Based Food Colors, $9 for a pack of 4, Amazon
This item is also available at certain Whole Foods.
This is a natural food coloring made with the highly concentrated juices of vegetables like beets, carrots and red cabbage. The plant-based food coloring can be swapped in for artificial ones in frostings, rainbow pancakes, homemade play dough and more.
Tip: For recipes that involve heat, the colors stay most vivid in treats with shorter baking times, like sugar cookies or cupcakes.
To discover more deals, shopping tips and budget-friendly product recommendations, subscribe to our Stuff We Love newsletter!