By now, you've probably heard about the many, many great things the Instant Pot can do. From quickly cooking soups to making rice — or even whole chickens! — the programmable pressure cooker can make almost any meal in a flash.
Described as "life changing" by its devotees, this relatively new culinary appliance has a serious cult-like following.
If you're new to the craze — or still on the fence about pressure cooking — you might not know all of this pot's secrets just yet. But we've got you covered. Here are some our favorite things to do with an Instant Pot that go beyond regular recipes. (And, if you're ready to get cooking, Shop TODAY found a model for 50 percent off to get you started!)
From frozen to fabulous
No time to thaw? No problem. You can start cooking your food even when it's a big block of ice. Just don't add raw, frozen meat to the pot. However, blocks of frozen soups, stews and cooked proteins are all good to go. One tip, though, just make sure you store and freeze the food in a small container that will easily fit inside the pot, otherwise you'll have to thaw it first anyway.
Make hard-boiled eggs
Whether you want to just keep some hard-boiled eggs in the fridge or are making an appetizer like deviled eggs, you can make them in your Instant Pot in about 10 minutes using the rack that comes with the pot or with a silicone steamer insert. If using the trivet, simply place the eggs on the rack (about six to 10 will fit, depending on the size of your pot); add 1 cup of water to the bottom of the pot and then close the lid and set the pot to high. It will take about 6 minutes for the pressure to build and another 5 minutes for the eggs to fully cook. Once the cycle is done, remove the eggs and place them in an ice bath to halt the cooking process.
Whip up some yogurt
The best part about this recipe for Greek yogurt from Tidbits is that it only requires two ingredients: milk and a yogurt starter. The process requires a little more time than other dishes in the pot — about one hour for the milk to warm, about two hours to cool, eight hours of incubation and then four hours of refrigeration before straining. But the result is a cool and creamy treat, without any unnecessary additives or extra sugar.
Reheat dinner leftovers
Microwaves are so 2010. There's no need for those bulky machines on your counter anymore thanks to Instant Pot's ability to easily reheat leftovers. Using the steam function will help warm up food quickly and won't dry it out like other methods — just make sure to add at least a cup of water to the bottom of the pot, use heat proof containers (a Pyrex storage bowl or pint-sized Mason jar both work well) and cover the container with a piece of foil before you steam for five minutes or so, depending on the food.
Make marmalade and jam
Peanut butter and jelly sandwiches just got an upgrade thanks to the homemade jams that you'll be creating with your Instant Pot. For this strawberry jam recipe from Mama Instincts, you just need a pound of diced strawberries and 1 cup of raw honey. There are plenty of ways to experiment with different fruits, juices and sweeteners. The new Instant Pot Max, which was released in June, makes this function even easier since it allows users to easily can homemade jams and jellies.
Pop popcorn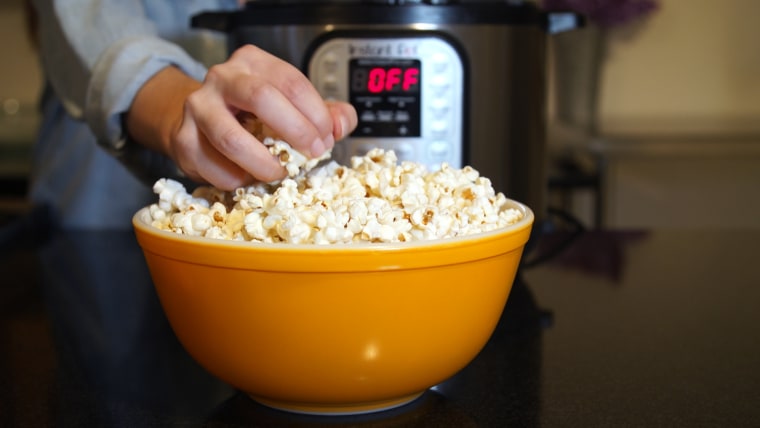 Netflix binge nights just got even tastier with Instant Pot popcorn. All you need is some uncooked popcorn kernels, coconut oil and a little salt, if you wish. Start by turning on the saute feature, then push "adjust" to move the temperature control to "more." When the pot display reads "hot," add 3 tablespoons of coconut oil and stir for about one minute until melted. After the oil comes to a simmer, add 1/2 cup of popcorn kernels. Make sure all the kernels are coated in oil, then put a lid on the pot (not the Instant Pot lid, which will stop the sauté process). When the popping slows down, turn the pot off and allow the kernels to keep popping before removing the lid. Sprinkle with a little salt and enjoy!
Make your own ... wine?
Who says you can only make food with your Instant Pot? It turns out you can also make delicious drinks, too ... and not just punch. David Murphy, a food blogger from New Jersey, figured out how to make red wine in his Instant Pot — and he started the process with grape juice. Murphy's unique hack has since gone viral but TODAY Food got the inside scoop so other home cooks can try out the recipe, too!
If you haven't picked up your Instant Pot yet, here's where to nab one so you can get pressure cooking:
With over 46,000 reviews on Amazon, this is the Instant Pot that started it all. The Instant Pot Duo combines 7 appliances in one: pressure cooker, slow cooker, rice cooker, steamer, sauté pan, yogurt maker and warmer — and cooks up to 70% faster.
You can shop all the Instant Pots on Amazon here.
This article was originally published on March 27, 2018.