Cinco de Mayo commemorates Mexico's defeat of the French army more than 150 years ago. Today, May 5 has become one of the biggest party days in the U.S. and it's celebrated by all those who love great Mexican food and culture.
While not all of these eateries are known for serving authentic Mexican cuisine, many national chains are offering up some spicy deals starting this week to gear up for the big day.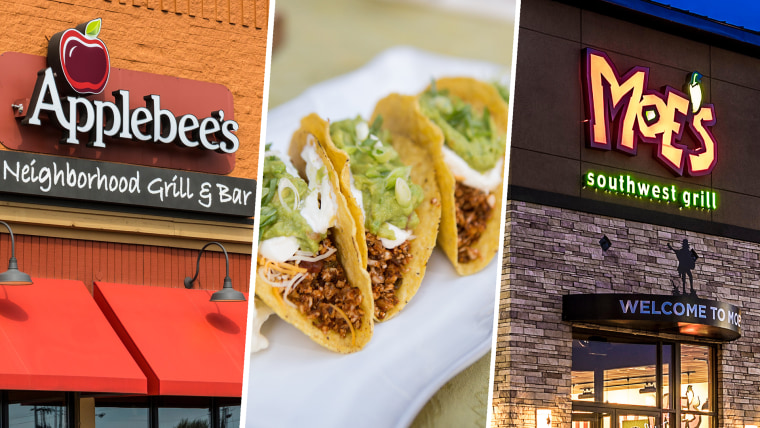 So if you want to skip serving homemade guacamole and chicken enchiladas, head down to one of these restaurants to score some discounted grub and cocktails.
No limes at home to make a classic margarita? Head to the nearest neighborhood bar and grill for their cheapest drink special of the year. The fast casual chain re-launched last fall's Dollarita deal (that's a $1 per margarita) for the month of April, and will keep the party going through Cinco de Mayo weekend. If tequila isn't your thing, Applebee's is also offering $2 Dos Equis for the whole month of May.
Moe's Southwest Grill
The Tex-Mex chain known for its "Homewrecker" burrito has coined its own Cinco de Mayo hashtag, #CincoDeMoes — so you know they mean business. Burritos on Sunday will be just $5 and you can also pick up free chips and a small order of salsa with any order. If you stop in on May 5 (and May 5 only) you might also have the chance to score some new threads. While supplies last, the chain will be giving away free t-shirts to hungry customers.
Bahama Breeze
This island-themed chain with locations throughout the U.S. is celebrating Cinco de Mayo all week long. Their deal includes $5 classic margaritas (normally $7) from April 29 through May 5. Some restaurants will also have live music on Sunday.
Chuy's
Ready for a cocktail but not sure exactly what you want to drink? Chuy's is offering Corona and floater specials on Saturday, and all-day drink specials, including $5 Titos Vodka bloody marys, on Sunday.
If your party is going to be truly grande on Cinco de Mayo, the Mexican Grill chain is offering a $40 gift card for catering. But you can only get it if your order costs $400 or more. It's a great deal, if you're a big burrito spender. If you're having a small party (or you just want to order a burrito to enjoy by yourself), you can get free delivery from April 30 through May 6 via DoorDash by using the promo code "GETCHIPOTLE" in the app.