When a meat craving hits, few foods are more satisfying than a juicy burger — especially when someone else cooks it. Sure, there are plenty of great burger recipes to make at home, but if you really want to treat yourself, try a burger that was created by a chef who has perfected the all-American sandwich.
Since there are so many spots for a burger in every city, TODAY Food asked the country's top restaurant critics and editors to name their favorites.
Here are the 10 best burgers in the U.S., according to people who taste them for a living.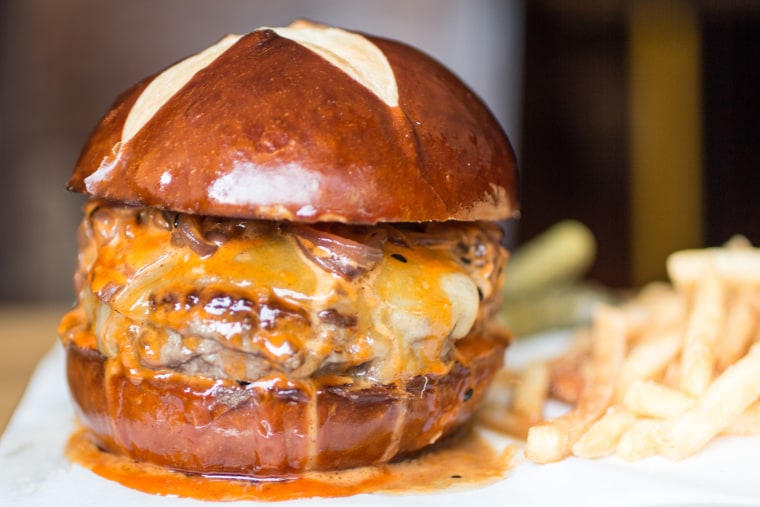 Don't even try to mess with chef Matthew Hyland's Emmy Burger — if you're lucky enough to get one. The restaurant's menu reads: "Kindly, we decline substitutions or modifications on this item. Limited availability per night." Kate Krader, food editor at Bloomberg Pursuits, is a self-proclaimed sucker for messy food, so she doesn't mind what she calls the "monumental filling." The dry-aged beef patty is piled high with aged Grafton cheddar cheese, Korean chile sauce and caramelized onions. "But what makes this a perfect burger is the pretzel bun," Krader told TODAY. "It's chewy and sturdy and salty." The restaurant also offers a similar double-patty burger with American cheese at its location in Manhattan's West Village.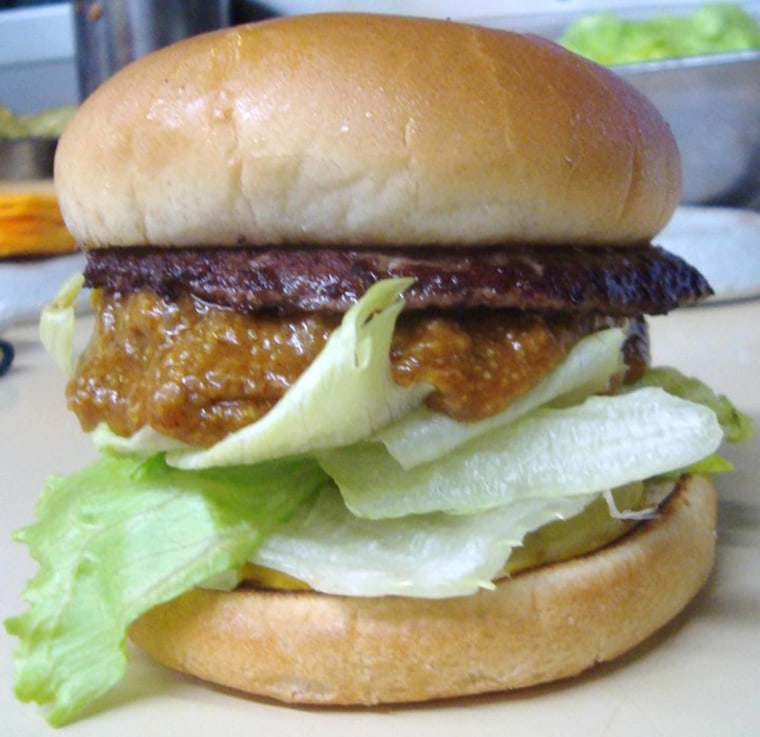 Jonathan Gold, former restaurant critic for the Los Angeles Times, was a big fan of the chiliburger at this spot, which he described as "painted with yellow mustard and sluiced with a meaty, emulsified chili a few degrees spicier than the rest; robust, tasting distinctly of the grill, piled high with ripe tomatoes and crisp sheaves of lettuce." Gold said the chiliburger has been an L.A. "thing" since the 1920s. Chroni's, which he referred to as an "Eastside institution," has been serving them since 1945.
3. Au Cheval — Chicago, Illinois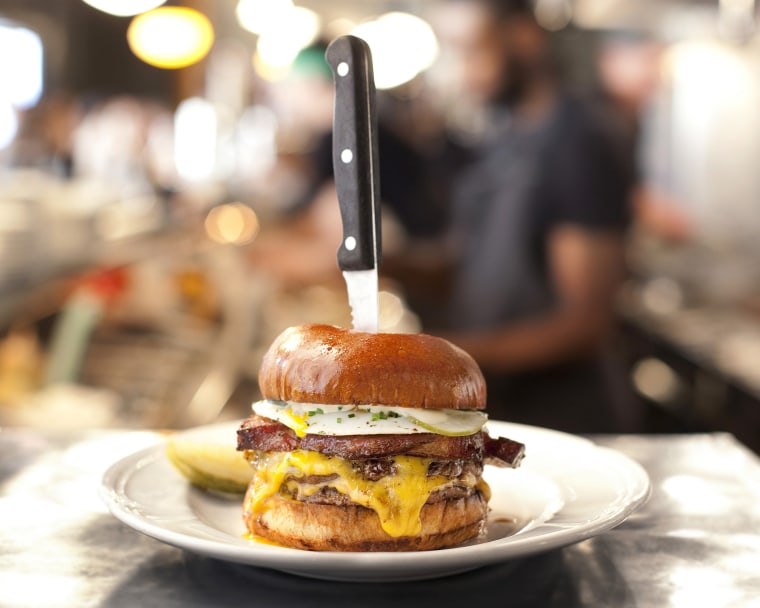 Don't be fooled by the menu which modestly lists this behemoth sandwich as a single cheeseburger. "Two thin patties, cheese, pickles and a tangy sauce all come together to form a burger that I still occasionally think about almost four years after trying it," Hillary Reinsberg, editor in chief of The Infatuation and Zagat, told TODAY. In addition to its taste and texture, Reinsberg also likes the way the burger is served: with a big steak knife protruding from the top. The location in Chicago's West Loop, has a sister restaurant in New York City's West Village, but Reinsberg admitted that its burger is not as good as the original in the Midwest.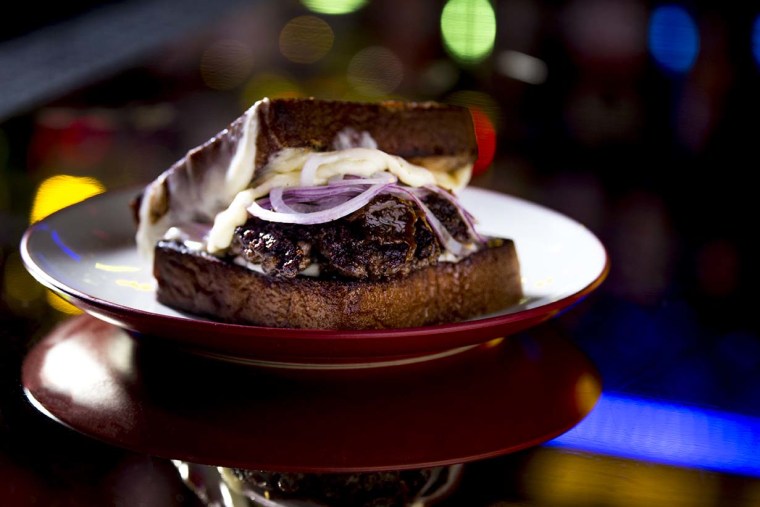 "Without a doubt, chef Justin Yu's Party Melt burger is on top in Houston," Jordana Rothman, Food & Wine's restaurant editor, said. The James Beard Award-winning chef's burger consists of a beef patty that's topped with crispy broiled cheddar cheese, caramelized onions and thinly sliced red onions. Rothman also noted that the loosely ground beef is cooked in tallow (beef fat), and that the burger is served between thick slices of homemade bread that's made with Parmesan cheese, making it an umami-packed powerhouse.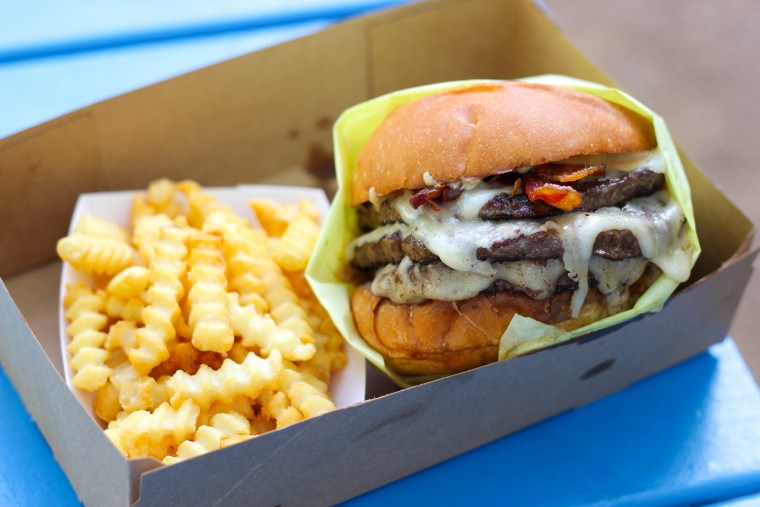 People in Austin can't get enough of this burger joint that's located inside a 1968 Airstream trailer and has a tiki bar vibe. Rothman said that she's "obsessed" with the spot. There are eight burgers on the menu, but Rothman's top choice is called "The Deep End." It's a triple-patty burger that's made with Wagyu beef and is topped with Swiss cheese, bacon, fresh jalapeños and homemade Dijonnaise.
6. Cecconi's — Miami Beach, Florida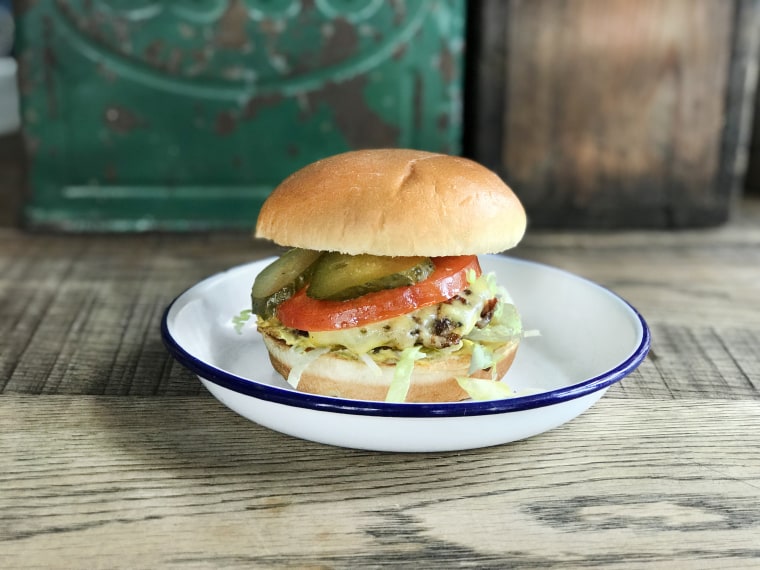 Despite its name, the "Dirty Burger" here is revered for its delicate features. "The scorched, lacy Parmesan cheese wheel gives it a brittle crunch that lends super contrast with the thin patty of always juicy grilled ground beef and 'special sauce'," Victoria Pesce Elliott, food critic at the Miami Herald, told TODAY. The burger was created for the members-only Soho Beach House, but is also available from 4-7 p.m. at the bar of the Italian restaurant in the club's lobby. "I realize that kinda puts some limits on it," said Pesce Elliott. "But it's worth it."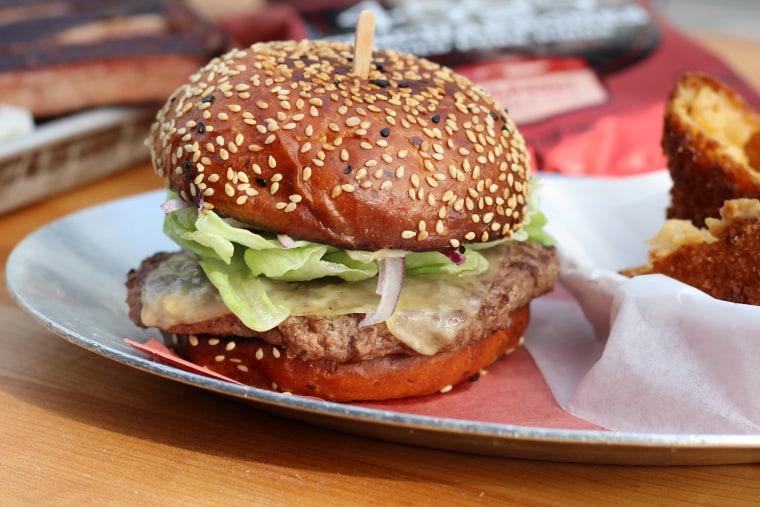 Chef Ryan Farr doesn't have a fancy name for his best-selling burger. It's simply called the "Best Damn Grass Fed Cheeseburger" on the menu. The quarter-pound patty is topped with lettuce, onion, Gruyere cheese and a secret sauce, before it's placed in a sesame-and-scallion bun. "It's always cooked to a perfectly juicy medium-rare," said Hillary Dixler Canavan, restaurant editor at Eater. "It's become a regular haunt for me, thanks in no small part to how reliably satisfying the burger is."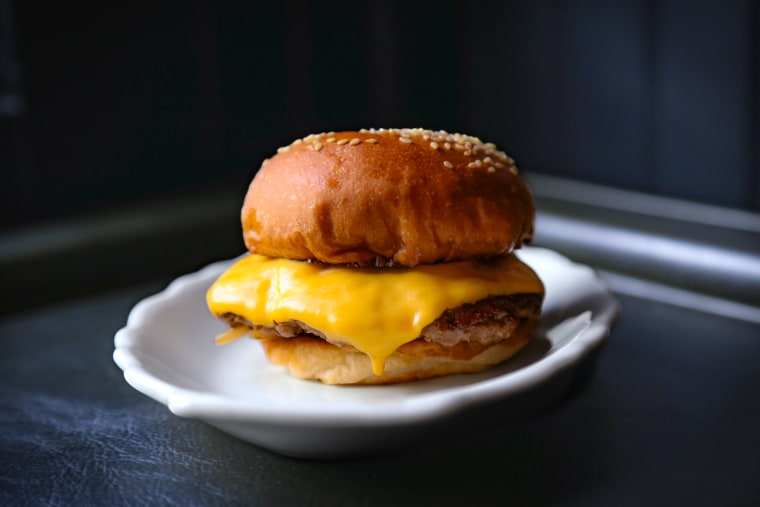 Little Jack's Tavern executive chef John Amato keeps it relatively simple with his Double Tavern Burger: It's topped with American cheese, tavern sauce (basically well-seasoned mayo) and a sesame bun. Still, it's the perfect package, Andrew Knowlton, Bon Appétit's editor-at-large, told TODAY. He named it the best burger of 2017, noting that it can be picked up with one hand and eaten in a mere four bites. The patty itself is a 4-ounce mixture of chuck and brisket with a 75% lean to 25% fat ratio.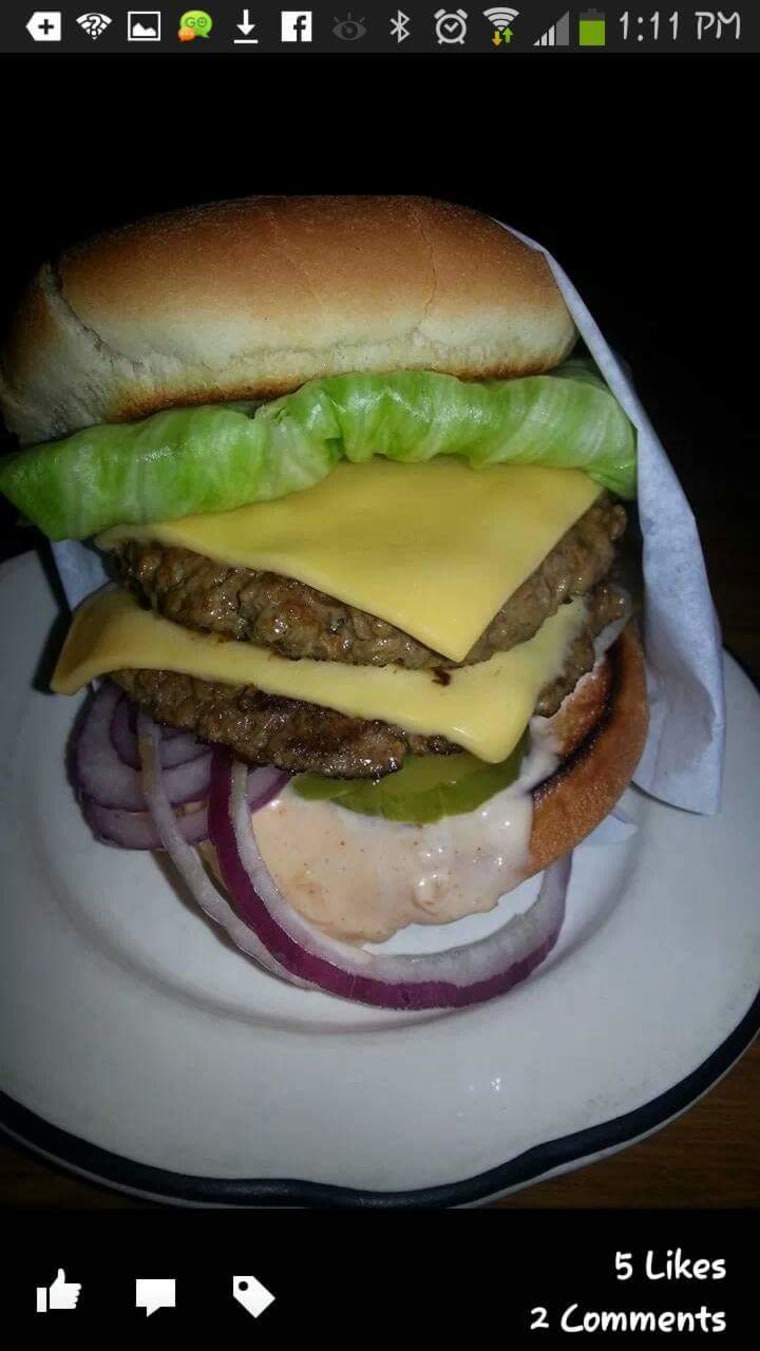 "I believe that the cheeseburger you grow up with will usually be the cheeseburger you revere," Jeff Gordinier, Esquire's food and drinks editor, said. The Pasadena native grew up just down the street from Pie n' Burger. Members of Gordinier's family are such loyal customers that his mom, an artist, once made a painting of the restaurant's counter. Gordinier described the cheeseburger as compact and juicy with a nice fresh tang from the sauce and crisp lettuce. "From the standpoints of texture, temperature, flavor and size, everything about this cheeseburger is perfect," he told TODAY.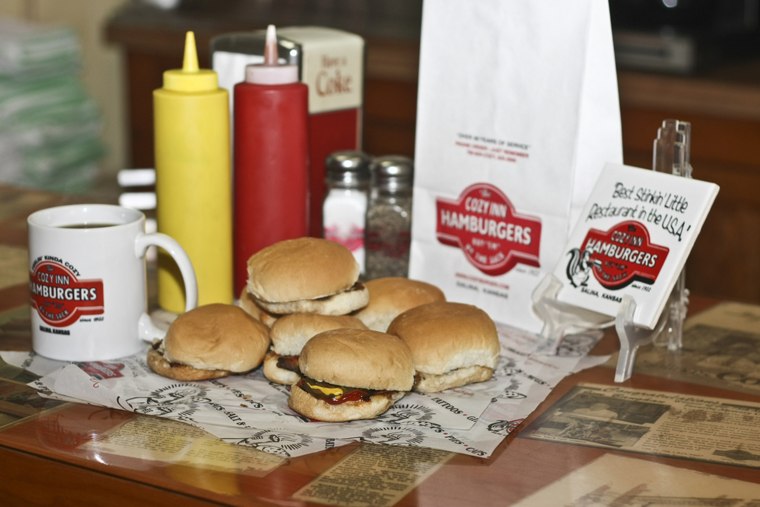 Even though Gold made a living reviewing Los Angeles-area restaurants, surprisingly his absolute favorite burgers were sliders found only in Central Kansas. "The tiny beasts taste like an onion's platonic idea of an onion. They're pretty awesome," said Gold. The Cozy Inn founder Bob Kinkel started frying his "onion-laden, coin-sized burgers" in 1922, a year after White Castle opened in Wichita. Cozy Burgers were probably deemed sliders because they were slid down the restaurant's counter on waxed paper. Initially, the price was just 5 cents per burger. Today, one Cozy Burger will set a customer back $1.19 — which is still a bargain if you ask us!