For the past year, restaurants have been begging for help amid unprecedented shutdowns and a historic era of racial and cultural reckoning. And this week, help is finally on the way in the form of a $28.6 billion grant program, built into the American Rescue Plan, specifically for struggling restaurants and bars. Now is probably not the time to pit restaurants against each other … one would think.
But then, on Monday, The New York Times published an article by California restaurant critic Tejal Rao with a headline that declared, "The Best Bagels are In California (Sorry New York)," and the internet lost its collective mind. As a Jewish woman living in New York, I couldn't even count how many people sent the article to me (usually accompanied by a lot of choice expletives). Obviously, as someone who loves her local bagels, I was offended on behalf of my beloved city; but as the headline kept glaring out at me across my social media feeds, it started to irk me for different reasons.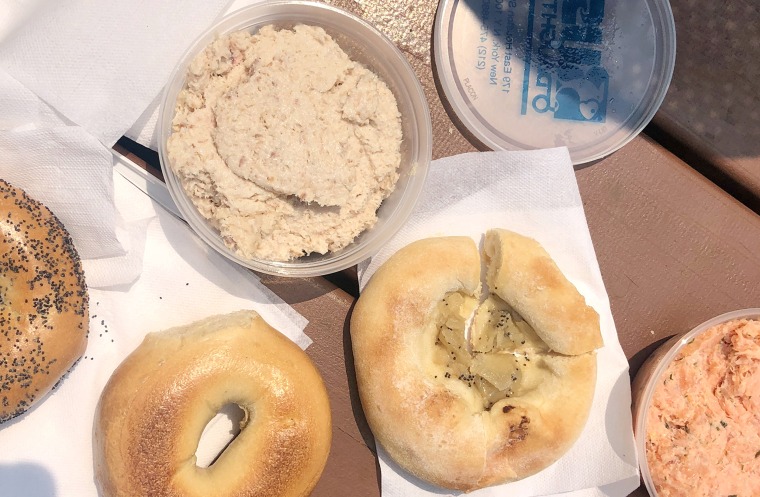 If you actually read past the headline, you might notice that the article itself isn't actually about ranking bagels. On the contrary, it is an ode to the hard-working bakers who have taken their bagel knowledge (learned mostly from New York) and flung it further afield so that more people can experience the pure joy of a top-notch bagel.
As someone who grew up outside of the mainstream Jewish New York experience, Rao's article really spoke to me. When I was growing up in Charleston, South Carolina, it was a major day when a real, New York-style, handmade bagel place finally opened up. It was like I finally got a true slice of my cultural heritage in a city where I was more accustomed to oyster roasts than kugel. Every time we went to New York, it was an essential pilgrimage to stop in at Russ & Daughters or H&H. But having a good local bagel shop made all the difference for us, even if Charleston's Bagel Nation requires a drive 20 minutes out of the way.
Having more excellent bagels in more places is certainly something to celebrate.
The "best bagel" for most of us is the bagel we can get on a Sunday morning for our family or as we hurriedly rush out the door trying to make a weekday meeting. Having more excellent bagels in more places is certainly something to celebrate.
So, why the headline? Why, when restaurants are just trying to stay afloat, is New York's paper of record taunting its beleaguered local readers and the restaurants that so need its endorsement? Can't we champion a national surge of good bagels without denigrating the historic and cultural home of this icon? New Yorkers, like so many people across the country, have lost a great deal already during this pandemic — is it too much to ask that we get to keep our pride in bagels?
The headline feels especially flagrant during this time when many publications are trying to give proper credit and context to recipes and stories about foods that are deeply embedded in a culture's narrative. And there is truly no food more essential to the Jewish American identity than New York bagels.
When my great-grandfather escaped Russia by leaving behind everything he knew to come on a boat to New York at the age of 12, he was met by a teeming population of like-minded Jews. And they were all so obsessed with bagels, that the bagel bakers became unionized, with almost 300 bakers represented and coveted membership passing only through the sons of current members. The bagels were looped and stacked onto sticks and carried through the streets of the Lower East Side, selling out quickly. It was cheap, it was reminiscent of their old country, but it was uniquely New York.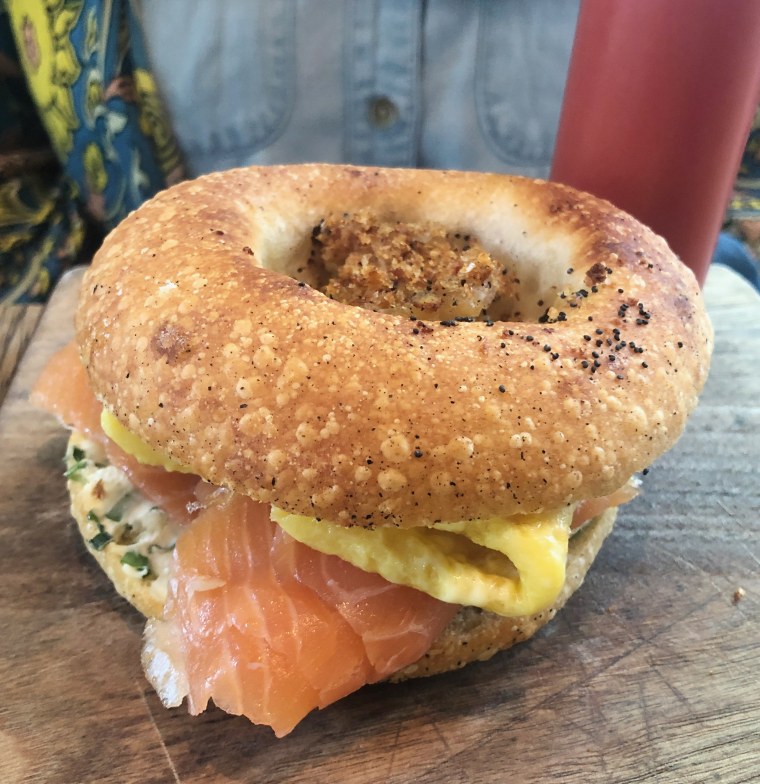 The Polish and Eastern European bagels they were based on were much smaller and harder — and they definitely never put lox or a schmear of cream cheese on their bagel, as New Yorkers started to do in the following decades. No, the bagel that we know and love today belongs deep in the veins of New Yorkers and Jews. Bagels still exist in Eastern Europe. Montreal has their own (also truly excellent) signature style. But the doughy, chewy, shiny, boiled-then-baked, fresh, crunchy crusted bagel that Americans know and love is a Jewish and New York City creation.
So, while I applaud the California bagels (which I'm sure are also quite excellent), and while Bagel Nation will always have a special place in my heart, my "best bagels" are the ones I can get locally, in downtown New York City, close to where my great-grandfather would have delivered milk and eaten bagels before his eventual move down South to open a grocery store and live out his version of the American Dream.
My "best bagels" are Tompkins Square Bagels, Tal Bagels and Bagels on the Square, which I can order for delivery on a weekend morning and have them arrive still warm from the oven. My "best bagels" are still from Russ & Daughters, with their incredible hand-sliced lox on top. My "best bagels" in Brooklyn are at Gertie, where Melissa Weller has truly perfected pretty much all forms of baking.
For an Upper West Sider, their "best bagels" might be Absolute Bagels, owned and run by a Thai New Yorker who apprenticed in the 1980s with Jewish bakers before owning his own spot. A friend from Queens told me her best bagel spot is Utopia Bagels, the beloved 40-year-old institution. The "best bagels" are the ones you depend on and love. We are so lucky to have so many incredible bagels to choose from, no matter where we live — and we have New York City's Jews to thank for that.
Related: