TODAY's Dylan Dreyer loves cooking easy and satisfying meals that can feed a hungry crowd of adults.
But it turns out, the meteorologist also likes to whip up simpler foods for her son Calvin — or should we say mash up.
On Wednesday, Dylan shared a photo on Instagram of what she called her "science lab," aka her home kitchen, where she spends her free time making big batches of baby food. "Cal can eat!!" she posted.
But Dylan's food certainly doesn't look like that gray sludge you typically see in jars at the supermarket. It looks, well, good enough to eat. She cooked up a beet and apple purée, oats with beets and carrots and some sort of roasted apple sauce — while she ate a doughnut, of course.
We asked Dylan what recipes she likes to cook for Cal (for us to eat or for our babies to eat ... we're not sure yet) and about that futuristic-looking contraption she uses to make them.
"The Babycook blender is the reason I make my own baby food!" she told TODAY Food. "It makes it so beyond easy to steam and purée in the same unit.
"I'll even throw in what I'm eating for dinner and purée it up quick so Calvin can eat what I'm eating. He eats everything ... beets, apples, salmon, green beans, cauliflower, oranges ... you name it, I've blended it!"
BEABA Babycook 4 in 1 Steam Cooker and Blender, $150, Amazon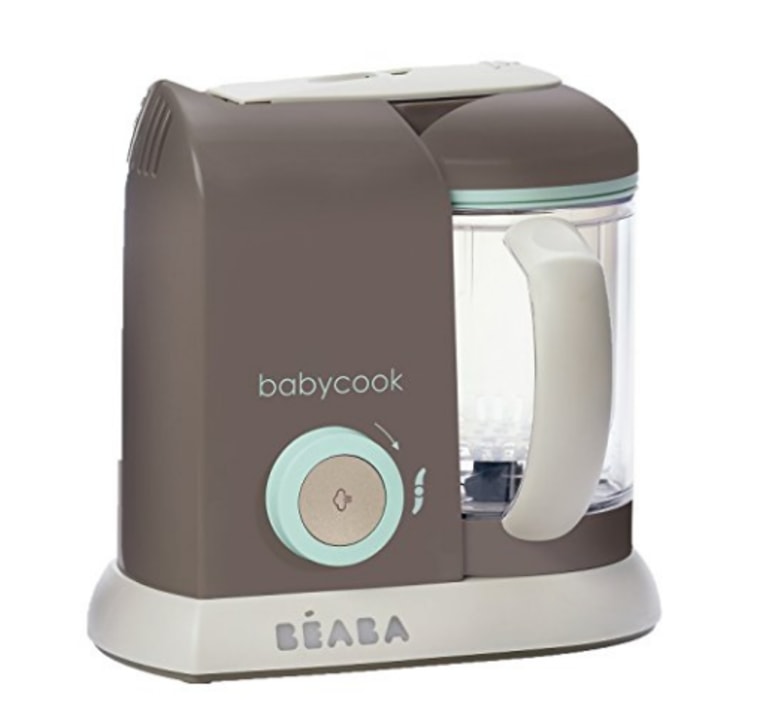 Now, $150 ain't cheap, but think of all the money you might save on buying individual jars of baby food. Plus, you'll know exactly what's being blended into your baby's meal.
Here are a few of Dylan's favorite recipes for Calvin:
Beet and Apple Purée from the "BEABA Babycook Book" (which came with the blender)
1 beet, peeled and roughly chopped
1 apple, peeled and roughly chopped
Steam at Level 3 (if you don't have the blender, this takes 15 minutes). Then purée and that's it!
She also whipped up some Oats with Beets and Carrots from the blog BabyFoodE and Roasted Apple Bliss from the cookbook Little Foodie.
Even if you don't have a Babycook machine, you can still try making your own baby food at home. Try Hilaria Baldwin's Simple Winter Soup recipe that both adults and babies can enjoy!