Garlic is so absolutely delicious — at least to me, but apparently not to Queen Elizabeth — and so wonderfully fragrant, that I love to put it on everything! My family pretty much rolls their eyes at me when eating at our favorite Italian restaurant that coats their warm rolls in not just butter, but tons of garlic. Needless to say, everyone avoids talking to me for a few hours.
But dealing with garlic at home isn't always simple ... unless you have the right tools. Ever tried to peel a clove of garlic? It can be a frustrating exercise. You think you've gotten it all off (and your hands are super smelly) only to find bits of skin where you don't want them.
And I'm far from an expert knife chopper, so finely cutting cloves has never been my forte.
I recently decided it was time to make cooking with garlic a little easier, so I scouted out a user-favorite garlic press and peeler. These handy kitchen gadgets are supposed to make peeling and mincing garlic as easy as pie — and make you look like a chef extraordinaire in your own kitchen.
I opted for the UberChef Garlic Press and Peeler set, which was ranked as a best-seller on Amazon and came with hundreds of great verified user reviews. I also liked that it's dishwasher safe (I'm no fan of hand washing dishes) and comes with a lifetime guarantee.
UberChef Stainless Steel Garlic Press and Peeler Set, $13, Amazon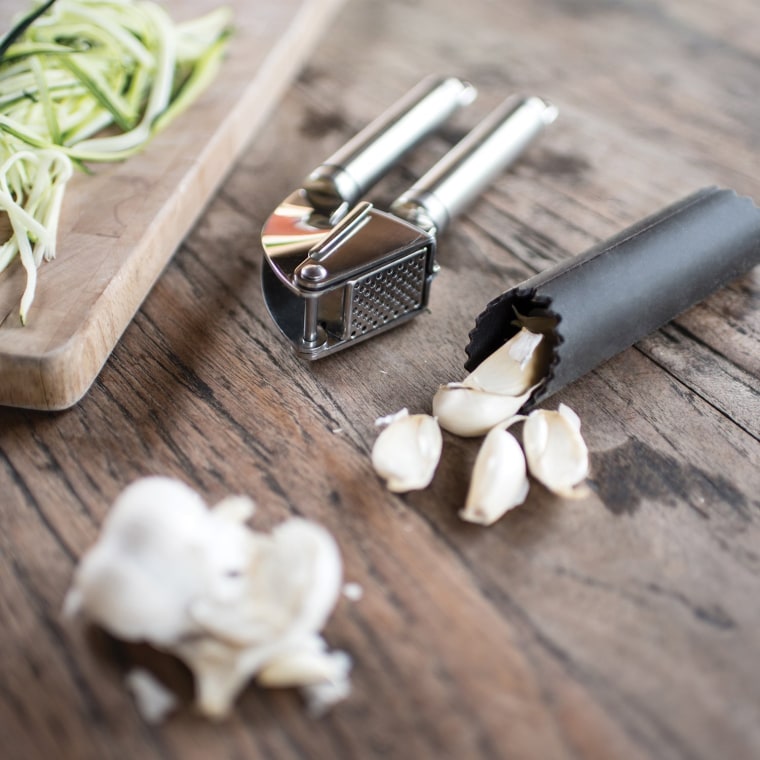 As soon as it arrived, I planned to make a side dish with plenty of garlic for dinner: sautéed kale with shallots and minced garlic. While I was a bit perplexed at how to use the peeler at first, the press required no instructions at all. Just insert a clove of garlic, squeeze, and viola, you have minced garlic in under five seconds!
It doesn't easily fall off the press, though, so you'll need to use a knife or a small brush to get the garlic pieces into your bowl or pan.
To master the peeler, I went to UberChef's website for instructions. It's really quite magical: just insert one to three cloves into the silicone peeler, roll it around on the counter while pressing down onto the cloves, and the skin just peels right off.
As an added bonus, you can also press ginger with the set, too, and they throw in a free digital cookbook with great, garlicky recipes for you.
If the UberChef isn't for you, here are some more highly-rated garlic press and peelers:
Alpha Grillers Garlic Press and Peeler Set, $17, Amazon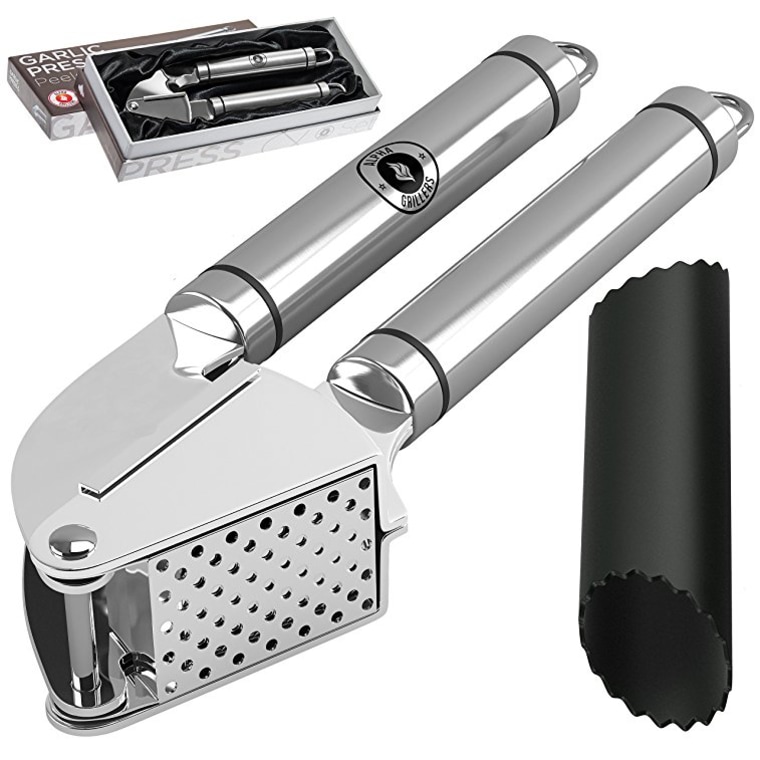 This set is similar to the UberChef set, though it comes in a fancy gift box, so it would make a nice gift. I didn't feel like I needed to gift myself with a nice box, so I opted for the less expensive version. This one is also dishwasher safe and it also comes with a lifetime guarantee.
Bokdy Garlic Press and Peeler Set, $15, Amazon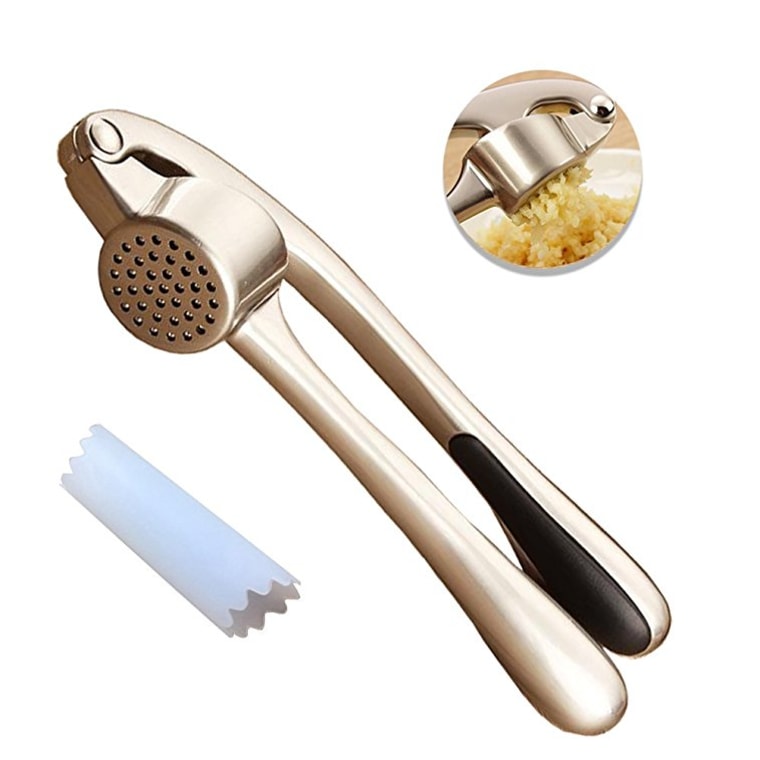 Instead of stainless steel, this garlic press is made from zinc alloy, and it comes with a soft, nonslip handle and has a round head. It, too, is dishwasher safe.
ZYLISS Susi 3 Garlic Press, $16, Amazon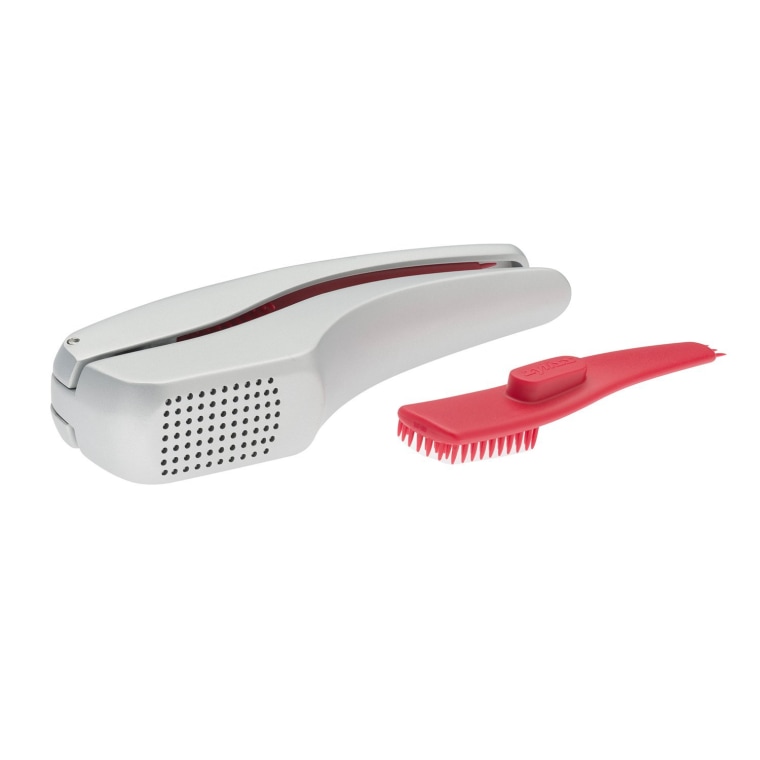 This garlic press has a slightly different design that allows it to hold large cloves of garlic with no need to peel the clove first. I like that it comes with a cleaning tool to help you easily push the little garlic pieces out of the holes, but it is recommended that you handwash this press.
Kitchen Gizmo Garlic Press, $10, Amazon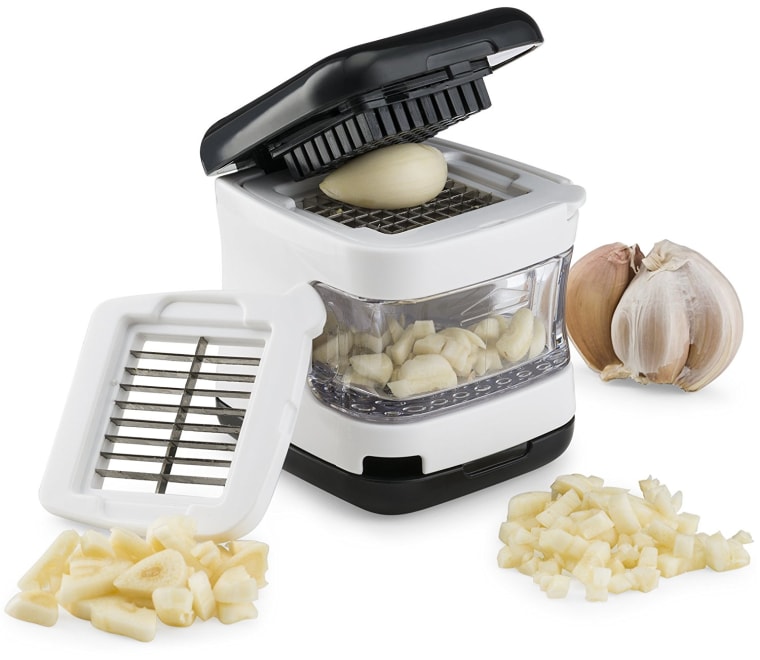 The Kitchen Gizmo garlic press presents a different way to chop garlic with options for slicing, crushing and dicing. It comes with three different grates that you push into the garlic to create different sizes. The garlic pieces then fall into a little container attached to the device. It is dishwasher safe, but so far, it only has 16 customer reviews.
Looking to stock up some great cooking tools? Here are even more great kitchen gadgets for less than $15.