With their bright beautiful color and irresistible sweetness, strawberries, blueberries, raspberries and blackberries are some of summer's greatest culinary gifts. Here's a quick guide to shopping for, storing and enjoying fresh berries all season long, plus advice on freezing so you can save some for later.
Try Katie Lee's peach and blueberry skillet cobbler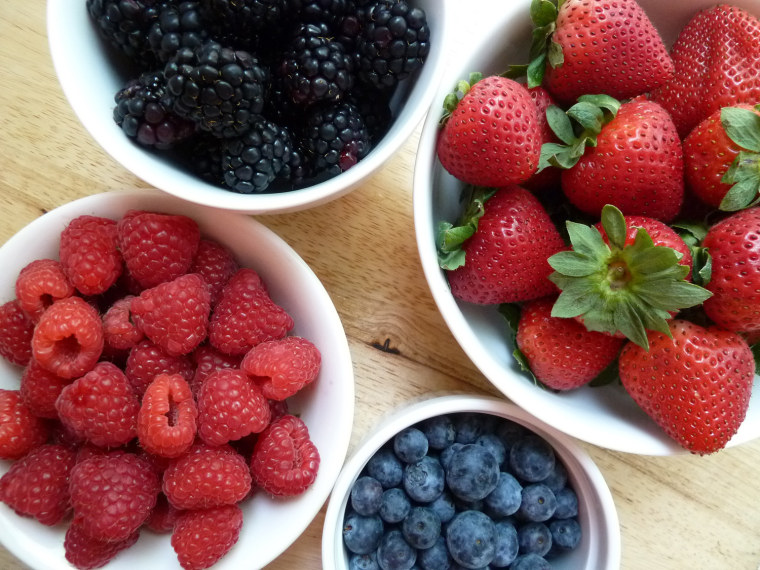 How to shop for berries
All berries should look plump and smell fragrant. Check for mold as well as smashed, shriveled or over-ripe berries.
Blackberries, raspberries and strawberries should be bright and shiny; look for berries with deep, uniform color and avoid strawberries with white or green patches. Blueberries should have a slightly frosty hue, which is a sign of freshness.
5 tasty ways to get more berries in your diet
How to store berries
Berries have a short shelf life and should be eaten as soon as possible. Refrigerated, most will last only 2-3 days, but blueberries can last up to a week.
Before storing, discard any berries that are moldy, smashed, shriveled or over-ripe. Water increases the chance of mold, so wait to wash berries until you're ready to enjoy them.
Blackberries and raspberries are particularly fragile and should be stored in a single layer, loosely covered. Blueberries and strawberries can be left in their original packaging. As extra insurance against mold you can place berries on a paper towel to absorb moisture.
Berries freeze quite well and are great to have on hand for smoothies. Wash and thoroughly dry all berries before freezing; remove the stems from strawberries. Arrange berries in a single layer on a baking sheet and place them in the freezer. Once frozen, transfer the berries to an airtight container or plastic bag and freeze up to 6 months.
How to prepare berries
Just before using, rinse berries under cold running water. Remove the stems and cut strawberries only when you're ready to enjoy them.
Berry Recipes
Free-form wild blueberry pie and more five-ingredient summer desserts
Make blueberry muffin mug cakes for a breakfast treat
Blackberry compote: In a medium saucepan over medium heat, combine 3 cups blackberries, 1/4 cup sugar, 1/4 cup water and 3 tablespoons freshly squeezed lemon juice and bring to a simmer. Continue simmering for 1 minute. In a small bowl, whisk 2 teaspoons cornstarch into 2 tablespoons water. Add to the blackberry mixture and continue simmering, stirring frequently, until thickened, 2-3 minutes. Season to taste with salt and cinnamon. Let cool, then serve over ice cream or yogurt.