For "30 Rock'' fans bummed the show is coming to an end, its memory can now live on in your freezer.
Ben & Jerry's has created some Liz Lemon-style comfort food for fans to celebrate the NBC comedy, whose series finale after seven seasons will air on Thursday. On that day, the company will unveil a special "30 Rock"-themed flavor of its ice cream at a party in New York City. Ben & Jerry's has remained mum on what flavors will be featured in the new ice treat, which will be unveiled by co-founder Jerry Greenfield at the Latitude Bar & Lounge in close proximity to Rockefeller Center.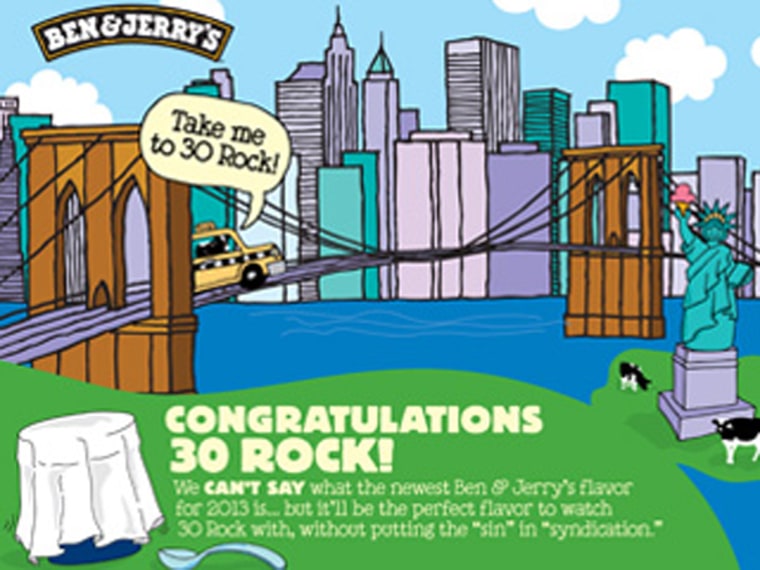 New flavors are usually released in the spring, but the company churned this one out in time for the "30 Rock'' finale. The ice cream will be in Ben & Jerry's shops in February and then in grocery and convenience stores afterward, according to a company release.
Proceeds from the ticket sales to the viewing party on Thursday will benefit a non-profit organization that will be announced at the event. The company is urging crowd members to dress as their favorite "30 Rock'' characters, with the crowd favorite earning a year's supply of Ben & Jerry's ice cream and frozen yogurt. The new "30 Rock'' ice cream also will be available for purchase online.
This is the second Ben & Jerry's-themed ice cream to involve Alec Baldwin, who plays Jack Donaghy on "30 Rock," as the company released a flavor called Schweddy Balls last year in a homage to the Saturday Night Live skit featuring Baldwin. This is the latest Ben & Jerry's flavor to honor a comedy or a comedian, following in the footsteps of Stephen Colbert's Americone Dream, Monty Python's Vermonty Python, and Jimmy Fallon's Late Night Snack.
Read more:
What does Ben & Jerry's think of bacon & egg ice cream?
The secret to great nachos: It's all in the architecture
Fingerlickin' good! Best chicken wings in America
A taste of history: Old-school beer New Albion gets a new life