If you're the type of person who believes ice cream makes the world a better place, you'll appreciate the theme of Ben & Jerry's newest flavor.
The ice cream company has announced the arrival of its newest flavor, One Love, which was made in partnership with Bob Marley's family to pay homage to the legendary musician and his vision for a better world.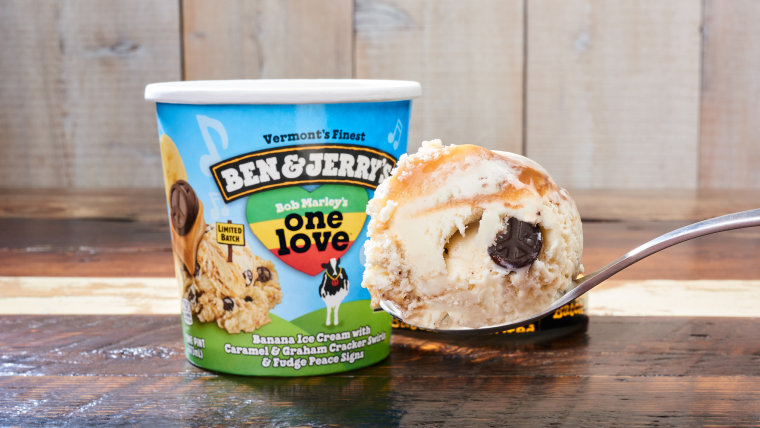 Banana ice cream mixed with swirls of caramel and cookie, along with chocolaty peace signs, make up the brand's latest treat. TODAY Food tested a pint and, just a warning: It's definitely an eat-a-pint-in-one sitting kind of dessert if you're not careful.
The taste isn't the only thing that's sweet. For each pint of One Love sold, a portion of the proceeds will benefit Jamaica's One Love Youth Camp, a program run by The Bob Marley Foundation and Partners for Youth Empowerment which shows young people of Jamaica how to use music, dance and arts to respond to challenges in their lives and break down barriers.
"Bob Marley stood for more than just music — he advocated for social change and inspired millions to think about peace, love and equality," said Ben & Jerry's Co-Founder Jerry Greenfield in a press release issued to TODAY Food. "Ben & Jerry's has long strived to champion love and social justice, and by partnering with the Marley family we're happy to play a small role in supporting Marley's vision for a sweeter world."
Pints of this limited-edition flavor can be found at Scoop Shops and retailers nationwide for $4.99.
RELATED