What began as just a fun exercise in fantasy ice cream-making has turned into a new limited-edition flavor by one of Ben & Jerry's original co-founders, Ben Cohen. Loyal Vermont citizen Cohen has dubbed the new flavor Bernie's Yearnings for presidential candidate Bernie Sanders. The ice cream's slogan? "Nothing is so unstoppable as a flavor whose time has finally come."
On the Bernie's Yearning's website, Cohen explains: "Jerry and I have been constituents of Bernie Sanders for the last 30 years. We've seen him in action and we believe in him." When he and Jerry are out speaking on Bernie's behalf, Cohen says, people often ask him if there is a Bernie Sanders ice cream flavor. There wasn't, so Cohen said he came up with the idea for one.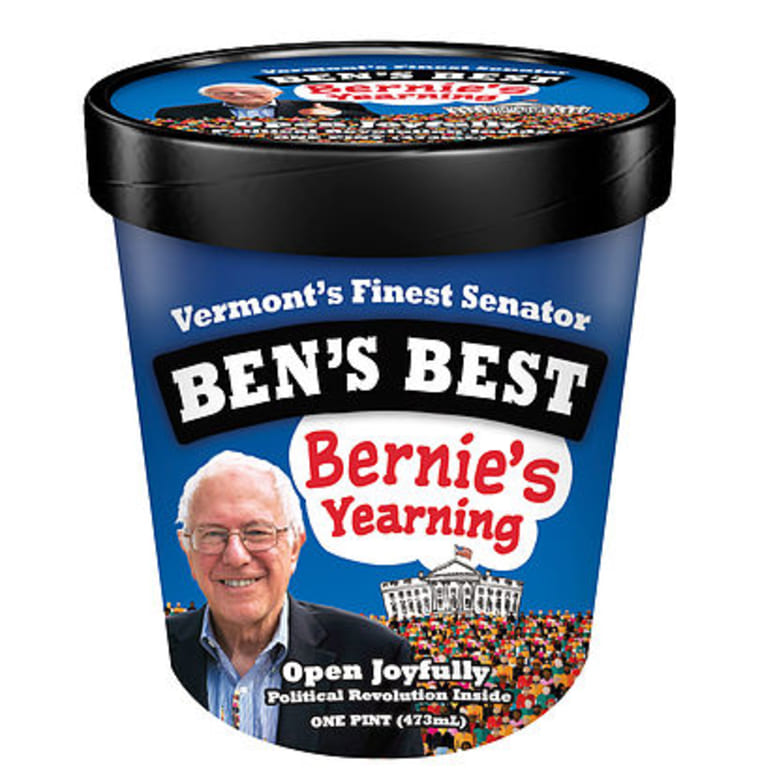 The mere concept generated so much buzz that Ben decided to personally whip up 40 pints in his kitchen. (The Ben & Jerry's brand was sold to Unilever a decade ago, so this is a solo Ben flavor under the label "Ben's Best.") The flavor consists of plain mint ice cream covered by a thick slab of solid chocolate. According to Cohen, "The chocolate disc represents the huge majority of economic gains that have gone to the top 1 percent since the end of the recession. Beneath it, the rest of us."
Cohen suggests whacking the chocolate into small chunks with a spoon and mixing them in with the mint ice cream for a more equitable chocolate-to-ice cream ratio, then sharing the ice cream "with your fellow Americans." Way to make socialism palatable!
Cohen donated 25 pints of Bernie's Yearning to the Sanders campaign. The rest will be given to the random winners of this contest.
Why stop with Bernie? We're interested in what flavor Cohen would concoct for Donald Trump…