Have you ever thought, as you slurped the remaining milk at the bottom of your cereal bowl, "Wow, this would be so much better frozen"?
Us either, but now that Ben & Jerry's is making cereal milk ice cream, we know that to be true.
Yes, world, the culinary masterminds behind Cherry Garcia and Half Baked are making "Cereal Splashbacks," ice cream flavors designed to taste like cereal and milk's sweet 'n' soggy love child — starting today, March 7, aka National Cereal Day.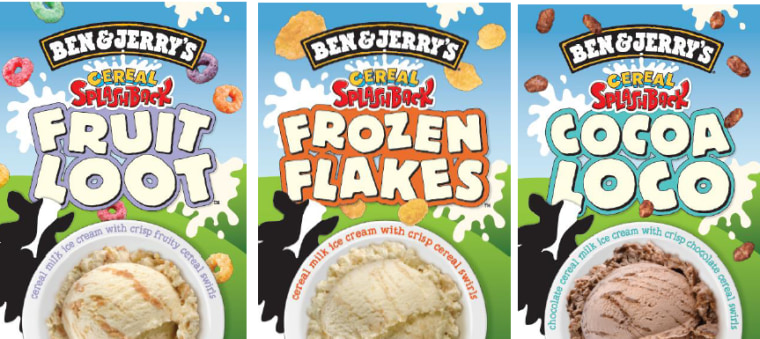 RELATED: Is there really a right way to eat your cereal? One writer has a secret trick
Not that this is a novel idea — we think it's safe to assume that they drew some inspiration from Momofuku Milk Bar's cereal milk soft serve (in NYC) — but they made it their own by introducing three variations of the ice cream: Froot Loot (think Froot Loops, obviously), Frozen Flakes (cornflakes) and Cocoa Loco (the cocoa cereal you'd go cuckoo for).
Ben & Jerry's explanation for making it, though, is to help bring people "back to the prize-at-the-bottom-of-the-box days, watching Saturday morning cartoons in pajamas," said B&J's "Flavor Guru" Eric Fredette.
But, if they were really trying to capture childhood nostalgia, where is the Cinnamon Toast Crunch flavor? Seriously, Ben & Jerry's? CTC unarguably creates the best cereal milk.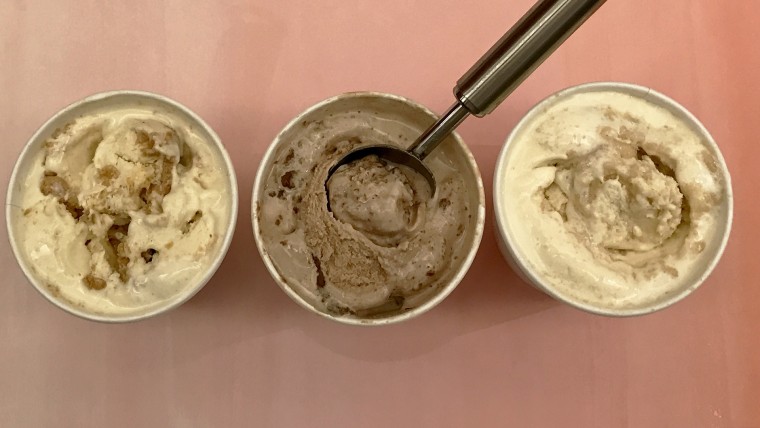 RELATED: Cereal on ice? Some swear by the chilly breakfast treat
Pushing past the disappointment about CTC, the TODAY editors tried the flavors, and we were not let down.
Most people thought it tasted just like leftover milk from eating those specific cereals except frozen and a bit sweeter. So, Ben & Jerry's: Mission accomplished.
Everyone also enjoyed the crunchy texture of the cereal "swirls" but wished there had been more of it.
But the resounding winner, perhaps unsurprisingly, was the Cocoa Loco.
RELATED: Ben & Jerry's launches new line of vegan ice cream
One chocoholic editor said she'd actually "write a soliloquy about it." And if you think actions speak louder than words, here's your action: She ate the majority of a pint in one sitting.
The loser was Froot Loot because people thought it tasted "too artificial," but Froot Loops themselves taste deliciously artificial, so I think they really nailed this one.
The catch? (There's always a catch.) The cereal milk flavors are only available at Ben & Jerry's Scoop Shops, so you can't just grab a pint from your local grocery store. Maybe, though, if there are lines out the door for the stuff, they'll consider putting it into pints. Or, you know, you could just freeze your cereal milk. I know I'm about to go do that with my CTC.