You won't find gamay way up there on the wine hit parade. The grape that is synonymous with Beaujolais suffers from a reputation as the basis of mostly innocuous and largely forgettable light reds, from the gimmicky "Beaujolais Nouveau" that arrives with all its hype each November, and well beyond.
But gamay and Beaujolais can produce some of the prettiest red wines you will find, wines that can, at times, offer as much complexity and interest as, say, lighter pinot noirs from Burgundy, but at a fraction of the price.
A case in point is Jean-Paul Brun's wonderful 2004 Beaujolais "L'Ancien" from his Domaine Terres Dorres. This $13 old-vine gamay wine surpasses most Beaujolais, especially a lot of the large-production output of the big-name bottlers who dominate the Beaujolais business.
The wine is imported by Louis/Dressner Selections, whose Web site notes that Brun is the owner and winemaker of a small family estate (40 acres) in Charnay in southern Beaujolais. It offers some insight into the wine's originality.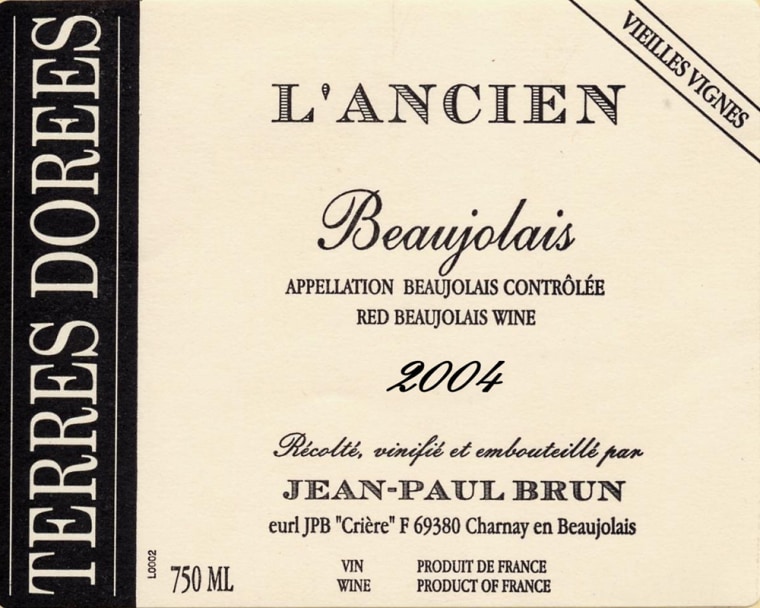 "Brun wants to make 'old-style' Beaujolais," it points out, "and his vinification differs from the prevailing practices in the region." For one thing, Brun lets the wine ferment by itself without manipulation. He adds no yeasts or sugars to elevate the alcohol levels and create bigger wines, as is common in Beaujolais.
In addition, Brun uses a longer, Burgundian-style fermentation rather than the faster, heated fermentation — known as carbonic maceration — that is generally used in Beaujolais. There is minimal filtration. The result, which is clear in his 2004 Beaujolais, is a prettier, more delicate and fresher wine than one usually tastes from Beaujolais.
Unlike the more commercial wines, which are often defined by banana and candy aromas, this one is about bright cherry, earth and minerals on the nose and in the mouth and has a long and slightly spicy finish. Served lightly chilled, as is customary with Beaujolais, the wine was a lovely, late-summer partner to grilled chicken with herbs and fresh sweet corn.
In my excitement, I offered a friend a glass without telling him what he was about to taste. He couldn't quite figure it out and was surprised when I told him. "I've had Beaujolais," he said, "but none tasted like this one."
Edward Deitch's wine column appears Wednesdays. He welcomes comments from readers. Write to him at EdwardDeitch