Happy birthday, Al! To make sure the anchor has a smokin' hot celebration, TODAY has some delicious barbecue recipes that the newly 60-year-old BBQ lover (and anyone else!) can enjoy, courtesy of Hill Country Barbecue Market's executive chef Elizabeth Karmel. From slow-cooked brisket to salt and pepper ribs and corn pudding, check out these mouth-watering dishes that are sure to make a special occasion that much better. 
Texas Hill Country brisket 
Serves 8 to 20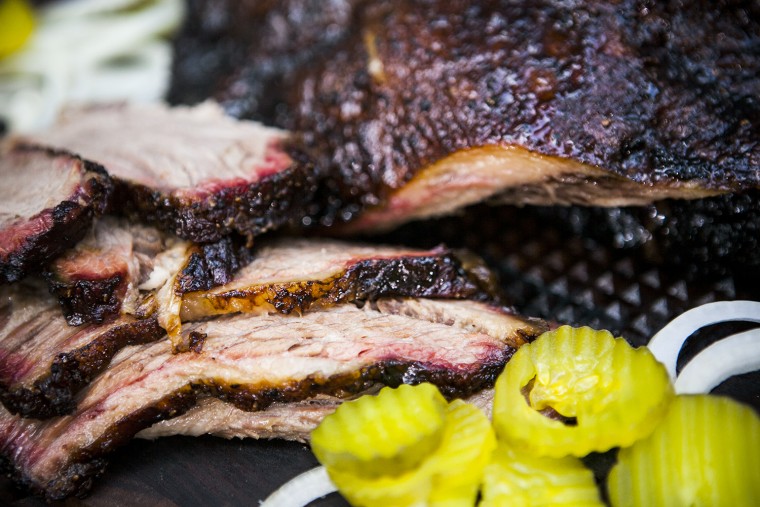 For the brisket: 

1 (7- to 9-lb.) whole beef brisket, untrimmed
1/2 cup Lockhart Dry Rub (see below)
1 bottle beer
Kosher salt
Post oak or oak wood chips, soaked in water for 30 minutes
For the dry rub: 
1/2 cup Morton kosher salt
3 tbsp. cracked black pepper 
2 tsp. cayenne pepper 
Sprinkle brisket liberally with the rub of your choice. Set up the grill for indirect cooking (medium-low heat). If using a gas grill, place a smoker box in the grill, then pour the beer into a small drip pan and put on the far-left corner of the cooking grates. If using a charcoal grill, pour beer into a drip pan and place the drip pan on the charcoal grate between the two piles of briquettes. 
(Note: The beer is in the pan to add moisture to the cooking environment while the meat smokes. This is a good idea anytime you smoke or cook foods for a long period of time because smoke reduces the moisture in the air.)
Place wood chips that have been soaked in water for 30 minutes directly on the gray-ashed briquettes, if using charcoal, or in the smoker box in your gas grill.
Place brisket, fat side up, in the center of the cooking grate over the drip pan. You will not turn the brisket during the cooking time at all. Grill for 5 to 7 hours (adding fresh briquettes every hour to keep the heat constant if using a charcoal grill), or until a meat thermometer registers 180 degrees. Once done, remove from grill and let rest 20 minutes. 
Slice thin and serve with assorted accoutrements, including pickled okra, avocado slices, jalapeños, white onion, Longhorn cheddar cheese and saltine crackers or sliced white bread.
Salt & pepper ribs
Serves 4 to 8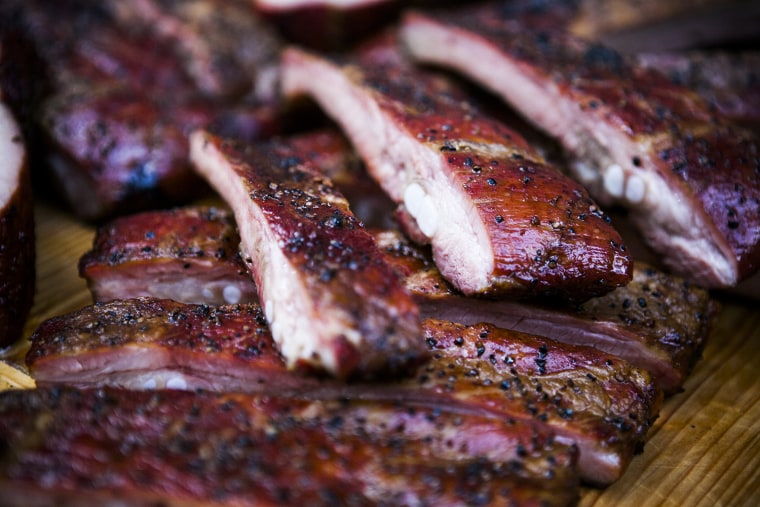 4 racks spareribs (about 4 to 5 lbs. each)
2 tbsp. kosher salt
2 tbsp. freshly ground pepper
1 tsp. cayenne pepper
Wood chips, soaked in water for 30 minutes (optional)
Build a charcoal fire or preheat a gas grill. Set up the grill for indirect heat. If using wood chips, place the soaked chips directly on the charcoal, or in the smoking box of a gas grill.
Remove the silver skin from the back of the ribs, if desired. In a small bowl, mix the salt, pepper and cayenne pepper together and sprinkle the ribs liberally with the mixture. 
Place the ribs, bone-side down, in the center of the cooking grate or in a rib rack over indirect, medium-low heat. Grill covered between 300 and 325 degrees (if your gas grill has a thermometer) for 2 1/2 to 3 1/2 hours, or until the meat is tender and has pulled back from the ends of the rib bones.
Leave the ribs unattended for the first 30 minutes — this means no peeking! — especially if using wood chips. If the ribs start to burn on the edges, stack them on top of one another in the very center of the grill and lower the heat slightly. Twenty minutes before serving, un-stack if necessary and brush the ribs with the barbecue sauce.
Remove the ribs from the grill. Let them rest for 10 minutes before cutting into individual or 2- to 3-rib portions. Warm any remaining sauce in a saucepan and serve on the side.
White shoepeg corn pudding
Serves 8 to 10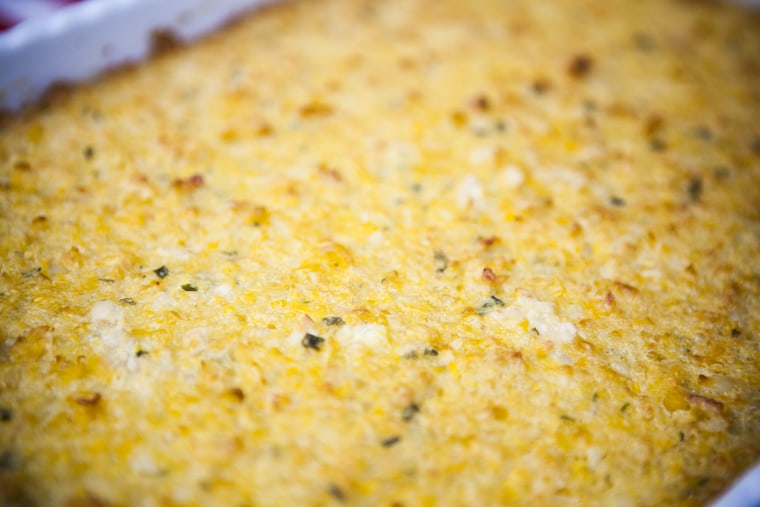 8 cups fresh or frozen white shoepeg corn, thawed, par-cooked and divided (see below)
2 cups heavy cream
2 eggs
1 tsp. granulated sugar
1/2 tsp. sea salt
1/2 tsp. ground white pepper
1/8 tsp. cayenne pepper
1/4 tsp. freshly grated nutmeg
1/4 cup freeze-dried, chopped chives
3 tbsp. butter, melted
1 cup shallot, finely chopped 
2 cups skim-milk cheddar and Monterey Jack cheese, finely shredded 
Preheat oven to 350 degrees. 
Par cook and drain 8 cups (or 32 oz.) of corn. Reserve 2 cups and place the remaining 6 cups in a large food processor fitted with a steel blade. Puree the 6 cups of white corn. Add the cream and process until smooth. Then add the eggs, processing again until completely combined. 
Mix sugar, sea salt, white pepper, cayenne and nutmeg together in a small bowl. Add the spices to the corn-and-cream mixture and process until combined. Add chives, then process again until completely mixed and smooth. Set aside.
Meanwhile, melt butter in a heavy-bottomed sauté pan. Once the butter begins to bubble, add the shallots and sauté until they are just beginning to brown on the edges, and are translucent. Add reserved corn to sauté pan and heat through, then mix the corn and the shallots together. Pour the cream-and-corn puree into a large bowl. Add the warm corn and shallots and mix well. Stir in the cheese and mix well.
Pour the pudding into a buttered 9 x 13 x 2 baking dish that's set into a sheet pan filled with water (this is essentially a custard, so you need to bake it gently in a water bath). Bake for 1 hour, or until set and slightly golden on top.
Serve hot or warm.
"Cool as a cucumber" salad
Serves 4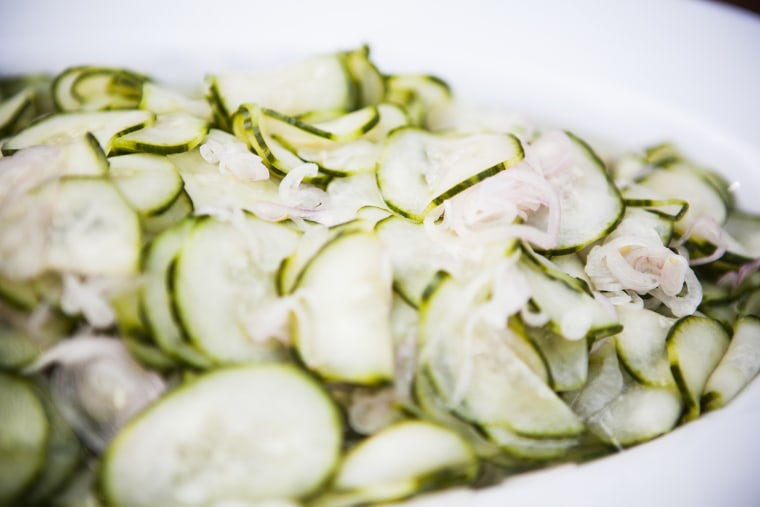 2 English (seedless) cucumbers

4 shallots

1/2 cup granulated white sugar

1/2 tbsp. kosher or sea salt

1 cup unseasoned rice vinegar

Wash and dry the cucumbers. Peel alternating strips of the green skin off the cucumber with a vegetable peeler. Slice very thinly with a mandoline-style slicer or the slicing disc of a food processor. Set aside. Peel shallots and slice the same thinness as the cucumber. Mix cucumber and shallots. The shallot slices will unravel into small rings, which is what you want. Set aside.
Whisk sugar, salt and vinegar together until completely dissolved. Pour over cucumber and shallot slices and mix well, separating the slices to make sure none of them are sticking together. Put the vegetables and all the liquid in a non-reactive (plastic or glass) container with a tight lid and refrigerate, turning occasionally for at least 3 hours or overnight before serving. Taste and adjust seasonings if necessary.
The salad will keep for five days in the refrigerator. 
(Note: I like to put up the "cured" pickles in Mason jars for giving away and serving.)