Basil is widely available, but it's also easy to grow at home, and can thrive in a windowsill garden. If you're a fan of this versatile herb, it might be time to spring for your own plant. In the meantime, here's what you need to know when shopping, plus tips for storage and prep and two new recipes to try.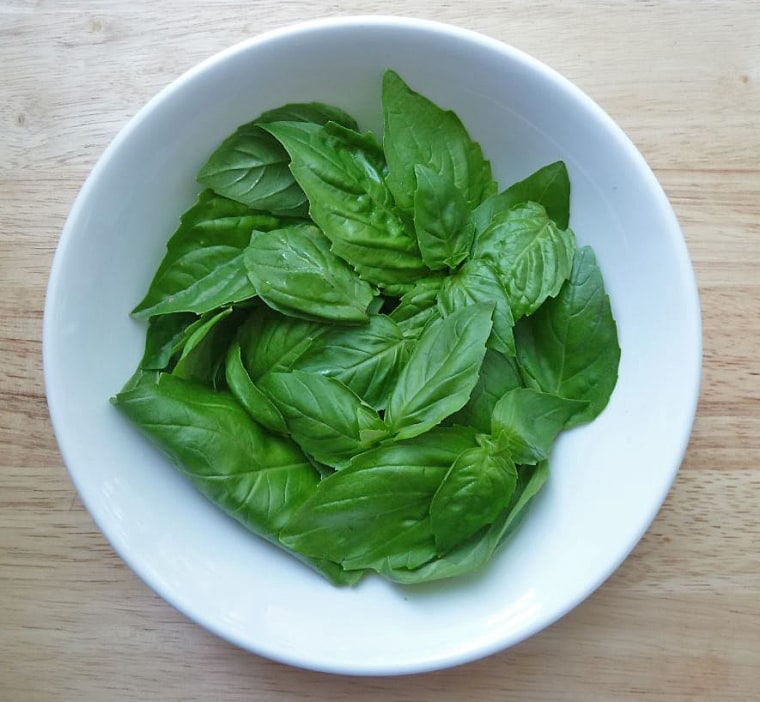 How to shop for basil
Basil can be purchased in bunches or still on the stalk. Look for fresh, bright green leaves with no dark spots, crinkles or dried out patches.
Make pitmaster Chris Lilly's five-ingredient chicken with basil butter
One-pot penne with tomatoes, mozzarella and basil
How to store basil
When basil is still attached to the stalk, place it in a glass of water, then cover the glass with a plastic bag and refrigerate, changing the water daily. Loose basil leaves should be stored in a plastic bag with a paper towel and refrigerated. Either way, basil can last for 3 to 4 days, but may start to wilt or brown earlier than that, so it's best to use it as soon as possible.
Pesto is one of the best ways to preserve fresh basil, but if you want a faster solution, process the basil in a food processor with some olive oil — the oil prevents browning so it's important to use enough oil to coat all the basil. Place the mixture in an airtight container and pop it in the freezer; defrost before using.
Try paleo cauliflower pizza with roasted vegetables and pesto
Here's what to do with all your summer produce!
How to prepare basil
Basil is delicate, so wash it gently and always use a sharp knife to avoid bruising the leaves. The same goes for a food processor — make sure your blades are super sharp.
Recipes often call for a chiffonade of basil, which just means thinly sliced. Use the stack, roll and slice method: Layer several leaves on top of each other, roll them into a cigar shape and use a sharp knife to cut it into thin strips.
Make super easy pasta with pesto and peas
Basil recipes
Basil Vodka Gimlet: In a small saucepan, combine 1/2 cup water, 1/2 cup sugar and 10-15 fresh basil leaves to make a simple syrup. Bring to a boil, stirring to dissolve the sugar. Let sit for at least 1 hour, then strain and refrigerate until ready to use. In a cocktail shaker, combine 2 ounces vodka, 3/4 ounce freshly squeezed lime juice and 3/4 ounce of the basil simple syrup. Fill the shaker with ice and shake vigorously, then strain into a chilled cocktail glass.