Planning a party but have no time to cook the day of the shindig? Find yourself in the same bind with family dinners? Ina Garten, a.k.a. the Barefoot Contessa, can relate. "When I had a specialty food store, people would take our dishes home and serve them later or the next day. So, I had to make dishes ahead, and I learned to make many things that were even better when they were made ahead." Garten added that the question she's most frequently asked about her recipes is "Can I make it ahead?" Her new cookbook, "Make It Ahead," answers yes to that question every time. "I wanted to share what I learned with home cooks, who often have to cook ahead to accommodate their families' busy schedules," Garten explains. 
Garten shared tips on planning impressive make-ahead meals, plus her recipes for herbed pork tenderloin with apple chutney, mashed potatoes and cornbread. The savory fall dishes can all be prepared a day to several days in advance of serving (yes, even the mashed potatoes!). "I've learned that my dinner parties are more fun when I'm not in the kitchen cooking!" says Garten. "It's hard for me to imagine a recipe that can't in some way be prepared in advance so cooking is less stressful and more fun."
Ina Garten's make-ahead dinner party tips:

If it can't be made ahead, don't make it:  "After writing this book and using all the recipes for my own dinner parties, I've really become a believer!" says Garten. "Now I make a menu for a dinner and look at it and say, can I make this entire dinner ahead? If I can't, I start substituting dishes that I can! It doesn't mean the entire thing is made in advance and simply reheated. It means that the majority of the dishes can be prepared before guests arrive and the only last-minute cooking instructions can fit on a single Post-it note!"
Make a game-plan — and write it down:  "I think my dinner guests are always surprised to learn that I have a very specific 'game plan' for the meal written on a pad of paper," says Garten. "It starts with 5:00 p.m.: 'Turn oven to 500 degrees; 5:30 p.m.: filet of beef in oven, cut Brussels sprouts, etc.' I take each recipe I'm serving and put all the steps for the recipe in the game-plan, working backward from the time that I want to serve dinner. That way I know two important things — first, that everything will be ready at the same time when I want people to sit down to eat, and second, that before 5:00 p.m. I have nothing to do!"
Take notes on your recipes: Whether you're planning a dinner party or a family dinner, go through your recipes and identify steps you can do ahead, suggests Garten. "I have gone over many of my old recipes and noted what steps in the recipe I can do ahead," the Contessa says. "Butternut squash and Brussels sprouts can be prepped days in advance and stored in plastic bags in the fridge to be roasted with olive oil, salt and pepper before dinner. Potatoes can be cut and allowed to sit in water in the fridge so they're ready to go whenever you need them. Muffin batters can be made the night before and refrigerated, then scooped into muffin cups in the morning and baked. Pie crust can be prepared, rolled out, and refrigerated for a day or two, ready to be made into pies at any time." 
Plan for the unexpected: Garten likes to keep homemade frozen lasagnas and stews on hand so she can bake them when unexpected guests arrive. A well-stocked freezer and pantry are a boon when it comes to dessert, too: "If all else fails, I almost always have vanilla ice cream and espresso on hand for affogato sundaes."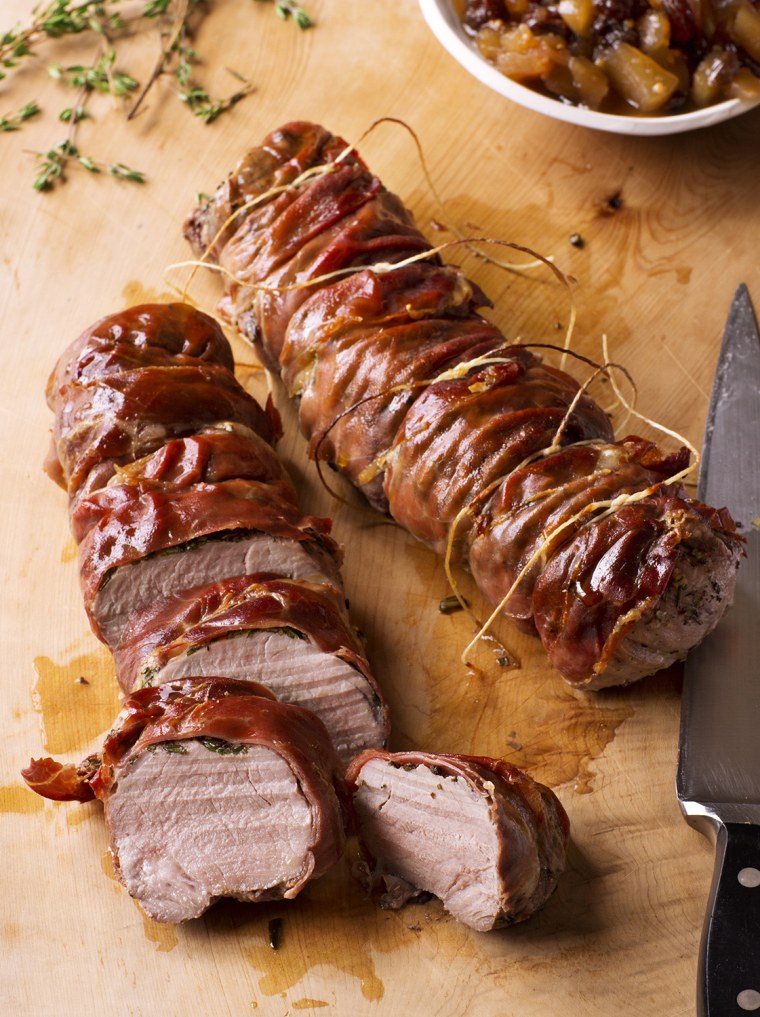 Herbed pork tenderloins with apple chutney
Serves: 6 to 8

Cooking pork tenderloins for the first time was a revelation to me because I didn't grow up eating pork. I prep them — seasoning them with rosemary and thyme and wrapping them with prosciutto — and then roast them just before dinner. I love to serve these with homemade apple chutney.
2 pork tenderloins (2½ to 3 pounds total)

1 tablespoon minced fresh rosemary leaves

1 tablespoon chopped fresh thyme leaves

Kosher salt and freshly ground black pepper

Good olive oil

10 to 12 slices prosciutto

Apple Chutney (recipe follows)

Preheat the oven to 450 degrees.
Place the tenderloins on a sheet pan and pat them dry with paper towels. Combine the rosemary, thyme, 1 tablespoon salt, and 1 teaspoon pepper in a small bowl. Rub the tenderloins all over with 2 tablespoons of olive oil. Sprinkle all sides with the herb mixture. If there is a thinner "tail," fold it underneath so the tenderloin is an even thickness throughout. Wrap the tenderloins completely with a single layer of prosciutto. (I place the prosciutto sideways with the ends wrapping under the tenderloins.) Tie in several places with kitchen string to hold the prosciutto and the "tail" in place.
Roast for 20 to 25 minutes, until an instant-read thermometer inserted in the middle of the end of the tenderloin reads 140 degrees for medium rare and 145 degrees for medium. Cover the tenderloins tightly with aluminum foil and allow to rest at room temperature for 15 minutes. Slice diagonally in thick slices and serve warm with the Apple Chutney.

Note: Pork can be cooked medium rare because there is no longer a concern about trichinosis. Overcooked pork will be dry and flavorless.
MAKE IT AHEAD: Assemble the pork completely, wrap tightly, and refrigerate for up to 24 hours. Roast before serving.
Apple chutney
Makes 5 cups

Of course, you can serve Herbed Pork Tenderloins with store-bought chutney but homemade apple chutney with fresh ginger and raisins is easy to make and delicious!
1 cup chopped yellow onion

2 tablespoons minced or grated fresh ginger (see note)

1 cup freshly squeezed orange juice (4 oranges)

3/4 cup apple cider vinegar

1 cup light brown sugar, lightly packed

1 teaspoon whole mustard seeds

1/4 teaspoon crushed red pepper flakes

11/2 teaspoons kosher salt

6 Granny Smith apples, peeled, cored, and ½-inch-diced

3/4 cup raisins

Combine the onion, ginger, orange juice, vinegar, brown sugar, mustard seeds, red pepper flakes, and salt in a medium-size saucepan. Add the apples, adding them as you chop to keep them from turning brown. Bring to a boil over medium-high heat, stirring occasionally. Reduce the heat and simmer for 50 minutes to 1 hour, stirring occasionally, until most of the liquid has evaporated. Stir in the raisins and serve warm, at room temperature, or cold.
Note: To mince ginger, I peel it, dice it, and process it in a mini food processor.
MAKE IT AHEAD: Store covered in the refrigerator for up to 2 weeks.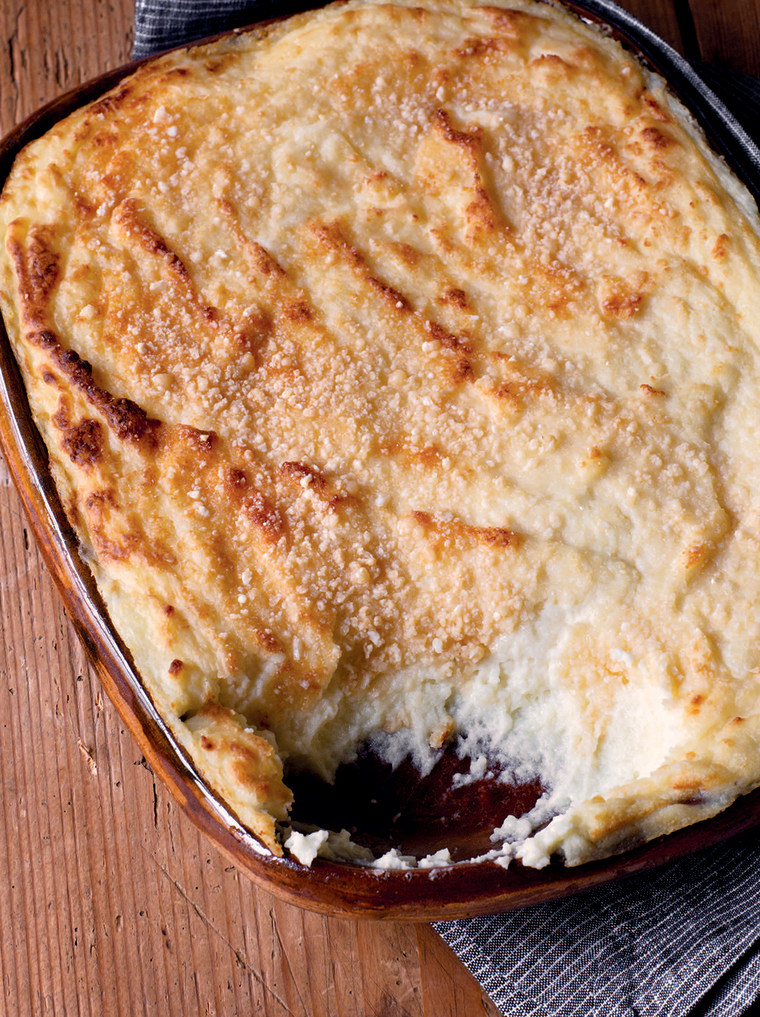 Goat cheese mashed potatoes
Serves 6 to 8
It is a myth that mashed potatoes need to be made just before they're served. They can go into a heat-proof bowl set over simmering water for about thirty minutes, as long as you keep adding more liquid to keep them creamy. Or, even easier, I pour them into a baking dish, sprinkle with Parmesan cheese, and bake them in the oven.
3 pounds large Yukon Gold potatoes, peeled and cut in 3/4-inch chunks
5 large garlic cloves
Kosher salt and freshly ground black pepper
7 to 8 ounces garlic and herb goat cheese, at room temperature, such as Montrachet
4 tablespoons (1/2 stick) unsalted butter, at room temperature
11/2 cups sour cream
1/2 cup half-and-half or milk
1/2 cup freshly grated Parmesan cheese

Preheat the oven to 375 degrees.
Place the potatoes, garlic, and 1 tablespoon of salt in a large pot with enough water to cover the potatoes. Bring to a boil over high heat, reduce to a simmer, and cook for 20 to 25 minutes, until very tender.
Drain the potatoes and garlic and process them together through a food mill fitted with the coarsest blade set over a bowl. While the potatoes are still hot, stir in the goat cheese, butter, sour cream, half-and-half, 4 teaspoons salt, and 2 teaspoons pepper, until smooth.
Pour the mixture into a 9 × 12 × 2-inch oval baking dish, smoothing the top. Sprinkle the Parmesan on top and bake for 30 to 40 minutes, until lightly browned. Serve hot.

MAKE IT AHEAD: Assemble the dish, including the Parmesan, and refrigerate for up to 3 days. Bake before serving.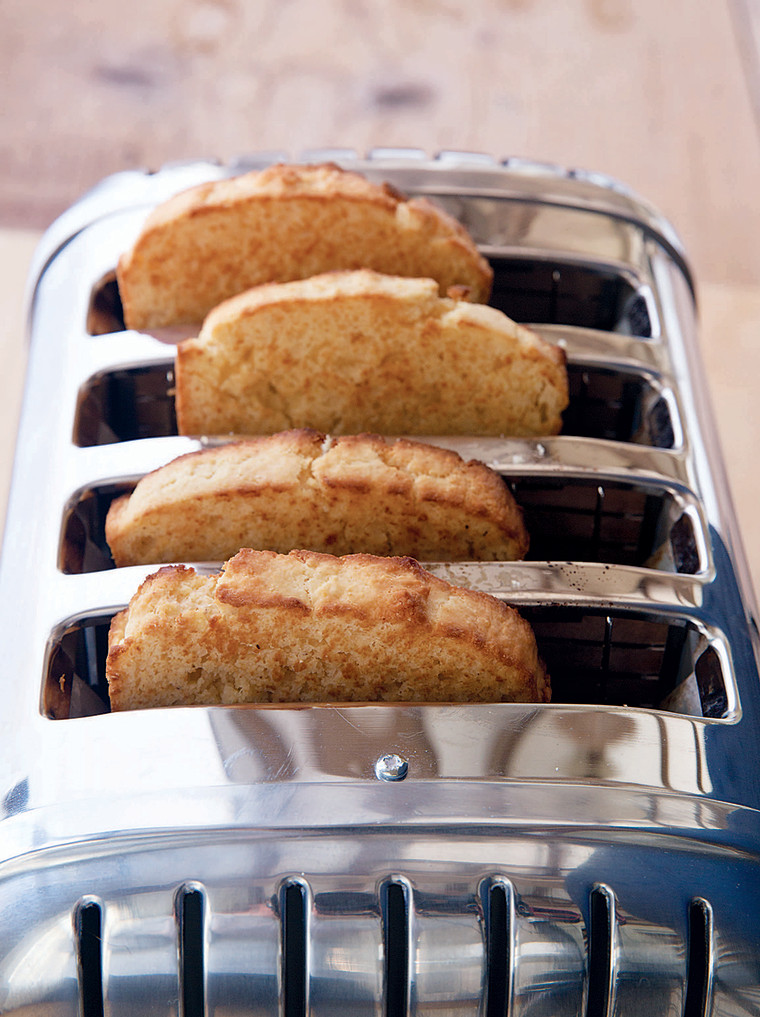 Sour cream corn bread 
Makes 2 loaves

This all-American quick bread is usually served with dinner. To make it ahead, I bake it in loaves, and then slice, toast, and slather it with butter and jam for breakfast. Bob's Red Mill cornmeal is widely available and essential for this recipe.
1/2 pound (2 sticks) unsalted butter, melted, plus extra to grease the pan

3 cups all-purpose flour

1 cup Bob's Red Mill medium-grind yellow cornmeal

1/2 cup sugar

2 tablespoons baking powder (see note)

1 tablespoon kosher salt

11/4 cups whole milk

3/4 cup sour cream

2 extra-large eggs, at room temperature

Salted butter and strawberry jam, for serving

Preheat the oven to 350 degrees. Grease and line the bottom of two 8 1/2 × 4 1/2 × 2-inch loaf pans with parchment paper.
Whisk together the flour, cornmeal, sugar, baking powder, and salt in a large bowl. In a separate bowl, whisk together the milk, sour cream, and eggs and then slowly whisk in the melted butter. Pour the wet ingredients into the dry ones and mix them together with a rubber spatula, until combined. Don't overmix! Pour the batter into the prepared pans, smooth the top, and bake for 35 to 40 minutes, until a toothpick comes out clean. Place the pans on a rack and cool completely.
When ready to serve, slice the corn bread, toast it, and serve with salted butter and strawberry jam. 

Note: Check the expiration date of your baking powder to make sure it's still active.
MAKE IT AHEAD: Bake the corn breads, cool completely, wrap tightly, and refrigerate for up to 4 days or freeze for up to 3 months. Defrost, if necessary, slice 1/2 inch thick, and toast.