Marie Jean was a barbecue pitmaster, a woman directing a group of men to create a memorable Fourth of July meal in 1840. What's astounding is that she was an enslaved Black woman living in Arkansas two decades before the Civil War, featured in the local newspaper for her cooking and was eventually able to buy her freedom and run a restaurant.
"She's so highly regarded that when she dies, the white newspaper eulogizes her," said Adrian Miller, culinary historian, certified barbecue judge and author of "Black Smoke: African Americans and the United States of Barbecue," which came out in April. "It's a testament to her character … and the entrepreneurial spirit that Black people brought to barbecue."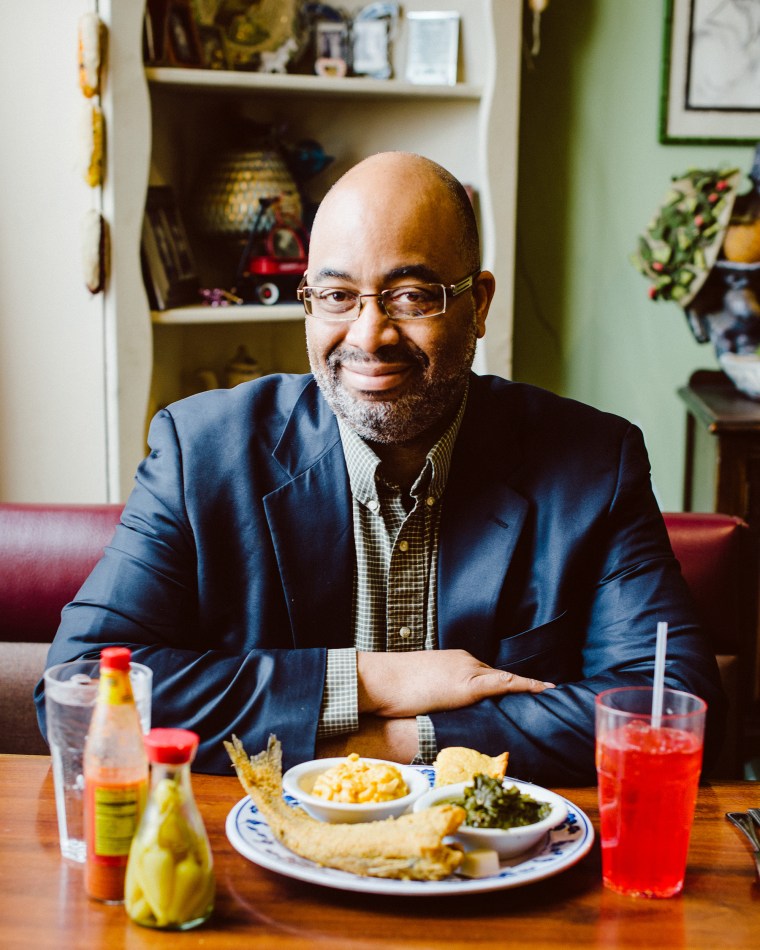 Barbecue is ubiquitous in America — the stuff of regional pride, fierce rivalries and a celebration staple. But the role of Black chefs and Indigenous traditions in creating that culture has been largely overlooked. The story of Marie Jean is just one of many Miller shares in his book, which aims to correct the narrative and showcase these contributions.
"Barbecue is tied to slavery and Blackness in this country because, for at least two centuries and probably longer, Black people were the ones who did all the prep work, did all the cooking, did the serving and even did the entertaining after all the eating was done," Miller explained. "And then after emancipation, you've got Black people with this highly marketable and coveted skill for making barbecue. And they get recruited to do barbecues all across the country. So they not only become barbecue's go-to cooks, but in many cases, they were barbecue's most effective ambassadors."
Black and Indigenous people have contributed to everything from the farming and herding of animals to the cooking process, seasoning and sides.
"You can't really tell the story of American food without including the Indigenous perspective," said chef Sean Sherman, founder of Minnesota-based The Sioux Chef, whose mission is to promote knowledge and access to pre-colonial Native American cuisine. "A lot of Indigenous staples are just dotted throughout Southern barbecue," he added, pointing to ingredients like corn, beans, spices and chilies, which were introduced to colonists by Indigenous people and are used as barbecue sides and flavoring for meat.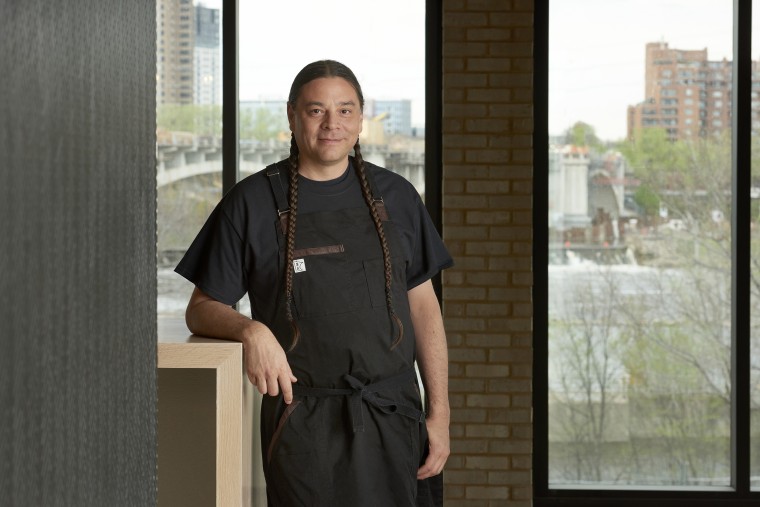 Indigenous cooking also involved smoking as a food preservation technique, though the pre-colonial meats they cooked came from native animals like bison, elk and rabbit. "Some of the tribes had really complex buildings and smokehouses," Sherman said.
Barbecue, Miller added, is a combination of Indigenous, European and West African meat-smoking techniques.
You can't really tell the story of American food without including the Indigenous perspective.
Sean Sherman
"Europeans saw the ways that Native Americans cooked meat and basically modified the shallow pit method that they saw to create pit barbecue. They dug a deeper trench and cooked whole animals at a higher temperature," Miller explained. "So they kind of melded the slow-smoking techniques that Native Americans with a faster grilling technique. Then, enslaved Africans had their own smoking traditions. They knew how to work with smoked meat but also brought in a deep sense of seasoning."
The critically praised Netflix docuseries, "High on the Hog: How African American Cuisine Transformed America," hosted by food journalist and activist Stephen Satterfield and based on the book of the same name by culinary historian Jessica B. Harris, traces the role of Black cowboys as cattle drivers. They helped herd millions of cattle beginning in the 1800s and turned America into what Satterfield calls a "red meat nation," laying the foundation for barbecue's accessibility and popularity.
Notably, the series also traces the origins of mac and cheese, one of the most beloved barbecue side dishes (and really, a dish for any occasion), which was introduced to America by James Hemings, the French-trained Black chef who was enslaved by President Thomas Jefferson.
Barbecue has evolved over the years, with Black purveyors setting up roadside stands, cooking out of churches and the alleys of urban centers, and attracting customers through word of mouth.
"Because of racism in our society, there were only a few occupations that Black people could do without generating white resentment, and being in food service was one of them," Miller said. "You could eke out living, but there were situations where people actually prospered. So, it was a chance for upward mobility. The challenge for Black entrepreneurs is often they have a lack of access to capital and face other structural impediments."
Miller posits that the rise of foodies and celebrity chef culture beginning in the 1990s coincided with diminishing or even erasure of Black people from the barbecue narrative. Without public relations machines to promote them, they were left out of the spotlight.
There were only a few occupations that Black people could do without generating white resentment, and being in food service was one of them.
Adrian Miller
Food media — which has recently gone through its own racial reckoning — presented a very narrow picture of barbecue, denying visibility to the Black pitmasters who were so pivotal to barbecue, he said.
"At the very time that foodies are asking two questions: What's barbecue and where do I get the good stuff? White dude after white dude after white dude was presented to them as the go-to experts."
But people like Miller, Satterfield, Sherman and others are working to make sure Black and Indigenous contributions to American food are not just recognized, but also celebrated.
In his book, Miller shares his list of 20 best Black-owned barbecue joints, including Burns Original BBQ in Houston, Texas, Bludso's Bar & Que in Los Angeles, California, and The Bar-B-Q Shop in Memphis, Tennessee.
Miller successfully lobbied for the American Royal Barbecue Hall of Fame to be more inclusive, after pointing out that out of 27 inductees over 11 years, only one was Black. In 2019, Miller joined the board and since then, there have been more Black inductees, including Charleston pitmaster Rodney Scott, a James Beard Award winner and founder of multi-location Rodney Scott's Whole Hog Barbecue, who was inducted this year.
His cookbook, "Rodney Scott's World of BBQ," also came out this year and is the first cookbook by a Black pitmaster that's been published in 30 years — proving that there's still a long way to go for accurate representation.