Sure, hot dogs and mayo-laden sides are summer classics but they're also sure ways to de-rail your diet. (And let's be honest, you can be more creative than that!) Plus, with grilled food getting a bad rap because excess smoking and charring can be produce carcinogens, you might wonder if it's even worth having a backyard barbecue anymore. Absolutely. The next time you cook out, use these tips to make healthier dishes that will be so delicious, everyone will forget about the hot dogs.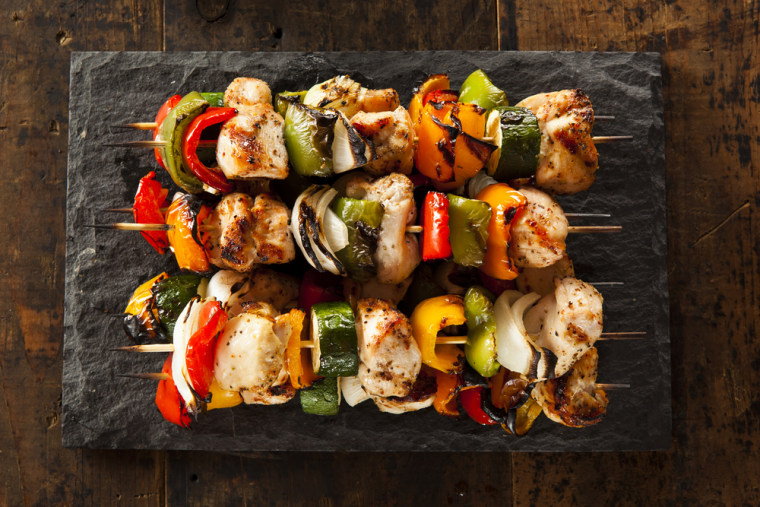 1. Grill lean(er) meat. The occasional hot dog or burger is fine, of course, but think of them as treats rather than as a regular meal. If you grill often, choose lean cuts of meat, including chicken breasts or skinless chicken thighs; pork loin or tenderloin; flank steak, skirt steak or beef tenderloin. Not only do these cuts have fewer calories but their lack of excess fat causes fewer flare-ups on the grill. (Bonus: You don't need to sandwich them in a low-nutrient white bun to eat them either).
To make sure you don't overcook these cuts, use an instant-read thermometer to check when they're cooked to your liking; then let them rest for a few minutes before serving, which will help keep them juicy.
Recipes to try:
2. Marinate meat and cook over moderate heat. Marinades not only boost flavor; they also protect your meat from the effects of accidental flare-ups and excess charring. To further prevent flare-ups as you cook (which aren't just unhealthy but they make meat taste bitter), grill meat when the coals have cooled down a bit or keep your gas burners at moderate heat. Then turn the pieces often, moving them to a cooler part of the grill if they start to blacken.
Instead of using sugar-and-salt-loaded store-bought marinades (which can also have preservatives), it's healthiest to make your own. For the simplest marinade ever, toss meat with equal parts olive oil and lemon juice or vinegar. Better yet, add fresh herbs and spices, which are packed with antioxidants.
Related: 5 make-ahead chicken marinade recipes
Recipes to try:
3. Make better sauces. In place of a sugary barbecue sauce (which can actually cause charring and flare-ups if you brush it on meat as it grills), squeeze fresh lemons, limes or oranges (or all three!) over meat as it rests for the world's fastest sauce. If you're feeling a bit more ambitious, make a quick Italian salsa verde; a herby yogurt sauce or a zingy vinaigrette to serve alongside.
Recipes to try:
4. Up your fish grilling game. You know fish is good for you, so why not grill it? If you're scared it will stick to the grates or fall through them, try grilling fish whole or opt for thick, easy-to-turn steaks. Prefer boneless fillets? Then it's worth investing in a fish basket (such as this one from Amazon). These inexpensive contraptions keep fillets contained and elevated above the grates, so the fillets are easier to maneuver and flip. For meatier fish, like salmon or halibut, you can cook them on cedar planks, which helps fillets intact while infusing them with a delicious woodsy flavor.
Related: Grill fish like a pro with these tips from a barbecue master
Recipes to try
5. Grill your vegetables. Starchy, mayo-laden picnic salads can be the downfall of any diet. Skip those gut bombs and serve grilled vegetables instead, which, even when charred, don't release the same harmful chemical compounds as meat. (A good excuse to make vegetables the star of your menu!)
Slabs of zucchini, bell peppers and eggplant are classic choices for the grill but feel free to experiment with any sturdy vegetable you get at the farmers' market, including fennel, Brussels sprouts, carrots and even kale. To keep smaller vegetables from falling through the grates, arrange a perforated pan or a sheet of foil on top of the grill first.
Related: How to make the best grilled vegetables
Recipes to try: