When you're short on time, try these tips to make breakfast and lunch stress-free.
Breakfast
Breakfast is supposed to be the most important meal of the day, right? And yet it's so hard to do anything as you and your family rush out the door. With a just a few minutes, you can make it happen.
Banana yogurt pop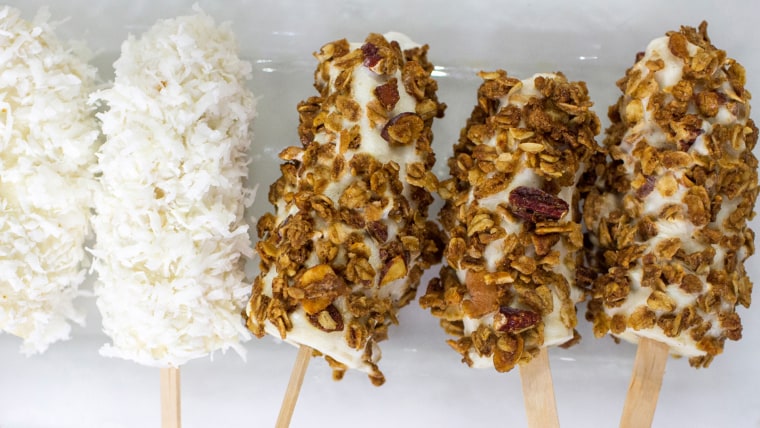 If you're in a crunch for time, this is the way to go. Cut banana in half so you have two short pieces. Insert popsicle sticks in each half, cover the banana with a layer of yogurt, then roll it in granola. Bam! There's your breakfast on-the-go, minus the bowl and spoon. Get the full recipe from blogger Chocolate Covered Katie.
French toast in a mug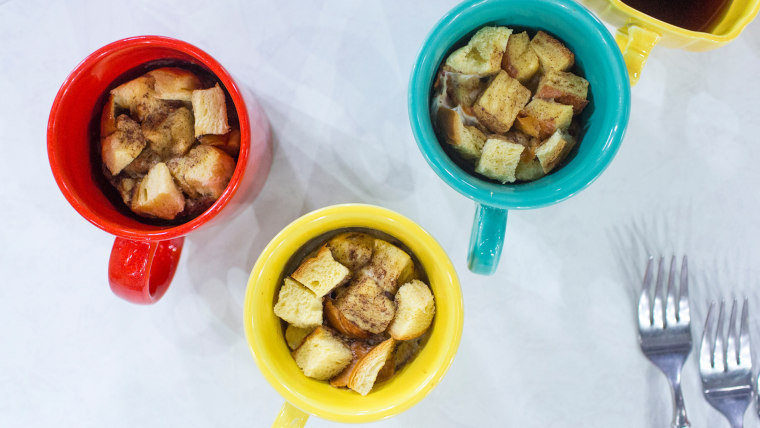 Here's how you can have your favorite breakfast treat in a matter of minutes. just throw a few things in a mug: butter, cubes of bread, milk, an egg, vanilla extract and cinnamon. Microwave it for about 1-2 minutes. Top with syrup, and you're done!
Lunch
Keep apple slices fresh
Have those apple slices ready-to-eat, and without turning brown! Cut your apple into slices as you normally would, then just use a rubber band to hold it together to keep it fresh. It's really that easy!
No more soggy salads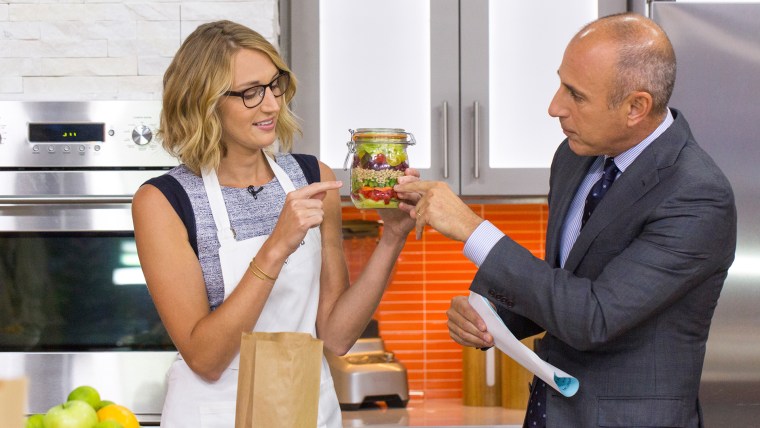 The key to salad for lunch is strategically layering so nothing gets soggy. Here's my favorite way.
Get a wide-mouthed Mason jar, then first pour in your salad dressing, then add any hard veggie, like carrots. Next, add beans or grains — like chickpeas and farro. Then add cheese or other protein, like tuna. And some nuts, and then fill to the top with your greens! When you're ready to eat it, just shake it up. This jar salad will keep for about five days, so you could make all of your salads for the week on Sunday and be good to go. Try TODAY's recipe for Mason jar taco salad.
Dorm-style snack
Pepperoni pizza pocket
This is perfect for dorm room "kitchens" -- where you only have a microwave and a mini fridge. But it can also be an option for a busy weeknight. This idea comes from my buddy Priya Krishna, who wrote about it in her book, "Ultimate Dining Hall Hacks."
Get a tortilla and spread tomato sauce on it, then top it with pepperoni, mozzarella cheese, a bit of oregano. Microwave it and and roll it up like a burrito. That's it! This is also a lot healthier than the pre-made frozen options.
Happy eating!
Katie Quinn is a journalist and food enthusiast. Check out her popular YouTube channel.