These crisp, cheesy eggplant slices are a lighter take on the more traditional fried eggplant Parmesan. It lets the savory flavor of the Parm and the satisfying crunch of the panko shine. This same recipe also works with sliced zucchini and summer squash.
When dredging the eggplant slices, don't be afraid to get your hands dirty. And really press that panko onto the slices. The more breadcrumbs, the more crunch. Panko can be found alongside the other breadcrumbs at the grocer, as well as in the ethnic or Asian aisle.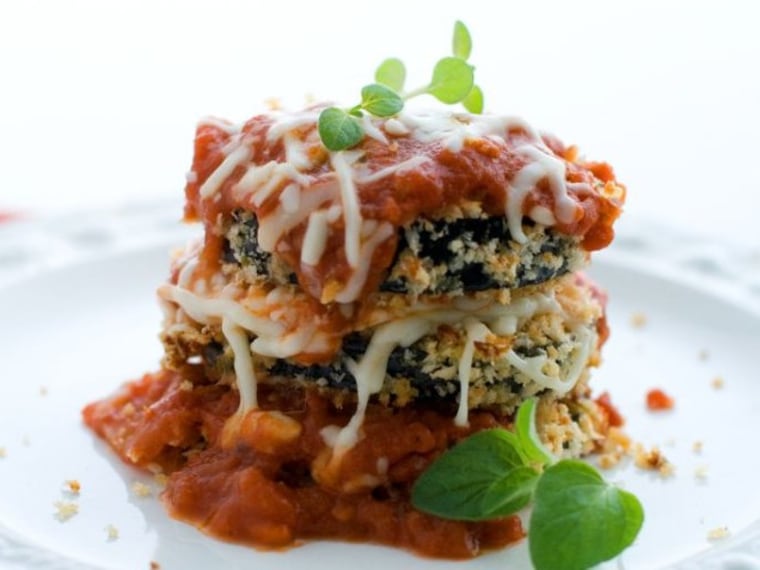 Ingredients:
2 eggs

1 teaspoon dried oregano

2 cups panko (Japanese-style) breadcrumbs

1 large eggplant (about 1 1/2 pounds)

1 1/4 cups finely grated Parmesan cheese, divided

1 1/2 cups jarred marinara or other pasta sauce

1/2 teaspoon ground black pepper

1 cup grated mozzarella cheese

Yield: 4 Servings
Directions:
Heat the oven to 400°F. Coat a large baking sheet with cooking spray.
In a wide, shallow bowl, whisk the eggs. In a medium shallow bowl, mix together the panko, 3⁄4 cup of the Parmesan, the pepper, and oregano.
Trim the ends of the eggplant, then cut it into 1⁄2-inch-thick slices. Dredge each slice through the egg, making sure both sides are coated, then through the breadcrumbs, flipping it to coat both sides.
Arrange the slices in a single layer on the prepared baking sheet. Spritz the eggplant slices with cooking spray, then bake them for 20 minutes. Turn the slices and bake for another 20 minutes, or until both sides are crisp and slightly browned.
Sprinkle the eggplant slices with the remaining Parmesan and return them to the oven until the cheese melts, about 2 minutes. Meanwhile, in a small saucepan over medium heat, warm the pasta sauce. Divide the eggplant among serving plates and top with pasta sauce and mozzarella.
Recipe courtesy of "High Flavor Low Labor" by J.M. Hirsch, copyright 2010. Used by permission of Random House. All rights reserved.

This recipe originally appeared on iVillage.