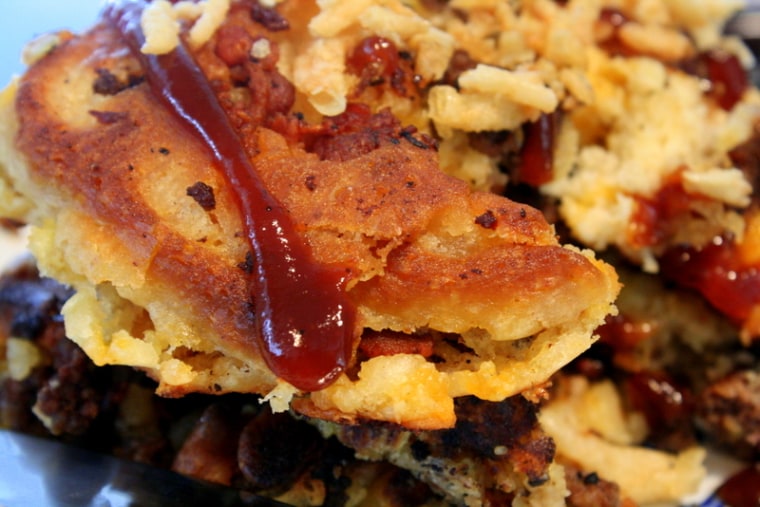 February is National Pancake Month. Since they were invented, these breakfast cakes have been a hit with kids and adults around the world. Could there be a better month than one celebrating fluffy cakes drenched in maple syrup and butter? Rather than settling for the same old, same old, try some creative, delicious and just plain wacky pancake recipes.
Cake batter pancakes
Though your birthday comes but once a year, the craving for a slice of cake comes quite a bit more often. Why not try these cake batter pancakes from Jessica Hunt of How Sweet Eats? As Jessica puts it: "I don't need an excuse to eat cake and sprinkles. I believe it should be a daily occurrence." She uses boxed cake mix, a sugary glaze, and sprinkles both inside and on top of the pancakes to create these indulgent, sweet treats that are equal parts breakfast and dessert.
Mac n' cheese pancakes
Cheese makes anything better, even pancakes, at least according to Emily Tan at Fuss Free Cooking. She melds two childhood favorites – mac-n' cheese and pancakes – and morphs them into a cheesy, creamy, crunchy treat. The combination of chewy noodles, sweet batter,and crunchy-at-the-edges cheese makes this a winner in anyone's book.
Fatty pancakes (from Meat Me)
Bacon with pancakes is a no-brainer. But these fatty pancakes , made for the 2012 Santa Ana BBQ competition, take it to the next level. They are stuffed with apple pie filling, cream cheese and sausage, and the whole thing is wrapped in a bacon "weave" that holds the package together as it is grilled until the bacon is crispy, the cream cheese is melted and the flavors have all melded together. This might just be the most aptly named dish – the only way to describe your feeling eating this is totally and completely "fatty."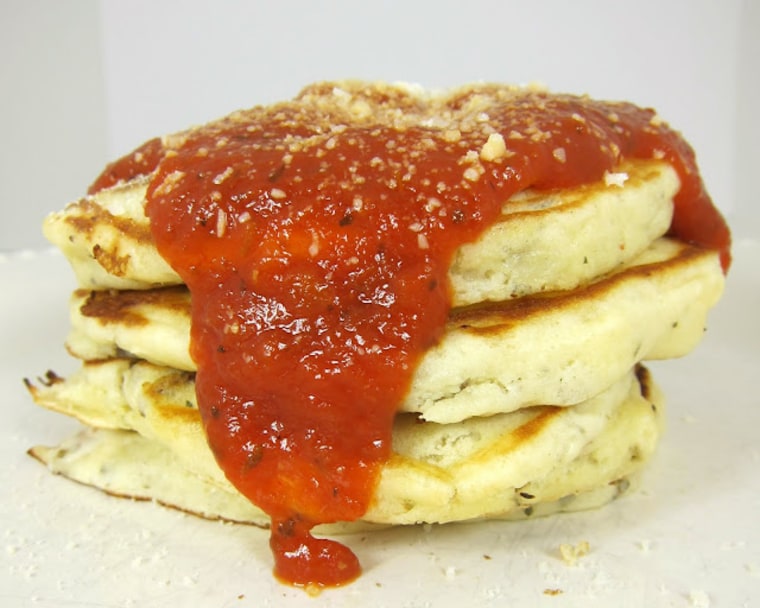 Pizza pancakes
Move over, pizza bagels! Stephanie Parker of Plain Chicken invented these pancakes as a twist on the flatbreads that her family loves. She puts everything that would be in a deluxe pizza in these savory little cakes – mushrooms, pepperoni, red pepper flakes, and mozzarella cheese. Served with some warm pizza sauce for dipping, these hot pizza pancakes for perfect for dinner!
Peanut butter chocolate chip pancakes
If peanut butter and chocolate are your idea of a match made in heaven, these pancakes from Erin Sellin of Dinners, Dishes, and Desserts are right up your alley. Though she uses whole wheat flour in her pancake batter, she dresses these cakes in a peanut butter and chocolate syrup and fills them with peanut butter and milk chocolate chips. She says that the key to these pancakes is using buttermilk, but I have a sneaking suspicion that the chocolate is the real hero of these hotcakes. As a bonus, you can top it with ice cream and call it dessert.
Tuna pancakes
This one is not for the faint of heart. Scary-Crayon's tuna pancakes use pancake batter, tuna fish, mayonnaise and cheese for a pancake-meets-tuna-melt experiment that creator Wes Dennis says "turned out pretty well!" Though he swears it is tasty, and even suggests other canned fish works well, the idea of a hot pancake coated with mayonnaise, melting cheese and tuna makes me think it's a little too crazy for me!
The pancake punch
Forget Bloody Marys and bellinis. Who needs drinks with breakfast when you can have drinks FOR breakfast? David T. Smith of Institute for Alcoholic Experimentation took this challenge to heart when he invented the pancake punch. Just mix pancake mix with milk, sugar syrup and rum, and serve it in a sugared cocktail glass and enjoy. Smith says that this "tastes like a mix of Egg Nog and cake batter … If you used to like licking out the cake-mix bowl when you were a child, you may well enjoy The Pancake Punch." What's next – sugar cookie dough injected with margaritas?
Western bacon cheeseburger pancakes
I couldn't just see all these great pancakes and not make my own! I took one of my favorite foods on the planet and put it into pancake form. It is incredibly easy to make and really satisfying – beefy, cheesy, and filled with crunchy bacon. Topped with tangy barbecue sauce, these are almost good enough to make you swear off regular pancakes forever.
More pancake recipe from TODAY Food:
Cornmeal pancakes with blueberries and sour cream
Killer pumpkin pancakes
Nutella pancakes with hazelnut maple syrup