Food & Wine's Justin Chapple is sharing his best back-to-school lunch box hacks. He shows us how to make taco-filled hand pies, banana roll-ups with almond butter and jelly, an easy way to pack cupcakes and more.
And check out our favorite lunch boxes so that your kid's lunch is as cute on the outside as it is on the inside!
1. AB&J Roll-Ups (Almond butter, banana and jelly wraps)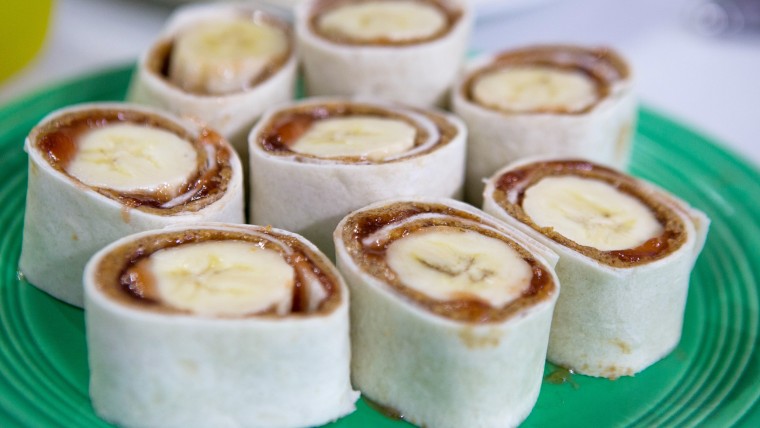 Keep peeled bananas from turning brown by wrapping them in a tortilla that's been spread with almond butter and jelly.
Ingredients:
Flour tortillas
Almond butter
Strawberry or grape jelly
Peeled bananas
Preparation:
Using an offset spatula, spread the almond butter on the tortillas, leaving a 1-inch border. Spread with jelly and then put a banana on one side of the tortilla. Wrap the edge of the tortilla around the banana and then roll it up. Cut into smaller pieces and pack in a lunch box.
2. Travel-Worthy Cupcakes
Cupcakes can't be packed in lunch packs because the frosting will get smushed. Make cupcake "sandwiches" instead. Just cut the bottom off a cupcake and put it on top of the frosting, sealing it all in.
Ingredients:
Frosted chocolate or vanilla cupcakes
Preparation:
With a small serrated knife, cut off the bottom half the cupcakes and put it cut side down on top of the frosting, pressing down to make a sandwich. Wrap in plastic and it's ready to pack!
3. Cheesy Meatball Bites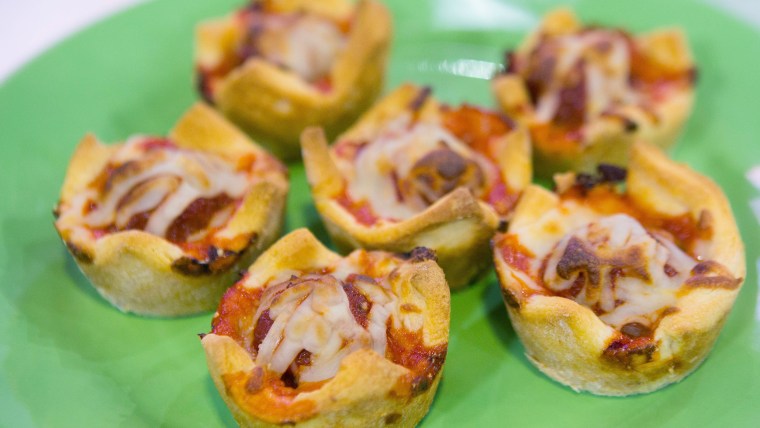 Combine the goodness of meatballs and cheesy pizza with these easy, portable bites. Kids love them and they're also perfect for packing in lunches.
Ingredients:
Pillsbury crescent roll dough
Marinara sauce
Frozen mini meatballs, thawed
Shredded mozzarella
Preparation:
1. Preheat the oven to 375°F. Unroll the dough on a work surface and then cut it into 12 rectangles.
2. Press 1 rectangle into the bottom of each cup of a muffin pan. Spoon 1 teaspoon of marinara sauce in each cup and sprinkle with 1 teaspoon of shredded mozzarella. Top each with 1 meatball, 1 more teaspoon of marinara and 1 more teaspoon of shredded mozzarella.
3. Bake for about 15 minutes. Let cool slightly, then remove from the pan.
4. Taco Hand Pies
Sealing taco filling inside a self-contained pie crust pocket takes the mess out of eating tacos.
Ingredients:
2 sheets of store bought pie dough (Pillsbury)
1 tablespoon oil
1/4 pound ground turkey or chicken
1 tablespoon taco seasoning or ground cumin
1/2 cup rinsed and drain canned black or pinto beans
1/2 cup thawed frozen corn
Kosher salt
3/4 cup shredded Monterey Jack cheese
1 large egg beaten with 1 tablespoon of water to make an egg wash
Preparation:
1. Preheat the oven to 350°F. In a large nonstick skillet, heat the olive oil over moderate heat. Add the ground turkey and cook, breaking up the meat with a wooden spoon, until just cooked through, about 7 minutes. Stir in the taco seasoning until evenly mixed, and then stir in the beans and corn. Season the filling with salt and let cool completely.
2. Unroll one pie crust on a work surface. Using a pizza cutter, cut off the outer edges of the circle to form 1 rectangle; discard the outer edges or reserve for another use. Cut the big rectangle into 6 even smaller rectangles. Repeat with the remaining pie crust.
3. Transfer 6 of the rectangles to a parchment paper-lined baking sheet. Spoon the cooled filling in the center of each piece of dough and divide the cheese on top. Close the pies with the remaining small rectangles and crimp the edges with a fork.
4. Brush the hand pies with the egg wash and cut a few slits in the top with a small knife. Bake for about 20 minutes, until browned. Let cool, then serve.
5. Animal Crackers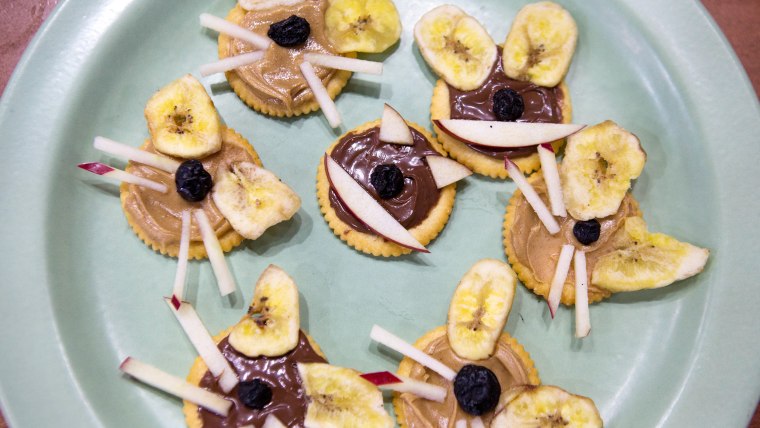 Reinvent the classic animal cracker by decorating regular crackers to look like animals.
Ingredients:
Saltine or Ritz crackers
Peanut butter
Nutella
Banana chips or fresh slices of banana
Small dried or fresh blueberries
Apple, cut into think matchsticks and tossed with lemon juice
Preparation:
Spread peanut butter or Nutella on saltine or Ritz crackers. Use banana chips or fresh slices of fruit to create animal-like ears, and use small dried or fresh blueberries to form the eyes, nose and mouth. Use thinly sliced apple to make whiskers.