Update, March 13: TODAY's Kevin Tibbles had lunch with Marilyn Hagerty at the Grand Forks, North Dakota, Olive Garden that is now as famous as she is. The 85-year-old newspaper columnist told him no idea at first that her review had gone viral.
"I didn't really know what that meant,'' she said. "Then the phone calls started. But I had to go to bridge club at 1 o'clock.''
Original post:
By Julieanne Smolinski
I'm going to level with you here. I love the Olive Garden. LOVE it. I love the Tuscany-by-way-of-Atlanta decor, I love their horrible Italian portmanteaus, I love that you can buy their unpalatable wine by the jug (I know this, because my friends and I split one on Valentine's Day). I love that their corruption of lasagna is so far beyond the pale that it's borderline transgressive.
So when an earnest review of the chain in a small North Dakota paper set the Internet ablaze like the scornful Tuscan sun, I felt compelled to defend my favorite mid-priced chain from all this web inhospitaliano.
But Marilyn Hagerty, the 85-year-old newspaper vet who wrote the review, may have put it best herself in a Village Voice response piece: "Some people don't like it, some people do like it, blah blah blah."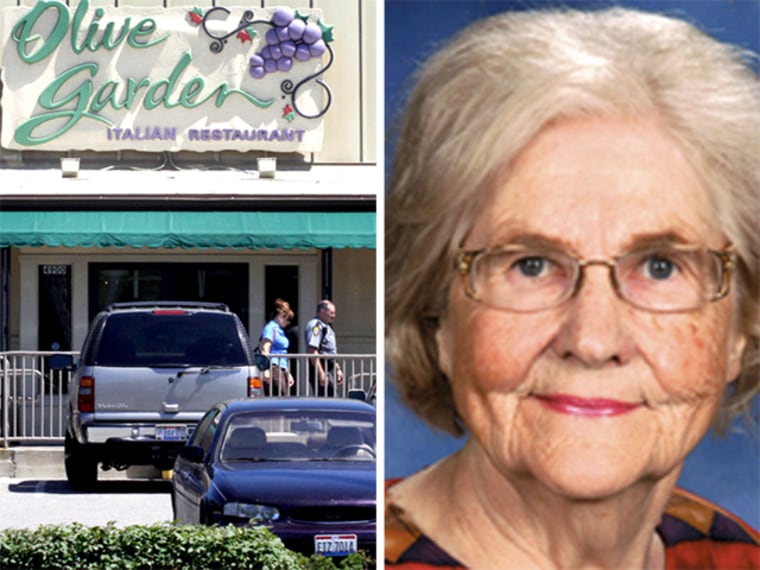 Hagerty's Wednesday Eatbeat column, in which she paid a visit to Grand Forks' newest restaurant, has gotten more than 230,000 pageviews since it was posted, which is a big deal at a paper where 5,000 page views for a story is more the norm. Sites like Fark and Gawker mocked her factual appraisal of the restaurant (Choice lines: "There is seating for those who are waiting." "Instead of the raspberry lemonade she suggested, I drank water," and "It attracts visitors from out of town as well as people who live here") and soon it was making its way around Facebook and Twitter and getting the attention of mainstream media outlets like the Wall Street Journal.
Even outspoken chef Anthony Bourdain, who has been known to throw down an insult or two on Twitter, told his followers today: "Very much enjoying watching Internet sensation Marilyn Hagerty triumph over the snarkologists (myself included)."
It's not some kind of huge joke on Marilyn because nobody likes the Olive Garden. Millions of people like the Olive Garden! The First Lady eats there! Chains don't get to be ubiquitous because people run from them in droves. And let's be real: While it isn't going to win any James Beard Awards, it's also not a Quonset hut full of raccoon meat.
The real issue is that Marilyn writes in a style we're so unaccustomed to. Her only real "lapse" was sidling up to an already-sagging punching bag without culturally cultivated skepticism and an arsenal of pat zingers and dumb food puns. It's snark versus sincerity.
I won't even say that there's an element of classicism to the review going viral. (Because, 1. Come on and 2. My grandma thinks it's a fancy joint.) What I will say is that there's a lot of people freaking out over somebody saying, "Hey, Olive Garden alfredo is warm." I will stand with Marilyn here. Olive Garden alfredo IS often warm." What? I'm not scared.
The OG is not without its flaws. But if you want to rail against blandness, cultural homogeneity and inauthenticity, then look no further than Internet snark, which is now about as expected as mall cuisine and nowhere near as fun to drag through a pile of Milanese ranch sauce and shove in your mouth.
What's refreshing as a raspberry lemonade is Marilyn's sincerity and total indifference to being cool. The review was a description of what somebody in North Dakota who had never been to an Olive Garden might reasonably hope to expect there. We should all do our jobs so well.
KLGH blogger Julieanne Smolinski likes picking the peperoncinis of injustice out of the unlimited salad bowl of humanity.
More:
Overnight fame bemuses Olive Garden reviewer, 85Five things I love and hate about craft beer festivalsCook uses recipes to help heal Japan earthquake survivorsDon't mess with Texas (BBQ): Trek for the best in the Lone Star State