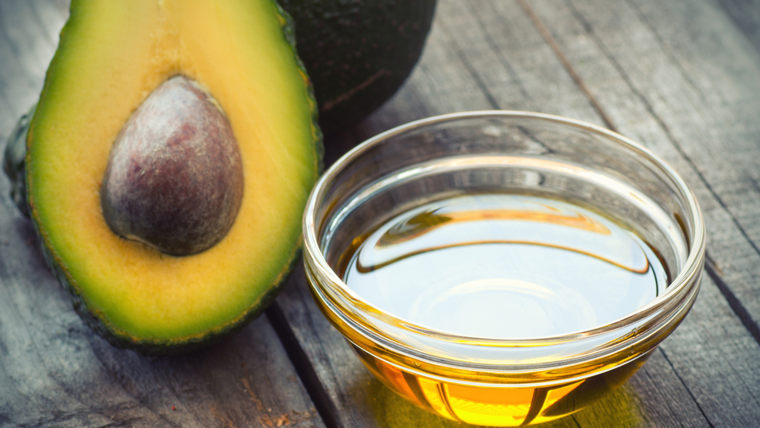 If hashtags are any indication, avocado oil is having a moment—the green oil has over 17,000 mentions on Instagram, plus it's trending on Pinterest, with tons of ideas for using it in DIY skin and hair treatments and recipes. But does it live up to the hype?
The avocado itself is no stranger to popularity, with images of avocado toast nearly breaking the internet last year. Avocados are a nutrient-dense food, which means there's a ton of good stuff packed into it. At one serving, 1/5 of a whole avocado clocks in at just 50 calories, but boasts nearly two grams of fiber and four grams of total fat, 75 percent of which comes from heart-healthy monounsaturated fat. Avocados are also rich in potassium, plus lutein and zeaxanthin, antioxidants that play a role in keeping your eyes healthy.
Back to that good fat—studies have shown that it's not only good for your heart, it's exactly what gives avocados the ability to make other foods even healthier. One study found that when avocados or avocado oil were added to both salad and salsa, they increased the amount of carotenoids absorbed from the latter. Just another healthy reason to get more of the green stuff!
RELATED: Trying to get a flat tummy? Here are 11 foods that can help
Avocado oil is made by taking the pulp (the creamy insides of the fruit) and pressing it in a centrifuge (a drum that spins at high speed), which separates both the oil and the water from the pulp. The oil comes to the top and is then removed and filtered. It takes 15 to 20 avocados to make one 250-milliliter (eight-ounce) bottle of oil.
On average, you'll pay about $2 more for avocado oil than you will for a high quality extra virgin olive oil. The oil is becoming available at most grocery stores, but if you can't find it there you can definitely get it online. Avoid oils that say they're made for cosmetic purposes, such as on the skin and hair. While the label may say it's "food grade," I'd leave this type in the bathroom and buy one that's clearly made for culinary purposes.
Once opened, a bottle of avocado oil will stay fresh for six months, so it's a good idea to label it with the date it was opened. Store the bottle in a cool, dry place away from sunlight.
The flavor of avocado oil is slightly grassy with a very mild avocado flavor. It tastes more neutral than olive oil, especially once it's cooked. Avocado oil is meant for medium-high heat use. That means you can use it to sauté and bake (up to 449°F), but you can't deep fry with it.
Use it to replace canola oil when making homemade mayonnaise. You can store it in the refrigerator for up to a week.
Drizzle it over fish before baking or roasting.
Place some in a dish and combine with sea salt or red pepper flakes for a simple dip for bread.
Add a tablespoon of the oil to any smoothie recipe.
Use it to top your guacamole at your next football party.
Drizzle it over hummus and serve with crudités.
Add a swirl over hot or cold soups, such as gazpacho.
Toss a pound of cubed root vegetables in a tablespoon or two of it and roast for 40 minutes at 400°.
Slice up a cantaloupe, drizzle with avocado oil and then sprinkle with flakes of sea salt.
Use it instead of olive oil in your favorite salad dressing. Try the one below.
Frances Largeman-Roth, RDN, is a nutrition expert, writer and best-selling author. Her books include Feed the Belly, The CarbLovers Diet and Eating in Color. Follow her @FrancesLRothRD.