If you want to taste the authentic flavors of Mexico without leaving your kitchen, this one's for you. Pati Jinich, host of PBS's "Pati's Mexican Table," shared the recipes she's cooking up this summer, from Mexican red rice to lime-rubbed chicken. 

Arroz rojo (Mexican red rice) 
Serves 6 to 8

2 cups long or extra-long grain white rice or jasmine rice
1 lb. ripe tomatoes, quartered, or 1 (14.5-oz.) can tomatoes
1/3 cup white onion, coarsely chopped 
2 garlic cloves
1 tsp. kosher or coarse sea salt (or to taste) 
About 3 cups homemade chicken broth
3 tbsp. vegetable oil
2 fresh Italian parsley sprigs
3/4 cup carrots, peeled and diced (optional)
1/2 cup fresh or frozen green peas (optional)
1/2 cup fresh or frozen corn kernels (optional)
1 to 2 jalapeño or serrano chiles, left whole (optional)
2 tbsp. water, if needed
Soak the rice in a bowl of hot water, covering all the rice, for about 5 minutes. Drain in a sieve and rinse under cold running water until the water runs clear. Drain well.

In a blender or food processor, puree the tomatoes with the onion, garlic and salt until completely smooth. Pour into a large liquid measuring cup. Note the amount and reserve. Pour enough chicken broth into another liquid measuring cup to make 4 cups of liquid total — you want to keep the two liquids separate, since you will add the puree first.
Heat the oil in a medium saucepan over medium-high heat until hot, but not smoking. Add the rice and cook, stirring often, until the rice becomes milky white (about 3 to 4 minutes). Pour in the tomato puree, mix gently and cook until the puree darkens, thickens and has mostly been absorbed by the rice (about 3 minutes).
Stir in the chicken broth and add the parsley, carrots, peas, corn and chiles, if using them. Bring to a rolling boil, cover and reduce the heat to the lowest setting. Cook for about 15 minutes or until most of the liquid has been absorbed but there is still some moisture in the pan. 
The rice should be cooked and tender. If it is but not all the liquid has been absorbed, add the 2 tbsp. of water, cover again and cook for 2 more minutes. Remove from heat and let the rice rest, covered, for at least 5 minutes.
Fluff the rice with a fork and serve.
*Cook's note: Mexican cooks often soak rice in hot water to get rid of excess starch, any dirt and the talc that is sometimes used as a milling aid, and to soften and relax the rice. Removing the excess starch helps keep the grains separate, so the cooked rice is fluffier and less sticky.
Pollo con limón (lime-rubbed chicken)
Serves 6 to 8

1 1/2 lbs. boneless chicken breasts
2 tbsp. fresh-squeezed lime juice
2 tbsp. olive oil
1/2 tsp. salt
1/4 tsp. freshly ground black pepper (or to taste)
1 tbsp. chopped fresh rosemary (or 1/4 tsp. dried)
Ripe avocado, sliced (optional)
Hot corn tortillas (optional) 
Mix the lime juice with the olive oil, salt, ground pepper and rosemary in a bowl. Pour on top of the chicken in a container. Cover and refrigerate anywhere from 30 minutes to 12 hours.

Heat a medium-sized sauté or grill pan over medium-high heat. Add corn or safflower oil. Once the oil is hot but not smoking, add the chicken. Sauté until golden brown and cooked through (about 5 minutes per side). Remove from the pan and, when cool enough to handle, slice into diagonal strips about a 1/2-inch wide (this is optional).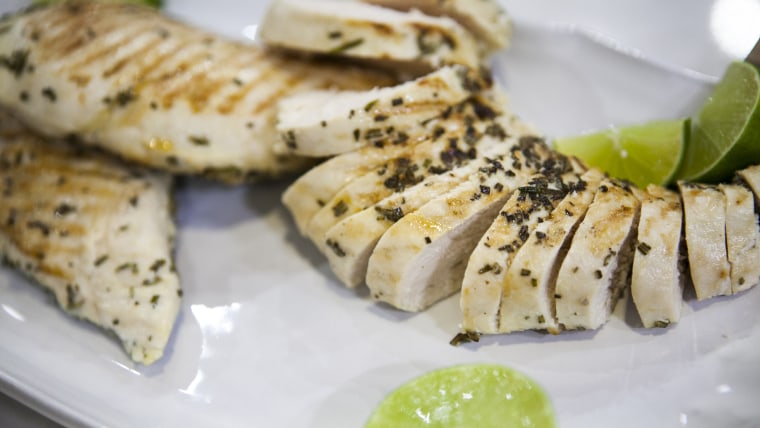 Place the tortillas in a tortilla warmer or wrap them in a clean kitchen towel or cloth napkin. Serve them together with the chicken and avocado slices if people want to assemble tacos.