Ask anyone who's been to Austin what they love about the city and there's a good chance they'll reply, "the food."
An island of innovation set against a backdrop of Southwestern cultural tradition, Austin grub is getting its day in the sun: The city will be the site of a Food & Wine magazine food festival in April, and its chefs are making a name for themselves nationally. "Top Chef: Texas" winner Paul Qui is executive chef at Uchiko and runs the East Side King food truck. Laura Sawicki was named Food & Wine's best new pastry chef for her work at La Condesa. And Franklin Barbecue got Bon Appetit magazine's vote for the country's best BBQ.
"The growth has been dramatic in the last 15 years," said Cathy Cochran Lewis, executive director of the Austin Food & Wine Alliance. "Austin used to be just Tex-Mex and barbecue, but now it's so much more — chef-driven restaurants, food trailers with local, organic ingredients, over-the-top craft cocktails — anything you can imagine."
Austin has been a hotbed of great food for as long as the city's food professionals can remember.
"Austin isn't like Las Vegas, which had to reinvent itself as a food mecca," said Louis Ortiz, a 20-year veteran Austin chef and teacher at the Central Market Culinary School. "The restaurants here have always been cutting-edge and take more risks to create really unique food."
Don't mess with Texas (BBQ): Trek for the best in the Lone Star State
Austin's food scene has gotten a lift from technological innovation, the economic downturn and the city's mantra to "Keep Austin Weird."
Hyperconnected to mouthwatering meals
The South by Southwest conference, known digitally as "SXSW," began as a small music event in 1987. In 2011, it drew roughly 286,000 people from all over the world, drawn to its interactive, film and music components. That's not only a huge influx of hungry visitors — it's a huge influx of hungry, hyperconnected influencers. 
It was at SXSW in 2007 that Twitter began to changing the way people everywhere communicate, and Austin's food scene immediately saw the benefit.
"Twitter allowed chefs to bring food to crowds around the world. Even if you weren't here in Austin eating, you were seeing food photos that were being tweeted and hearing about all options here," said Lewis.
At the same time, as many faced economic woes, food trucks became a preferred option for those who found brick-and-mortar eateries too expensive.
It was no coincidence that food trucks, called "food trailers" in Austin, started gaining momentum in 2007, and quickly became an indispensible part of Austin's quirky food personality. In 2006, 648 food trucks were rolling through the city. Today, there are around 1,350, according to the number of permits given out by the Austin/Travis County Department of Health. Whether it's Turkish-style wraps at Kebabalicous, Asian-Southwestern fusion from the acclaimed Peached Tortilla or breaded-and-fried anything at The Mighty Cone, there's pretty much a meal for every eater, with a dash of novelty thrown in.
As in other cities, trailers use social media to fuel their business. But the social influencers at SXSW, who are the creators and top users of the most powerful social platforms, are integral to getting the word out about the creative, delicious offerings available. Now, SXSWesters make Austin food carts part of their itineraries, using apps like Foodspotting and Foodstream to track down the trucks.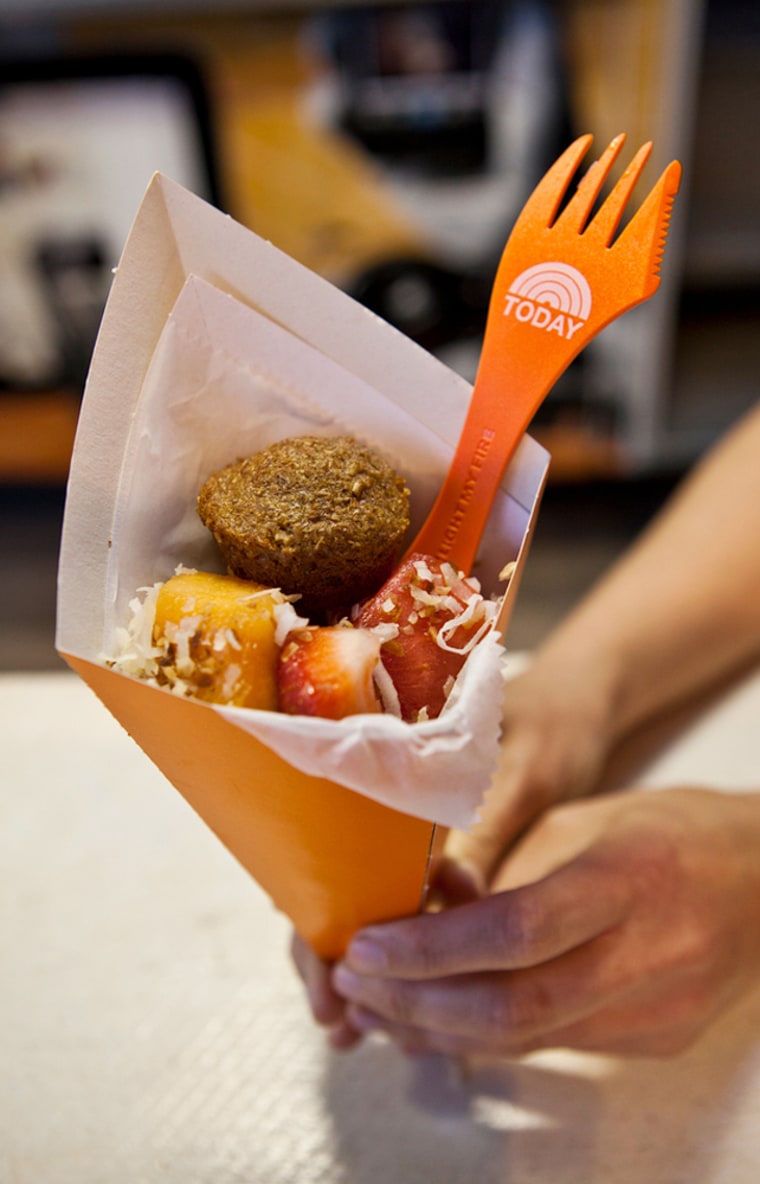 "SXSW is Christmas in Austin. It's when cab drivers, restaurants and bars do best — they can make 30 percent of their revenue for the year," said SXSW interactive organizer Hugh Forrest. "Food has always been a part of SXSW."
TODAY Munchie Mobiles head to SXSW in Austin!
This year, three panels are dedicated to food, including one on how food trucks have used Twitter successfully.
"One of the things that makes SXSW so special is that people can come to Austin and get a great meal," said Forrest. "SXSW does not happen in a vacuum. It happens because there's a very creative community in Austin — people like coming here and food is a big part of it."
In turn, SXSW visitors help energize chefs.
"People are coming from so many walks of life," said Laura Sawicki, executive chef of La Condesa. "There's excitement about what we're doing, and that energy stays here even after they leave."
Chefs go rogue
That energy helps fuel unique eats that make Austin a true food destination, and fulfills the city's commitment to "Keep Austin Weird," a mantra that the Austin Business Alliance adopted in 2000 from a bumper sticker campaign.
"Austin attracts young, rogue chefs who love to experiment, because they know that this city is hospitable to that — 'different' is going to be accepted here," said Ortiz, who counts some of those rogue chefs as his former students.
But even with all the "weird" dishes simmering, Ortiz says that in his opinion, good ol' Texas barbecue, made with techniques passed down from pit masters over generations, is Austin's signature.
"That blending of Mexican flavor with Texas barbecue is what Austin does best; it's what people have been making for a long time, and there's a reason for that," said Ortiz. "As a chef, even when I have people over, it's all about the barbecue."
TODAY food editor Vidya Rao is eating her way through Austin this weekend. If you are in town, stop by the Munchie Mobile to meet her and she'll hook you up with some free TODAY Tots.
More on TODAY.com at SXSW:
Follow @TODAYFood on Twitter to hear about the latest dish and the best that SXSW has to offer on a budget.
Tasty Photos. Share mouthwatering food photos from SXSW. Tweet your great food photos using the hashtag: #TODAYSXSW and they will be featured on TODAY.com.
Join our event page on Facebook.