According to Auntie Anne's latest survey Americans really love their pretzels — and they really love them hot.
This month, the shopping mall staple with the buttery aroma you can smell from a far-off dressing room, reached out to food fans to help choose a new, limited-edition pretzel flavor.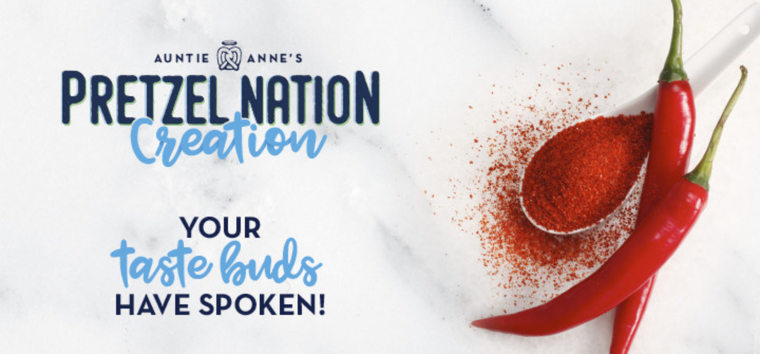 A whopping 1.3 million pretzel-eaters responded to the poll. Their top choice? Sriracha.
The spicy, chili sauce flavored with peppers, distilled vinegar, garlic, sugar, and salt beat out both savory and sweet competitors including: Taco, Buffalo wings, Apple Pie, Chocolate Cherry and Pink Lemonade.
Pink Lemonade, thankfully, finished in last with under 4,000 votes. People still love chocolate however, with S'mores coming in second place, nearly 200,000 votes behind the hot winner.
Auntie Anne's vice president of marketing says the turnout came from legions of devoted pretzel eaters, adding, "Auntie Anne's fans are intensely passionate about their pretzels." Their red hot flavor choice definitely captures this enthusiasm.
The new Sriracha flavor will be available in stores for a limited time later this year. Anxious pretzel people can follow Auntie Anne's on Facebook, Instagram and Twitter for to-the-hour updates on availability.
Auntie Anne's, the largest soft pretzel company in the world, says it held the contest as a way to involve fans in the pretzel creation process from start to finish. The fan-first voter system certainly added a twist to the production line and may kick off another round of spicy new combinations in the future.