Whether you're vegan, vegetarian or just thinking about creamy beverages, it's impossible to avoid the many new milks (or "mylks") popping up in or near the dairy aisle these days.
Buying soy and rice milks once meant venturing to a super specialized health food store, but now, milk shelves in large supermarkets are more crowded than ever, so it can be pretty hard to know which milk is really right for you.
Bonnie Taub-Dix, RDN, creator of BetterThanDieting.com and author of "Read It Before You Eat It: Taking You From Label to Table," shed some light on the latest information about the many milks on the market. Milk substitutes can be a great option if you're avoiding animal products, counting calories, love trying different flavors, or need to abstain from dairy due to food allergies. Taub-Dix said all varieties hydrate well but each has different pros and cons.
Madelyn Fernstrom, NBC News Health and Nutrition Editor, added, "When it comes to choosing milk products, decide what nutrients are most important to you to include — or remove. There is no single perfect product, and 'one size does not fit all.'"
Here's what to look for when choosing the right option to buy or, if you're feeling motivated, to make at home yourself.
Cow's milk
Cow's milk has muscle-strengthening protein and bone-building calcium, as well as phosphorous and vitamin D. The downside to real dairy is that it contains a sugar called lactose that can be difficult for some to digest. But at every fat percentage, a serving of cow's milk contains 30% of your recommended daily calcium needs.
Nutrition info for 1 cup of milk (8 ounces):
Skim: 80 calories; 8 grams of protein; no fat
1%: 100 calories; 8 grams of protein; 2 grams of fat
2%: 120 calories; 8 grams of protein; 5 grams of fat
Whole milk: 150 calories, 8 grams of protein; 8 grams of fat
Almond milk
Almond milk is naturally free of cholesterol, saturated fat and lactose. It's rich in calcium, vitamins D, E and A, and has far fewer calories than other milks. Almond milk has a smooth, nutty flavor, which Taub-Dix says will "shine in recipes," including muffins, soups, smoothies and stews. Almond Breeze is available cold and in shelf-stable varieties, so it's great to store in bulk. Like any beverage made from tree nuts, almond milk is not suitable for those with nut allergies.
Nutrition info for 1 cup (unsweetened, plain): 30 to 50 calories; up to 1 gram of protein; 2 to 2.5 grams fat. Many commercially available varieties of almond milk contain 30 to 45% of the recommended daily value of calcium per serving.
Soy milk
Soy milk has been around for a long time but has been made more popular in the last decade due to big brands like Silk. Taub-Dix says it's best to choose a soy milk that's fortified with calcium and vitamin D, but be sure to shake it well before drinking since these nutrients can settle to the bottom of the container. Soy is a solid substitute for those with nut or dairy allergies, but many people suffer from soy allergies, too.
Some studies have shown that increased soy consumption can increase tumor growth at the cellular level, while others say it may have a protective effect on breast cancer. Overall, it's a healthy option, Taub-Dix told TODAY, but recommends that consumers look for "whole soy in products like tofu and edamame [which is] preferable to processed soy often found as soy protein isolates that are found in many snack products." In other words, eating soy beans in their raw form (or drinking fresh soy milk) is preferable to consuming a refined soy product that has been stripped of its natural (and nutritionally beneficial) fat and fiber, which can be found in protein powders and junk food.
Nutrition info for 1 cup (low-fat, plain): 60 to 90 calories; 4 to 6 grams protein; 1.5 to 2 grams fat and 20 to 45% of the recommended daily value for calcium
Rice milk
Made by combining partially milled rice and water, rice milk has a sweet flavor and comes in a variety of flavors. The downside? Most varieties barely contain any protein.
Nutrition info for 1 cup: 90 to 130 calories; 1 gram protein; 2 to 2.5 grams fat and 30% of the recommended daily value for calcium.
Coconut milk (canned)
If you're someone who enjoys a fuller fat, super creamy milk experience, this alternative may be right for you. Taub-Dix reminds shoppers not to confuse coconut milk with its lower-calorie relative, coconut water. Sweetened versions can pack almost 450 calories per cup, and it packs in a lot of saturated fat. Lighter versions are available with 60% fewer calories and fat than regular coconut milk. This milk is not to be consumed like dairy milk but should be considered more like a substitute for heavy creams.
Nutrition info for 1 cup: 445 calories, 4 grams of protein; 48 grams of fat and 4% of the recommended daily value for calcium.
Hemp milk
Derived from hemp seeds rich in plant-based omega-3 fatty acid called alpha-linolenic acid (ALA), this milk is beneficial for reducing risk of heart disease and inflammation, says Taub-Dix. Hemp milk is higher in fat content than other milk alternatives but it makes up for it with a hefty dose of calcium.
Nutrition info for 1 cup: 140 calories; 3 grams of protein; 5 grams of fat; 50% of the recommended daily value of calcium.
Peanut milk
Peanut milk is one of the newer varieties of nut milks (such as Elmhurst's milked peanuts) and has a strong flavor of — you guessed it — peanuts. This milk can be a very tasty choice for those seeking an extra nutty kick in their cereals or certain dishes, but it should definitely be avoided by anyone with a nut allergy. It's also on the higher end when it comes to fat grams per serving.
Nutrition info for 1 cup: 150 calories; 6 grams of protein; 11 grams of fat and 2% of the recommended daily value of calcium.
Flax milk
Flax seeds are tiny but pack a lot of nutritional punch. They are a great source of plant-based protein, have plenty of calcium, protein and omega-3 healthy fats, which our bodies do not create naturally. An unsweetened box of a brand like Good Karma can be stored in the pantry for months before it's opened and has a very creamy taste.
Nutrition info for 1 cup: 70 calories; 8 grams of protein; 3.5 grams of fat and 30% of the daily value of calcium.
This milk is naturally sweet and can be used in recipes ranging from gravy to cupcakes, but it's also fine by itself in coffee, cereal and more. For those who like a sweeter taste, this is a nice option, even without added sugars or flavorings such as vanilla. It's also incredibly low in fat.
Nutrition info for 1 cup: 130 calories; 4 grams of protein; 2.5 grams of fat; 35% of the recommended daily value of calcium.
Cashew milk
This nut milk is one of the more similar plant-based alternatives to cow's milk, as it has a creamy texture and mild taste. It makes great smoothies and is a delicious accompaniment to cereal. But most commercially available varieties don't have much calcium.
Nutrition info for 1 cup (unsweetened): 70 calories; 2 grams of protein; 4 grams of fat; 4% of recommended daily value of calcium
Pea milk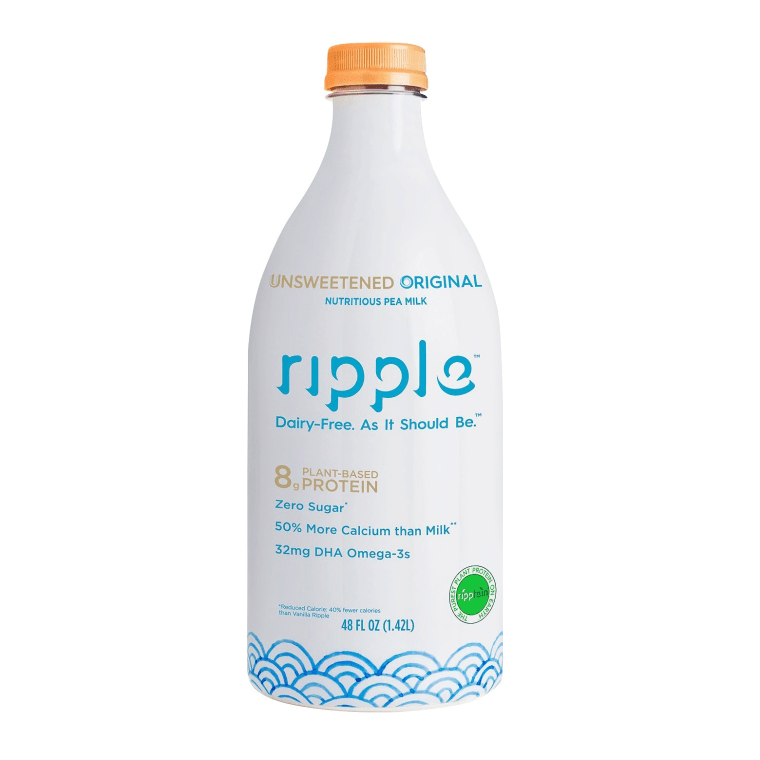 Many milk alternatives containing nuts present issues for individuals with both a dairy intolerance and a nut allergy. Enter pea milk. Ripple, one of the biggest players in the relatively new pea-milk game, says its product is gentle on the body and the planet. This milk is vegan and it's totally free of dairy, nuts, lactose and gluten. It's surprisingly creamy but the truth is, in its unflavored form, there is a very real, faint pea-like taste that may be difficult for traditional milk lovers to swallow.
Nutrition info for one cup: 100 calories; 8 grams of protein; 4.5 grams of fat and 45% of the recommended daily value of calcium