As "Game of Thrones" finale fever sweeps the nation, one fast food restaurant is getting in on the medieval-themed action.
This Sunday, Aug. 27, Arby's is releasing its first ever giant Smoked Turkey Leg — you know, that huge hunk of meat that you can usually only find at theme parks and Renaissance festivals. Arby's version, which will only be available at select locations, is seasoned with salt and brown sugar, smoked and then "slow-roasted to perfection." It also weighs about a pound.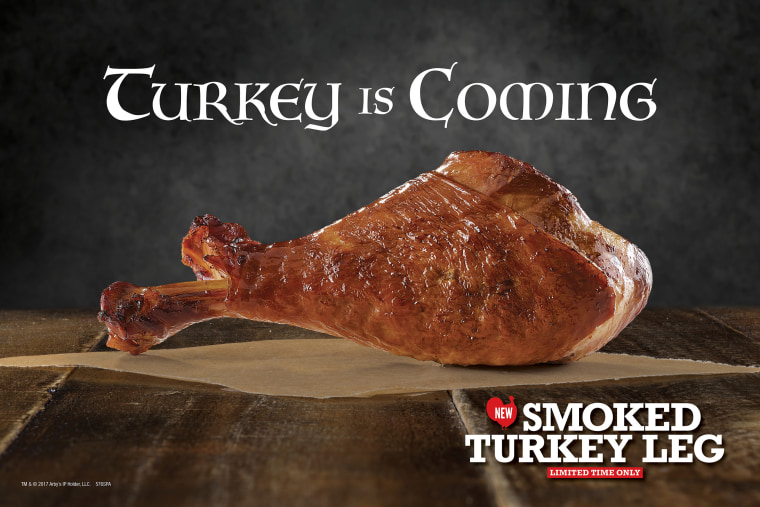 The giant poultry item may be a brand new addition to the Arby's menu, but it looks like Arby's fans have been chatting about all things smoked turkey for a while.
While the new menu item is not an official partnership with "Game of Thrones" or HBO, Arby's is promoting the turkey leg with a riff on the show's well-known tagline, "Winter is coming." This Sunday, "Turkey is coming."
The limited-edition item will be available at nine locations inspired by the fictional regions in the show (Fargo, North Dakota; Los Angeles; Redmond, Washington; Norfolk, Virginia; Pittsburgh, Pennsylvania; Phoenix; Denver; Omaha, Nebraska and Atlanta) throughout the country, while supplies last.
It's also not the first time a fast food chain has tied a promotion to the hit series. Earlier this summer, "Game of Thrones" actor Kristian Nairn reenacted a scene as his character, Hodor, in a KFC commercial.