Not as many people have been eatin' good in the neighborhood, so Applebee's is hoping a series of dollar dining dollars and investments in new technology will help turn things around after 2017.
Last summer, the chain's parent company, Dine Brands Global (formerly DineEquity, Inc.), announced plans to close up to 135 Applebee's restaurants. In the U.S., the chain closed 86 restaurants but ended up opening 10 new locations by the end of last year.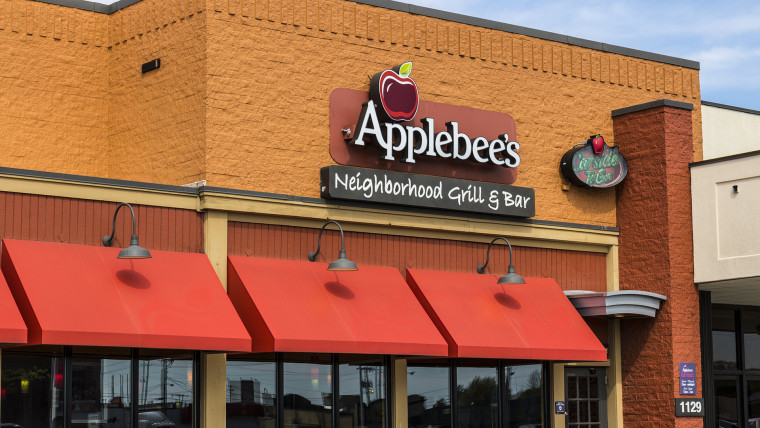 More recently, the brand has been doing damage control after one of its restaurants in Independence, Missouri, was involved in an incident of alleged racial profiling after customer Alexis Brison posted a video of an Applebee's staff member, a mall security guard and a police officer falsely accusing her and a friend of dining and dashing.
On Feb. 12, Applebee's issued a public apology for the franchise's behavior on its Twitter account, stating, "We do not tolerate racism, bigotry or harassment of any nature, and we have taken additional steps to close the restaurant at this time in order for the team there to regroup, reflect, learn and grow from this."
But even before the February incident, the restaurant chain was struggling to attract to business in the earlier months of last year.
"The worst place to be is a full-service restaurant with a check under $20," restaurant consultant Aaron Allen told TODAY Food.
Allen believes that certain chains have failed to keep pace with changing consumer habits and tastes. According to Allen, brands such as Applebee's, Ruby Tuesday, and Chili's have undergone very few changes — with their menus and even decor — within a 10-year span, while Apple launches a new iPhone each year, so customers' expectations for new things has been heightened. Without making substantive changes, said Allen, restaurants that are perceived as being outdated are doomed for wreckage in "the sea of same."
But Dine Brands, which owns both Applebee's and IHOP, is already implementing changes they say will reverse last year's declining sales and help spur new business this year.
In a Feb. 20 presentation of company earnings, Dine Brands Global CEO and director Stephen P. Joyce called Applebee's "a company in transition." The report also noted that while same-store sales fell 5.3 percent overall last year, the company saw restaurant sales grow 1.3 percent in the last three months of 2017. And the chain says it expects that growth to continue through early 2018.
In the past few years, the chain has also been integrating numerous technological updates to provide better service. Some of these upgrades include restaurant WiFi, interior renovations, new menu items, easier to-go ordering, plus the ability to get food delivered in certain markets.
And last year, Applebee's began buttering up bar enthusiasts with some pretty sweet drink deals. The specials kicked off with "Dollaritas" (that's just a $1 for one margarita) and $1 Long Island Iced Teas in October and December of last year. In January, it offered $2 Blue Moon beers and in February, they rolled out the "Dollarmama" — a $1 Bahama Mama.
"It's a fun way of offering something new to our guests," the brand's spokesperson told TODAY Food. "We're getting back to our roots. We're eating good in the neighborhood, and that includes beverages."
On Thursday, the chain announced its March special: a mix of Absolut vodka and lemonade for only $2.
But will these drink deals really be enough to boost business?
Allen thinks not. When fast food restaurants started offering $1 and 99-cent burgers to bring more customers through the door amid rising competition from fast casual places, Allen said those deals showed few positive results.
"These discount promotions really show desperation," the industry expert told TODAY Food. "[Casual restaurant chains] keep focusing on discounted promotions, when they should really be focused on higher quality products."
But the numbers may tell a different story. Applebee's same-store sales started rising at the end of 2017, when the drink deals were first announced. And alcohol currently accounts for 15 percent of the chain's sales.
And on social media, Applebee's fans (and vodka fans) are pretty pumped.
Plus, a drink deal isn't the only trick the chain has up its sleeve.
Apple Texas, the largest Applebee's franchisee in Texas, which operates 65 of the 101 locations throughout the state, is dishing out a promotion meant to appeal to anyone with a box of old coupons. This March, the franchisee is relaunching a promotion from last year to "accept any — expired or not — paper, plastic or printed coupon, gift card or gift certificate from any business for up to 50 percent off food purchases." The grand gesture will run through the end of the month in areas including Austin, Houston and Central and East Texas.
Allen gives Apple Texas a "few points for creativity," and compared its tactics to that of Groupon.
"At least it's bold enough to get the media's attention. It makes it more talk-worthy," Allen told TODAY Food. But, "it teaches consumers to never want to pay full price again. Any day of the week, someone else can be cheaper."