OK, emoji lovers, get ready to kick your texting game into high schmear.
Apple has just changed its controversial bagel emoji to something totally realistic and delicious looking — and it's even slathered with cream cheese!
Earlier this month, the final designs for iOS/Apple's emoji upgrade were unveiled, and the bagel one was a tad upsetting to true fans. It looked extremely generic, flat and almost cake like in texture.
Further, it was completely naked.
"And is it really a bagel if there isn't a disgusting amount of cream cheese that needs to be wiped off with a napkin before you can consume it?" Grub Street asked.
Well, that's all been set right, as Jeremy Burge, chief emoji officer at Emojipedia, tweeted Tuesday:
OK, that's definitely better ... or at least more appetizing. And pretty realistic, especially when you fix the resolution, as Burge did in a follow-up tweet:
But must it have cream cheese?
After all, not all bagels require a schmear; some people prefer other condiments, like butter, or peanut butter, or jelly, or ... well, the possibilities are wide open. (Though maybe not infinite, as Cynthia Nixon's recent combination of a raisin-cinnamon bagel with cream cheese caused a bit of a kerfuffle.)
According to Emojipedia, "Designs from major vendors until now had been split on whether to include a filling in the bagel or not. Arguably, a bagel with cream cheese is a different item to simply a 'bagel', however as each emoji generally represents an entire class of objects, that's unlikely to be an issue in practice."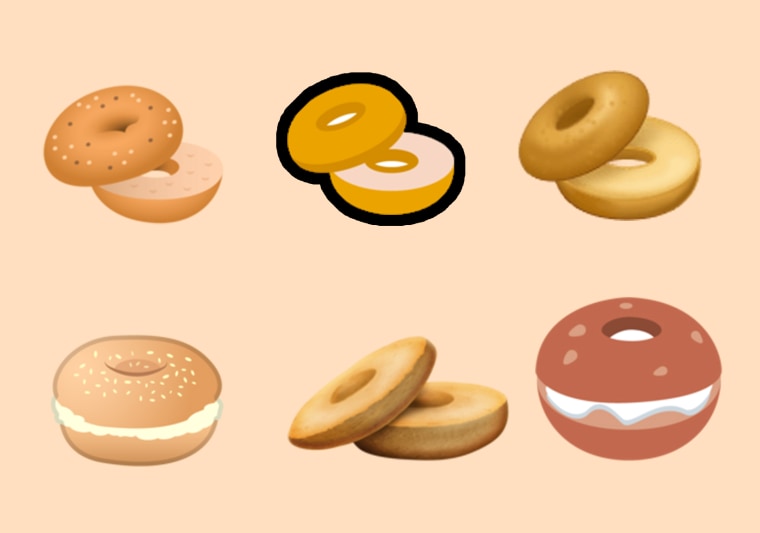 Across platforms, Google and Twitter have gone for cream-cheesy bagels, while Microsoft, Samsung, EmojiOne and Emojipedia have preferred just a simpler sliced bakery item (though EmojiOne and Twitter both have some sort of seeded topping suggestion).
As always, there were change lovers:
And haters:
And jokers:
This isn't the first time emoji have undergone makeovers thanks to public opinion: To appease those who abstain from eating animal products, the "salad" from Google went full vegan by removing an egg in June, while everything from Apple's paella to peaches have undergone overhauls over the years. People, it seems, are very passionate about food emoji representation.
Whatever keeps the world (and bagels) spinning round works for us.