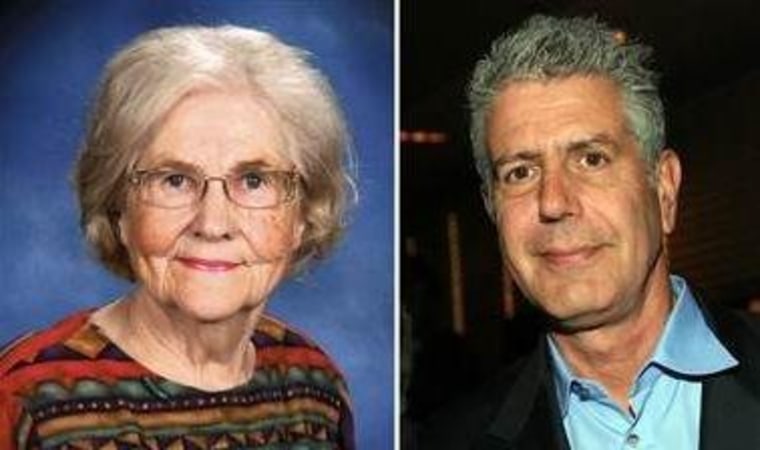 Looks like opposites attract! News came out last week that sweet ol' Marilyn Hagerty was in talks with Anthony Bourdain about writing a book and today, the outspoken culinary bad boy confirms the deal.
"She's been writing a food column in Grand Forks for 30 years…what we have is a sincere, genuine reportage of food that people don't really see or talk about," Bourdain said, according to Eater.com. "I see her life's work as a history of American dining."
Curmudgeon that he is, even Bourdain couldn't resist 85-year-old Hagerty's small town charms, which gained her worldwide fame after her review of the Olive Garden for the Grand Forks Herald.
"The reviews I read were really refreshing and heartfelt," he added. "I think she made us all on the coasts look small and bad, and I admire her for that. And I think there's a book there. I know there's a book there. And I'm honored to be publishing her."
Bourdain's line of books will be published by Ecco, an imprint of HarperCollins, and Hagerty's works will be in stark contrast to the other titles Bourdain has queued up. Classified as the "dudeification of cooking," they include "Spaghetti Junction: Riding Shotgun with an L.A. Chef" by Roy Choi, "Fight Shark" by Mark Miller and "Prophets of Smoked Meat" by Daniel Vaughn.
But at least one of Bourdain's dudes is welcoming her with open arms.
"I'm in great company! What's up Ma?!" tweeted Choi.
No word yet on what exactly Hagerty's book will cover. In an e-mail, Hagerty told TODAY.com last week that,"I do not know what it will be. That is up to Anthony Bourdain … what will be will be."
More from Bites: