Many of us celebrate Thanksgiving by cooking up and chowing down on big piles of food.
But it turns out that what's in those piles may really differ depending on where you live in America. According to a new infographic from General Mills, dinner tables look pretty different from state-to-state on turkey day.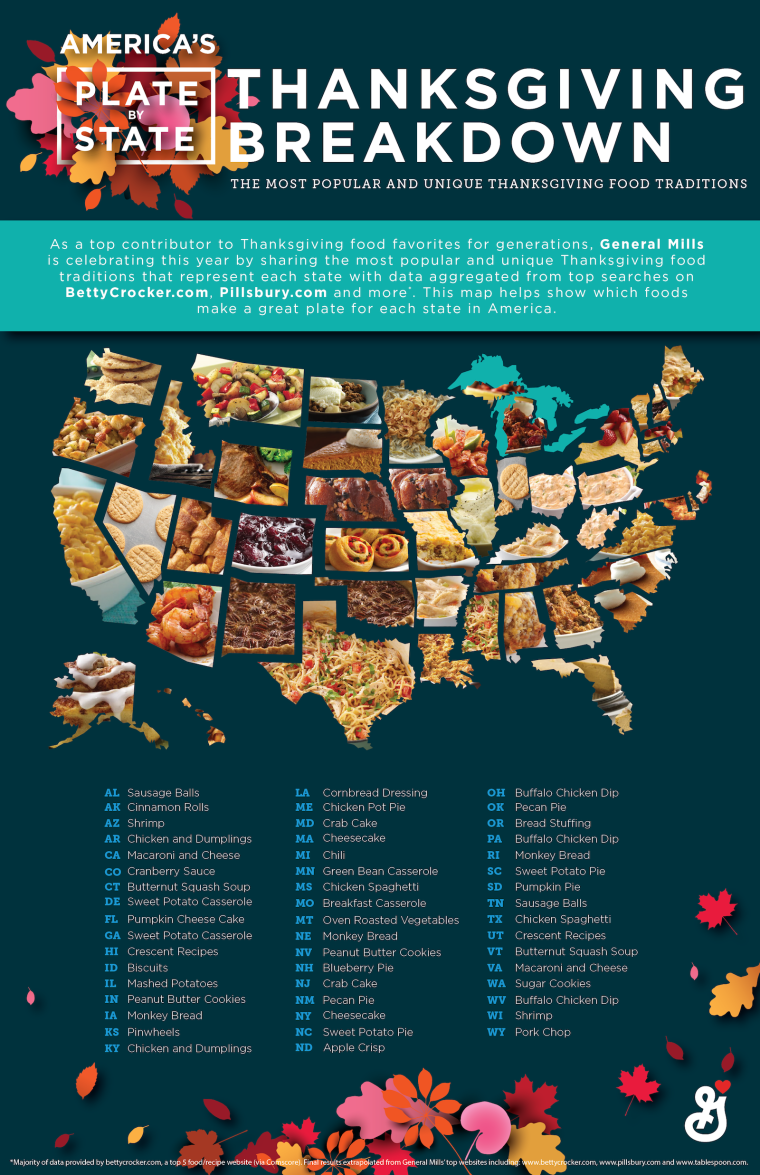 To compile the map, General Mills collected data from searches on BettyCrocker.com, Pillsbury.com and Tablespoon.com from Nov. 1 through Thanksgiving Day 2016 to find the most sought-after recipes in every state leading up to the holiday.
Thanksgiving may be a uniquely American tradition, but, according to the map, over the years it's clear that different regions and states have adopted local food preferences.
In many places, the usual standbys proved to be the most-searched for dishes. For example, home cooks in Delaware, Georgia, South Carolina and North Carolina are all looking for sweet potato dishes while Californians and Virginians are looking for a good old macaroni and cheese.
But there were quite a few people searching for foods not commonly associated with the fall food holiday. In Arizona and Wisconsin, cooks are looking for shrimp recipes and in Michigan, they apparently just want to make a really good chili. And Texans just can't enough pasta because chicken spaghetti was the most-searched for dish.
Interesting.
In a blast of synergy though, it seems many states often have a lot in common with their neighbors. Ohio, Pennsylvania and West Virginia are all buffalo chicken dip fans. Folks in Iowa and Nebraska love monkey bread and home cooks from Massachusetts and New York searched a lot for cheesecake.
One trend is clear throughout the country: Comfort food continues to be a big part of the holiday, no matter where you hang your hat. Kentucky is full of fans of chicken and dumplings, while in North Dakota, they are looking forward to a nice apple crisp for dessert.
And of course no matter what you're serving on the big day, you're bound to end up with some pretty spectacular leftovers the next morning.