Whether you like 'em tart and tangy, super sweet or even slightly spicy, there's probably a jelly bean out there that you just can't resist.
With National Jelly Bean Day (April 22) and Easter (April 1) on the horizon, CandyStore.com set out to rank America's favorite flavors of the classic candy — and the results are pretty surprising.
Pushing last year's No. 1 flavor (black licorice) down to second place is a bean candy cravers either love ... or love to hate: buttered popcorn.
The sweet and salty little bean climbed to the top of the list of 30 jelly bean flavors as a bestseller and it was also ranked as a favorite among 12,000 survey respondents. CandyStore.com also examined sales data from the last 10 years to come up with this year's results.
In 2017 alone, 1.43 million pounds of buttered popcorn jelly beans and 1.31 million pounds of black licorice jelly beans were sold throughout the U.S, CandyStore.com spokeswoman Clair Robins told TODAY Food via email. Amazon sells both these flavors by the pound for just $10.
The buttered popcorn jelly bean outweighed other flavors "by a larger margin" in sales than in surveys, with black licorice close behind. "People are very emotional and feel strongly one way or the other about both of them," Robins told TODAY Food.
Jelly bean enthusiasts throughout the country have shown just how divisive the top flavor is by taking to Twitter. Buttered popcorn lovers vehemently defended their favorite bean.
While others were outraged.
Throughout the country, six of the top 10 flavors were fruity while the rest were based on some other food.
1. Buttered popcorn
2. Black licorice
3. Cinnamon
4. Watermelon
5. Cherry
6. Pear/ Juicy pear
7. Orange
8. Green apple
9. Toasted Marshmallow
10. Coconut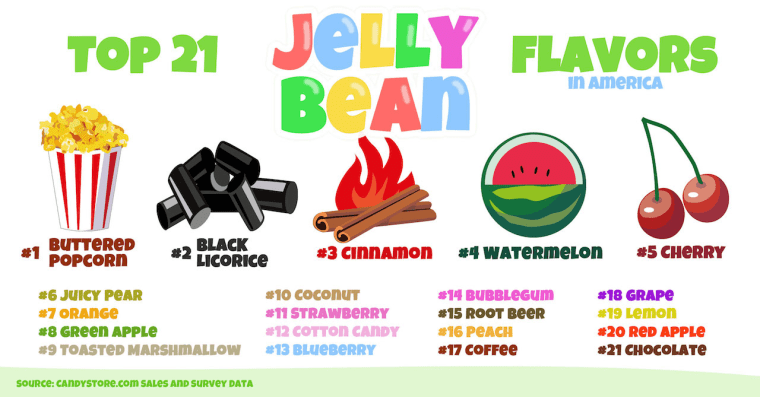 State-by-state, even Georgia turned its back on peaches for a taste of buttered popcorn. Buttered popcorn, however, did not make the No. 1 spot in corn country (Iowa), where cherry was the top pick. Think Hawaiians favor tropical pineapple or coconut candy? Think again. Respondents in the Aloha State savored watermelon most.