The freshest produce, the friendliest employees, the comfiest shopping cart handle bars — there are loads of great (and odd) reasons why people like shopping at their favorite grocery stores.
But America's most beloved grocery chain may surprise even the most seasoned of food shoppers. That's because there are fewer than 100 locations and they're all on the East Coast.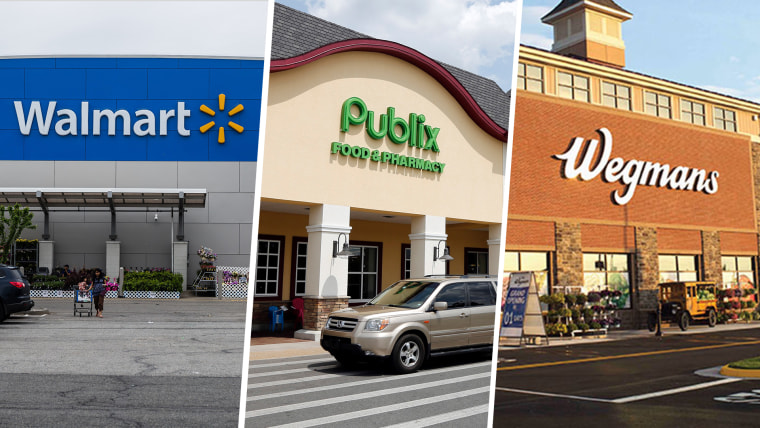 Stumped? This year, America's favorite grocery store is Wegman's, according to a recent online survey conducted by Market Force Information.
According to a representative from the company, they polled 12,892 shoppers about "their grocery shopping habits including brand preference, customer experience, brand engagement and brand awareness," in April 2018.
Wegman's scored the highest marks on the survey thanks to its "fresh produce, reasonable prices and massive stores."
Anyone who's never heard of the chain may be scratching their heads right now. But for those who live near a Wegman's — or have visited one of its 97 locations — this probably doesn't come as a huge surprise.
The New York-based chain has been around since 1916 and has built a cult-like following of enthusiastic customers who are obsessed with the stores. Some die-hard fans even make them road trip destinations and will drive hours to get a Wegman's sandwich when a craving hits.
Of course, not everyone has experienced the sheer joy of a freshly-made sub from Wegman's.
Publix, a Florida-based retailer with stores throughout the Southeast, tied with Wegman's last year but ranked as America's second favorite grocery store in this year's survey.
No hard feelings though because Publix still ranked highest for "store cleanliness" and "ease of finding items."
Coming in third place, Trader Joe's was a top pick among shoppers thanks to having the "fastest checkouts" and "courteous cashiers." Trader Joe's products are beloved by its fans and the brand is well known for offering inexpensive products, but ALDI was the retailer that consumers said they felt offered the best value for food overall.
For those who haven't heard of ALDI, it's a pretty important name to remember this summer — the store offers a superb, award-winning bottle of rosé for under $9.