Amazon has food on the brain lately: Now, the online retailer is rolling out its own brand of "Meal Kits," on the heels of making a bid to buy Whole Foods Market.
Ingredients — like bunches of basil or cuts of pork loin — are all pre-measured and individually packaged, then boxed up alongside a recipe and shipped cold, much like other existing meal kits on the market.
Only select areas can order the kits as of yet, The Times, a UK publication, reported on Sunday.
But the Amazon Meal Kits have been available for at least six months at Amazon Go, a brick-and-mortar test store in the Seattle area, where, currently, only Amazon employees can shop to try out the concept.
So how do the meals taste?
Temi and Mari, the bloggers behind Table Manners Aside posted a review of the kits back in December, purchasing the kits at the Amazon Go store. They tried the Thai Red Curry with Chicken, Veggie Quinoa Bowl, and the Togarashi-Spiced Salmon, pictured here:
The writers, who are not Amazon employees and paid for the meals themselves, gave the meals a thumb's up, noting the "fresh and delicious" salmon, generous portions, and easy-to-follow steps, despite "multiple pots at play and a little vegetable cutting needed."
Since their original review, the pair told TODAY Food that they have tried more of the meal kits. "We still feel positive about them," they said, noting that they really liked the Togarashi-Spiced Salmon, Ricotta Meatballs and Thai Red Curry in particular.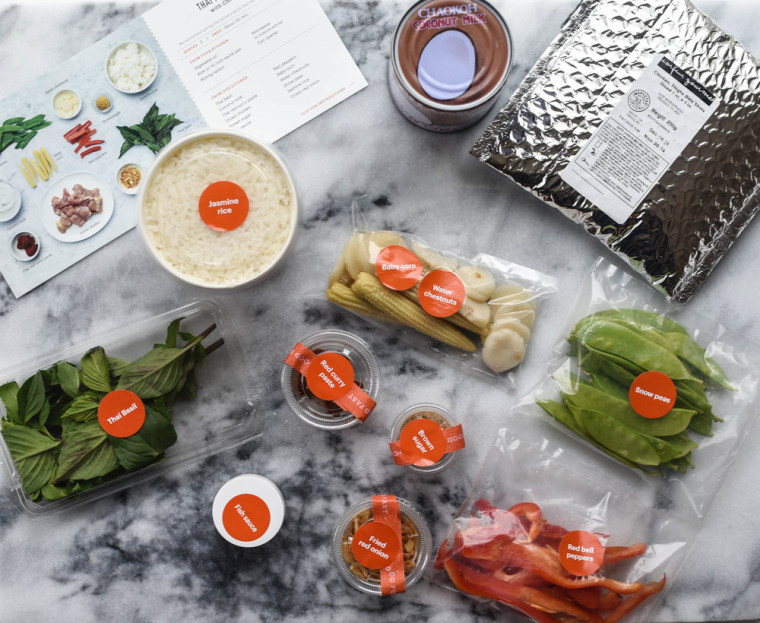 All the dishes took 30 minutes or less to cook, they added, and the packaging looked pretty minimal. The kits are "very similar to Blue Apron's," the pair wrote, "except they seem to have an edge when it comes to pricing."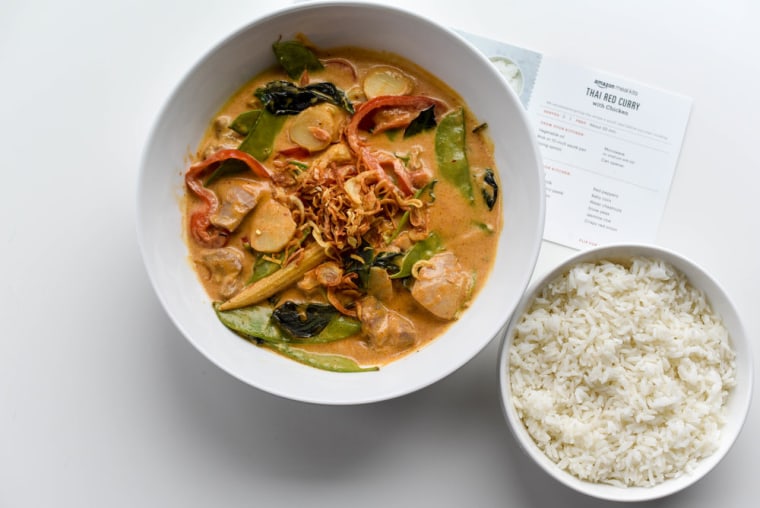 Amazon has been mum on many details, though customers out there who have spotted the kits say they go for $16 to $20 a piece, serving two, which works out to $8 to $10 per serving, as reported by The Verge and GeekWire. Other dishes that have been spotted include Steak Au Poivre, Tacos al Pastor with Pork, and Roasted Cod with Cannellini Bean Ragout & Pesto.
Recently, on its site, Amazon has been carrying meal kits from other brands, Tyson Tastemakers and Martha & Marley Spoon, though those are not available in all areas yet, either.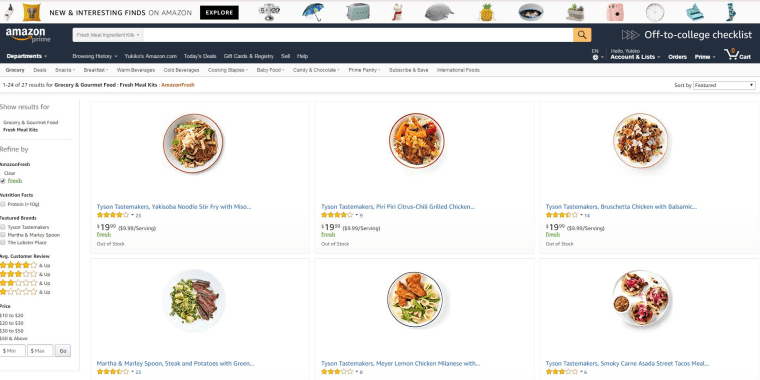 In another foray into food, Amazon also has its own line of snack foods, called Wickedly Prime, which were heavily promoted during last week's Prime Day sale.
Stock prices for Blue Apron, the largest meal-kit provider in the United States, fell this week, in a hint at how investors feel about Amazon venturing into weeknight-dinner territory.