It's official. The long-awaited Amazon Prime member perks for Whole Foods shoppers have been set in motion.
And if you live in Florida, you can start reaping the benefits as soon as Wednesday.
Since the online megastore acquired Whole Foods for $13.7 billion last June, they did away with the existing in-store loyalty program and upped their game with free 2-hour grocery delivery of Whole Foods products in select markets like Cincinnati; Dallas; Austin, Texas, and Virginia Beach, Virginia.
But organic fanatics nationwide have been wondering what in-store benefits Prime members might receive. On Wednesday, Amazon announced Prime members will be able to receive an additional 10 percent off sale items marked by yellow tags throughout the store. There will also be Prime-only discounts on featured items that will rotate weekly — many of the current featured items listed on Amazon's press release are marked up to 50 percent off, so the savings could be big.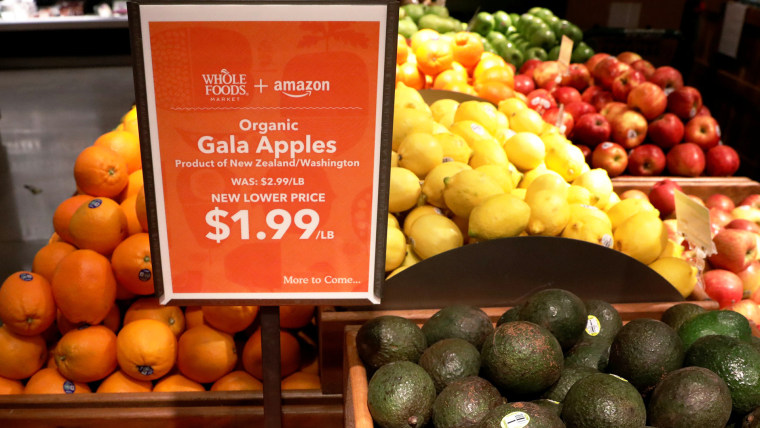 In Florida stores, current discounts offered through May 22 include include sustainably-sourced, wild-caught halibut steaks for $9.99 per pound (regularly $19.99 per pound), 50 percent off cold brew coffee at Allegro coffee bars, two bags of KIND granola for just $6, half-off Magic Mushroom Powder and more.
So far, Prime members have been showing their excitement on Twitter.
"Excellent news," one person tweeted.
Others woo-hoo'ed.
A Whole Foods spokesperson confirmed to TODAY Food that perks will be honored in Florida only, for now. Residents outside the Sunshine State can expect to see these deals in all Whole Foods and Whole Foods Market 365 stores this summer. So if you're still haven't signed up for Amazon Prime, there's plenty of time.
To reap the benefits of these Prime perks, members need to download the Whole Foods Market app and sign in with their Amazon account. At in-store checkout, scan the app's Prime Code and the discounts will be taken off at the register. Customers can also use their phone number to activate their accounts and save at checkout.