When Ali Larter isn't starring in the TV show "Legends," she's cooking up a storm — literally. The passionate cook is sharing one of her favorite summer dessert recipes from her new cookbook, "Kitchen Revelry."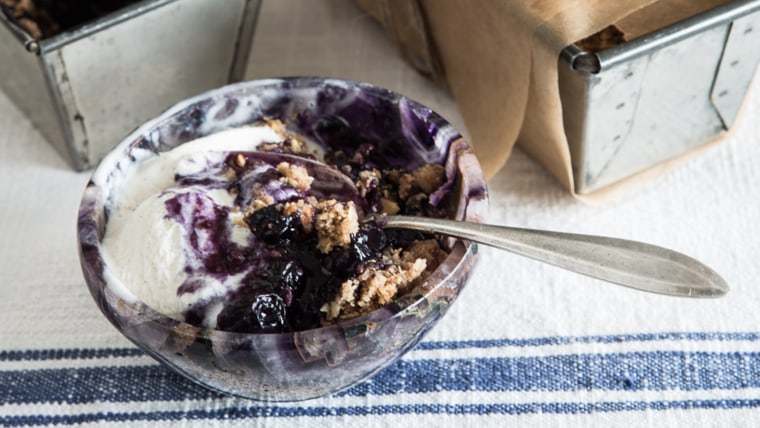 Blueberry crumble

For the topping: 
1/4 cup all-purpose flour
1/4 cup quick-cooking oats
1/4 cup packed brown sugar
1/2 cup coarsely chopped almonds (about 2 oz.)
3/4 tsp. kosher salt
1 tsp. vanilla extract
1/2 tsp. ground cinnamon
1/4 tsp. ground nutmeg
1/2 cup unsalted butter, cut into 1/2-inch cubes and softened
For the filling: 

1/2 cup sugar
1/4 cup all-purpose flour
1/4 tsp. kosher salt
2 (12-oz.) baskets fresh blueberries
2 tbsp. fresh lemon juice
Vanilla ice cream   
To make the topping:
Combine the flour, oats, brown sugar, almonds, salt, vanilla, cinnamon and nutmeg in a medium bowl. Add the butter and rub in with your fingertips until moist clumps form.
To make the filling:
Position the rack in the center of the oven and preheat to 375 degrees. Butter a 9-inch pie dish. Whisk the sugar, flour and salt in a large bowl to blend. Add the blueberries and lemon juice to the sugar mixture and toss gently with a silicone spatula to coat, being careful not to break the berries. Transfer the berry mixture to the prepared pie dish. Sprinkle the topping evenly over the filling.
Bake the crumble until the filling is bubbling thickly at the edges and the topping is crisp and golden brown, 45 to 50 minutes. Transfer the dish to a rack and let it set, about 15 minutes. Serve with scoops of vanilla ice cream.
Follow Ali Larter on Twitter and check out her website and blog for more recipes.