Plated was one of the forerunners of the online meal-kit boom and now they're hoping to become just as big on supermarket shelves.
Albertsons, which acquired the pre-prepped meal delivery service last year, will be carrying Plated kits in hundreds of its stores nationwide by the end of 2018.
Plenty of companies have been jumping on the meal-kit bandwagon lately. Amazon made its own meal kits widely available online last year. Even less likely candidates have placed stakes in pre-packaged meals and food items — like the fitness company Crossfit, which announced the release of a branded, grass-fed meat box this month.
But, increasingly, more meal-kit purveyors are moving away from the subscription model and offering them up à la carte up in store. Take, for example, Weight Watchers' meal boxes, which will soon be available in Walmart locations.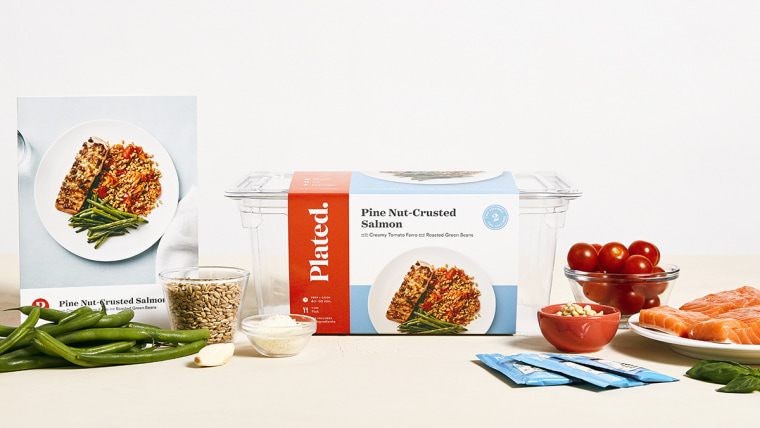 Albertsons owns grocery chains in 35 states, including the nation's capital. While Plated meal kits are already available in 20 Safeway stores in Northern California and 20 Jewel-Osco stores in the Chicago area, the company plans to have Plated meal kits available at hundreds of its supermarkets brands including Vons, Jewel-Osco, Shaw's, Acme, Tom Thumb, Randalls, Star Market and Haggen locations by the end of 2018.
According to a Plated spokesperson, the in-store meal kits are priced from $15 to $19, and include enough food for two servings. Shoppers can choose from six, seasonally-rotating recipes like roasted chicken au jus with orzo and peas, beef noodle bowls with dinosaur kale, and a pine nut-crusted salmon with creamy tomato farro and roasted green beans.
Plated's online delivery subscription costs $12 per serving for kits that serve two diners ($24 total) and $10 per serving for kits with three to four servings ($30 to $40 total). With Plated's online service, subscribers have 20 different recipes each week to choose from.
If shoppers want something in between an online, subscription-based Plated plan and an in-store shopping experience, Albertsons says it plans to offer the Plated meal kits, with a two-hour delivery window, through Instacart, so you can order dinner at work and have all of the ingredients ready to go by the time you get home.