Thanksgiving is all about giving thanks — and sharing a comforting meal with the ones we love. But not everyone is fortunate enough to be able to celebrate or sit down to eat with their families.
This year, with the ongoing wildfire crisis in California, many people have lost their homes and some have even lost loved ones.
Dozens of first responders in Northern California have lost all of their belongings in the deadly Camp Fire — and they're still reporting for duty — so TODAY wanted to thank them with the comforting meal they deserve.
Al Roker and eight all-star chefs, Alejandra Ramos, Jordan Andino, Matt Abdoo, Roxanne Spruance, Eric Gabrynowicz, Aaron Bludorn, Kevin Sbraga and Evette Rios, flew out to Chico, California, on Tuesday morning and met up with TODAY's Natalie Morales to serve up a hearty meal to over 50 local first responders and their families, giving them a little bit of relief during this incredibly difficult time.
Upon landing, they were met with an incredible amount of smoke — and less than two miles of visibility.
As the team arrived at Bacio Catering in Chico, which is owned by Amanda Leveroni, everyone got right to work.
"These guys that we're gonna feed today, and women, are not only firefighters but they, they lost their homes," said Leveroni. "So it's awesome that you're gonna help us do this."
Al, Natalie and the chefs prepared various comforting dishes including chicken marbella, an Italian classic which has prunes, apricots, olives and plenty of white wine; a broccoli rabe and squash salad; a fall harvest salad with pomegranate and local persimmon, and of course, lots of cookies.
Once the food was prepared, the chefs and TODAY anchors were finally able to present the feast to the first responders and their families.
Addressing those who have been working to serve their community, Al said, "We just wanted to come here today to say thank you for an incredible effort to help save your community and all these other communities while you lost so much as well. It means so very much to all of us across the country. You've touched our hearts."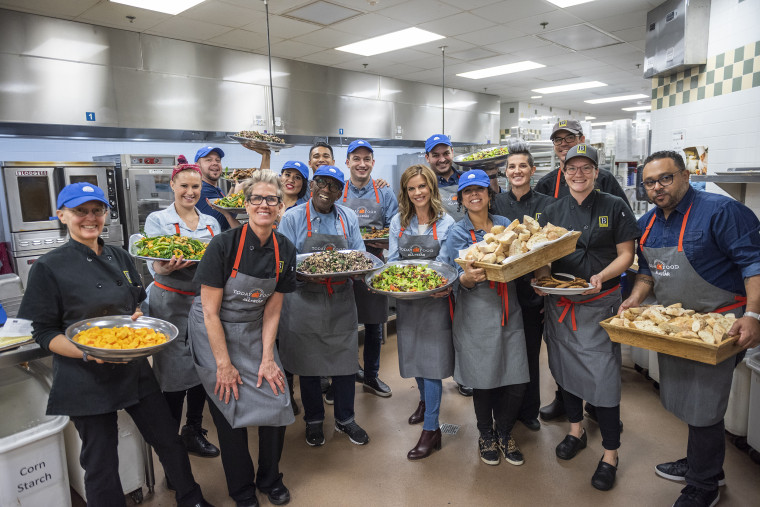 "It's been a tough couple of weeks for you all," added Natalie. "We can't even begin to imagine what that pain is like but if we can do something to give you just a little joy, even if its just for an hour or two and a great meal, we're happy to do it."
As they served the food, all of the chefs had a brief glimpse into the devastation these families have been experiencing.
"I love my husband's job but I also hate it," local Brandy Gowan told Al as they embraced. "It was hard when he got off the fire line and they told him the house was gone.
"Thank you for being here. We need this hope."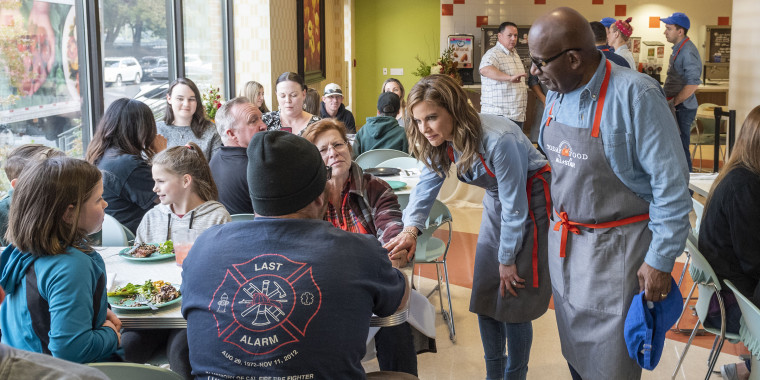 After the meal, the first responders were surprised with various gifts to help get them back on their feet and to hopefully make their upcoming holiday a little brighter.
Whole Foods Market provided everyone present with fully prepared Thanksgiving dinners for their families, and they also received gift cards provided by Chevron, Target, Kohl's, Lulu's and The North Face, as well as sweatshirts, jackets, hats and gloves provided by The North Face, plus luggage provided by Away and toys provided by Mattel.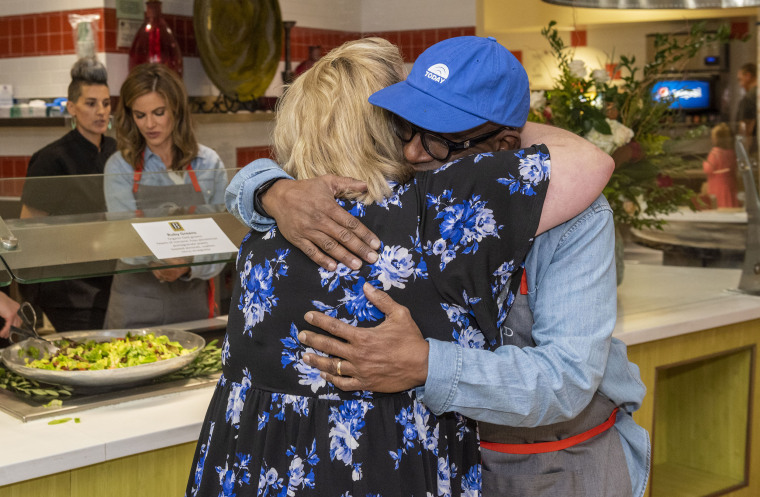 Speaking with firefighter Ryan Hughes, Al asked, "When you see the scope of this and know that you might have lost everything as well, how do you concentrate on what you're doing and yet knowing what's going on back home?"
"It just makes you want to fight it that much harder and do so much more," said Hughes.
"You guys will rebuild, do you think?" asked Natalie.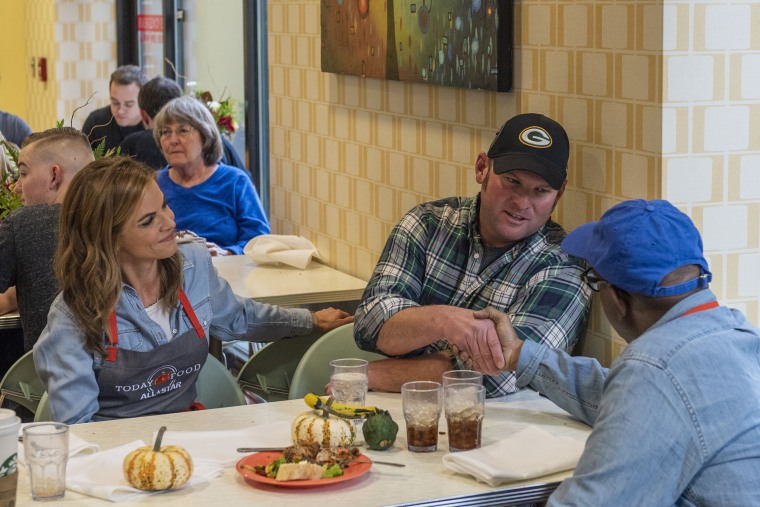 "Yeah, I think so," he said. "It's going to be a long painful process but we're going to have laughs, we're going to have cries and good things will happen. It's our job to help people and we are very prideful, we're very tight knit and it's hard to accept help from others."
"Well, accept it," said Al. "People know what you've done and it means a lot to all of us and that's what this is. To just try to do a little something that — to say thank you."
Over the last 24 hours, the chefs documented their physical and emotional journey on social media using the hashtag #CookingForACause.
"It's pretty crazy," said a teary-eyed chef Jordan Andino, who shared his experience on his Instagram Story after serving the families. "You don't realize how much your actions and small little things affect the people ... There's 55 people without homes and it's good to know that a little bit can go a long way sometimes, so I'm glad that ... I got this opportunity to do that.
"It's tough to be in there and some of these people haven't seen their homes, their people, their friends for two weeks and ... I hope they have a better Thanksgiving because of the small little things that we could do."
These firefighters still need a lot of help, so if you want to donate to their cause, please head to the CDF Benevolent Foundation. TODAY has also teamed up with We Fund A Hero to make an easy text-to-donate page.