Starting your day with a nutritious meal is key to a good morning. A key formula for an ideal breakfast is to aim for an "8/4" winning combination; that means, at least 8 grams protein and 4 grams fiber in your meal. (Also, if you're trying to lose weight, keep it to no more than 300 calories). 

Here are some delicious breakfast suggestions that hit the mark and help you start your day right: 
Overnight chocolate-banana oatmeal
This tasty morning treat is the simplest way to enjoy an amazing breakfast when life gets hectic. There's no cooking required and you can prep everything the night before. Find the recipe here.
2 minute salsa-scramble
Love eggs but don't want to deal with the messy clean-up after? All you need is a mug and a microwave for this recipe. It's ridiculously easy, delicious, and perfect sandwiched between two slices of whole grain toast or an English muffin. Find the recipe here.
Open-faced PB&J waffles
This easy peasy breakfast tastes like PB&J. Simply toast two whole grain waffles, then top each with 2 teaspoons of peanut butter (or any nut or seed butter of choice) and 1/4 cup sliced strawberries. Kids love 'em, adults love 'em – you can't go wrong.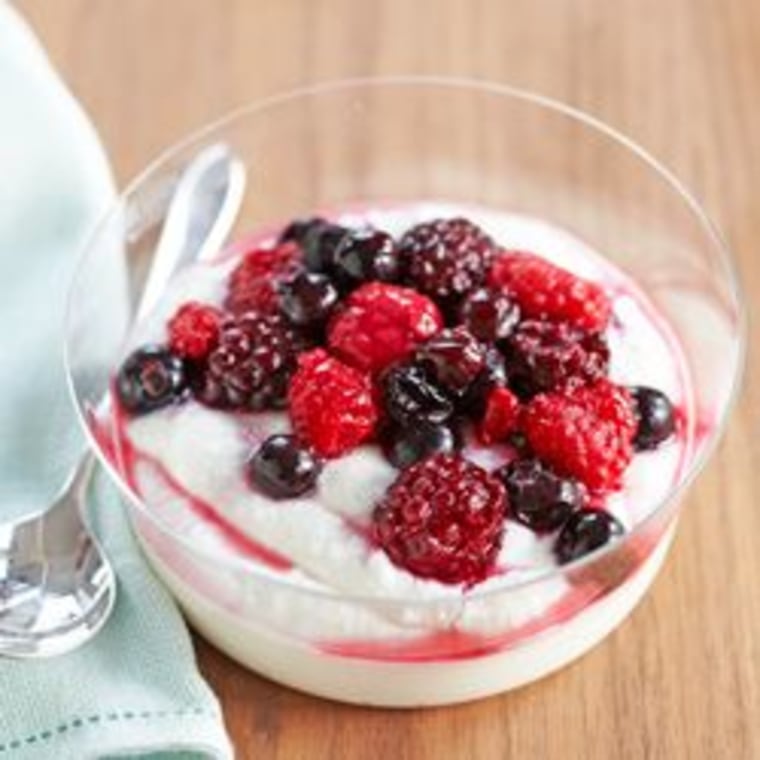 Ricotta cream with sweet berries
This recipe is simple, super-sweet and indulgent. It's a perfect meal for someone looking for a "morning dessert" that also offers up a hearty dose of nutrition. Find the recipe here.
Banana-blueberry breakfast muffin
These are amazing muffins — they are huge, delicious, filling, and loaded with all the right stuff. You get lots of protein thanks to chia seeds, non-fat Greek yogurt, low-fat buttermilk, and eggs; and tons of fiber thanks to the oat bran, chia seeds, bananas, and blueberries. The best part? They freeze beautifully, so you should double up the recipe and stash them in the freezer for simple, satisfying and slimming morning meals. Find the recipe here.
Weekend western omelet
Here's something you can make at home or order in a diner: an egg white omelet (I like to use 1 whole egg + 2 egg whites) stuffed with plenty of sautéed peppers and onions, and 2 slices of cooked and diced Canadian bacon. Enjoy with a slice of whole grain toast.

Bagel, lox and cream cheese
Order a whole grain bagel "scooped out" with a spread of light cream cheese, sliced tomato, sliced red onion, and smoked salmon or lox. Super simple and incredibly tasty! 

For more delicious recipe ideas follow Joy on Twitter, Facebook, and Pinterest.