It's not every year Hanukkah coincides with Thanksgiving. In fact, the last time it happened was in 1888 and, according to the calculations made by quantum physicist Jonathan Mizrahi, the super-holiday will not resurface again for nearly 78,000 years! Clearly, this is the best reason ever to feast, revel, and shop 'til we drop...for eight days straight!

Retail sales are expected to skyrocket because of the double down celebration (perhaps this Black Friday should be dubbed Gelt Friday?), and entrepreneurs of all ages are getting in on the action. Asher Weintraub, 9, was able to almost double his Kickstarter goal to produce his mash-up centerpiece known as a "Menurkey," and various commemorative T-shirts, posters, and cards can be found on sale all over the internet.
But since both holidays are really very much about giving thanks and spending time with friends and family over delicious meals, the best hybrids are the edible variety. Chef Ethan Kosbar of Moderne Barn in Armonk, N.Y., took pleasure in putting a spin on a favorite treat he remembers from his childhood.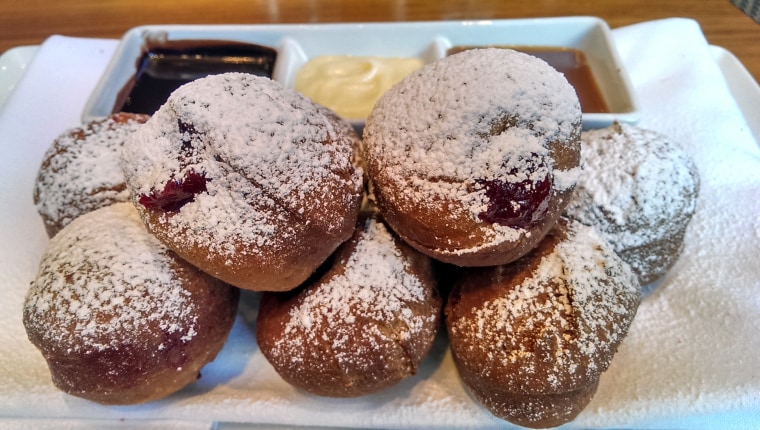 "I grew up in the west bank of Israel for part of my life, and when I was a kid my parents used to fry us sufganiyots to celebrate Hanukkah," he remembers of the pastry, which is similar to a doughnut. "It's a tradition that I've always remembered and have brought home to my kids. Although it gets messy, it's something that the entire family enjoys." In a seasonal twist meant for an uncharacteristically autumnal Hanukkah, he created pumpkin sufganyots stuffed with cranberry jam. Get the recipe here. Going even further, Zucker bakery in New York City created turkey cranberry and turkey gravy doughnuts.

Chef Anthony Van Camp of SER Steak in Dallas has been making his grandfather's stuffing recipe for as long as he can remember. And while his family has no Jewish ties-- his grandfather is Mexican and grew up in McAllen, Texas actually — he knew exactly what touches to give it for a special Thanksgivukkah twist. Chicken sausage takes the place of pork, and stale matzo stands in for cornbread and sourdough.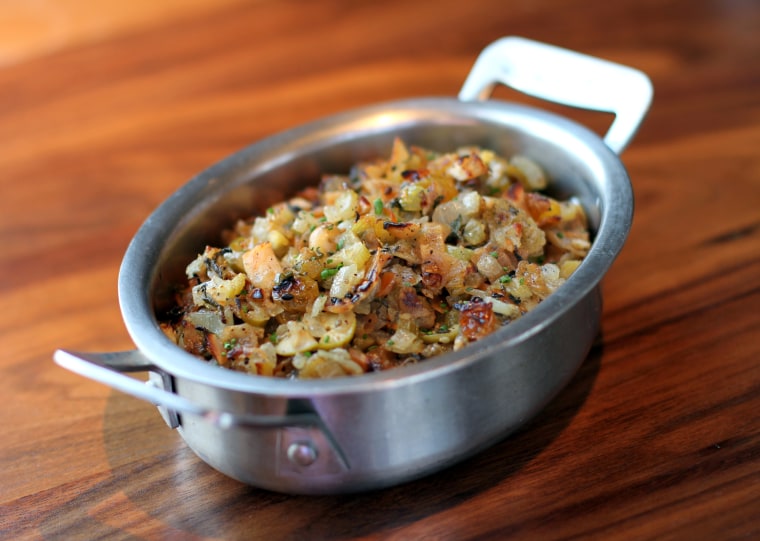 "The raisins add a layer of sweetness, the olives add a briny flavor, the apples and almonds add multiple layers of crunch," Van Camp told TODAY.com. "And when you mix these with traditional stuffing ingredients like onions and onions, an elevated, multi-dimensional flavor profile evolves a traditional stuffing into a dynamic and delicious Thanksgivukkah treat!"

New York's Fatty Cue took the opportunity to experiment with their menu as well, adding several specials like smoked brisket knish with matzo crust and pickled mustard, liver and latkes with tomato curry and spicy creme fraiche, and butternut squash curry with Katz's pastrami dumplings.
Blogger Amy Kritzer of What Jew Wanna Eat focuses on modernizing traditional Jewish recipes by using new ingredients and techniques, so the crossing of these two holidays is a bit of a dream come true to her. She's already concocted several types of latkes, included Gorgonzola mashed potato latkes with jalapeño apple relish -- which are perfect for using up leftover mashed potatoes — and sweet potato latkes with cranberry pecan applesauce and cinnamon Greek yogurt.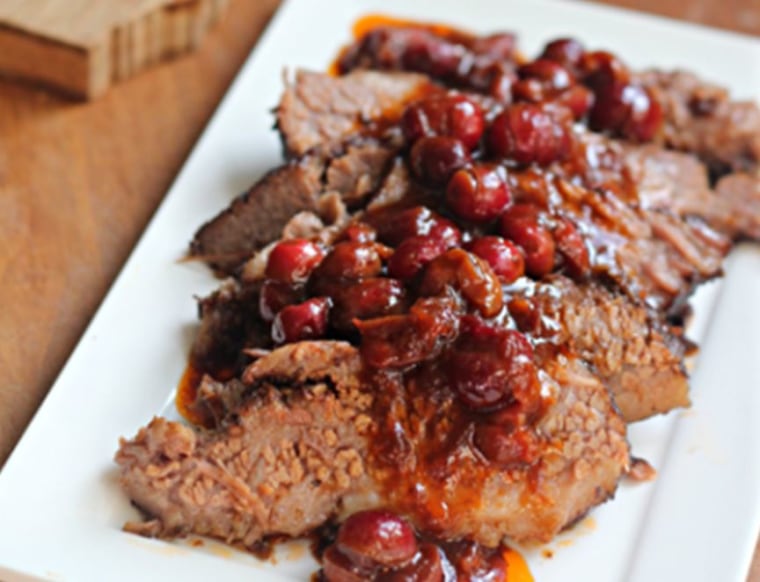 For a main course, try her mouthwatering bourbon and coffee braised brisket with cranberry sauce — a perfect mash-up for the holiday.

She also came up with a seasonal and cinnamon-scented version of a traditional Jewish pastry. "Rugelach was my favorite dish to bake with my bubbe (grandmother) growing up," said Kitzer. We would roll out the rough together and sprinkle it with the traditional jam and nuts." Her Thanksgivikkah version is filled with homemade pumpkin butter and spiced caramelized figs. "Rugelach dough is a rich cream cheese based dough, but not too sweet." she explained. "The result is a subtly sweet, comforting cookie."
She added that "Some people think the (two holidays) should be separate, but I look at it as the most gluttonous day that has ever existed. The fried foods of Hanukkah meet the carbfest of Thanksgiving … I'll definitely be sporting an elastic waistband!"