It was just another Sunday morning when "Ace of Cakes" star Duff Goldman made an impromptu decision to propose to his girlfriend, writer Johnna Colbry.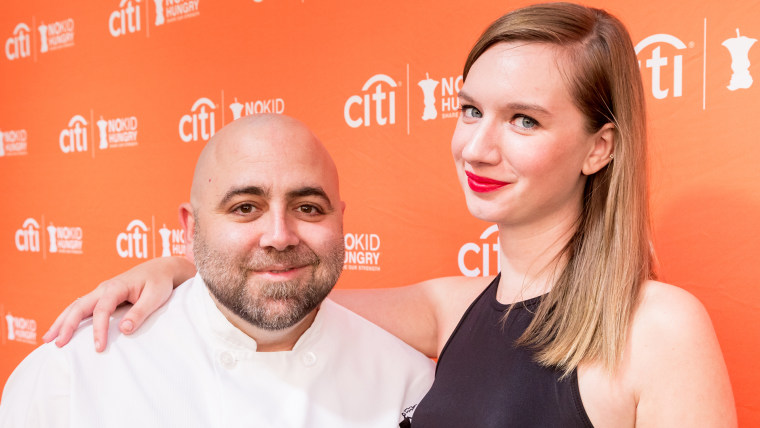 But it turns out this chef, known for his over-the-top cake creations, is just as romantic as he is talented, and ended up popping the question with a very handy kitchen accessory.
"I didn't plan this out, it just happened and it was so glaringly obvious that I couldn't have stopped it if I wanted to. I asked her to marry me. She said yes," the "Spring Baking Championship" judge proclaimed on Instagram.
"I cannot imagine a state of happiness that is more intense than whatever I'm feeling right now. My heart just might burst. I love you muffin. I love every scar. I love the way you smell."
Our hearts are bursting, too, chef!
Perhaps the sweetest part about this cake master's romantic spontaneity was what he used to make a stand-in ring for his wife-to-be's finger: kitchen twine. Goldman, owner of the Los Angeles and Baltimore-based bakeries Charm City Cakes, apologized to Colbry in the Instagram post for not having a real rock to represent his love, but acknowledged that he is a chef, after all.
Now that Goldman has popped the question, a much bigger conundrum remains ... what will the superstar baker's wedding cake look like?
With Goldman's track record (like his elaborate Hogwarts cake), wedding guests are bound to be in for one serious treat. It looks like Prince Harry and Meghan Markle's royally delicious cake from London's Violet Bakery may have some steep competition.
Will Goldman's cake be classic and exquisite?
An ode to Colbry's writing skills?
Or something to celebrate both of their quirks?
Whatever the couple decides for the big day, it's sure to be just as charming as the Charm City chef himself.