Jewelry, candy conversation hearts and a five-course dinner with lobster may have been the secret to a romantic Valentine's Day in the past. But in 2021, it's all about what you can enjoy from the comfort of your couch — and food bouquets fit that bill.
To meet the increasing demand for Instagram-worthy moments that aren't at cozy restaurants or beach vacations, food purveyors and creative individuals are finding new ways to incorporate delicious delicacies into floral-like arrangements.
Though food bouquets are a flashy alternative to a romantic meal at a restaurant, they're not just a pandemic thing. In the past, one restaurant designed a cheesy "floral" arrangement for pizza-obsessed couples and for some time, the Taco Bell Chapel in Las Vegas has enabled brides to walk down the aisle holding a handful of hot sauce.
With Valentine's Day fast approaching, many popular eateries have created the perfect gifts to cater to that special foodie in your life. We just hope your loved one has as big an appetite as their heart.
Cupcake bouquet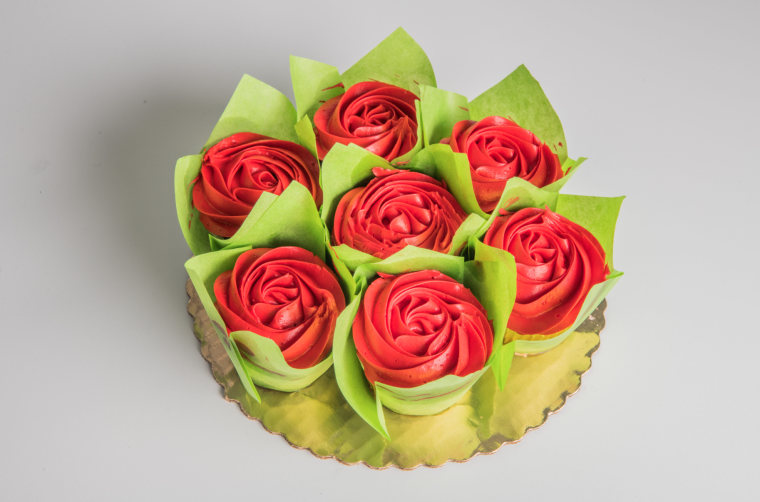 Stop & Shop will also be selling Berry Bouquets over Valentine's Day weekend, which include six chocolate-dipped strawberries presented on skewers and red-frosted cupcake bouquets that resemble a half-dozen roses (both items retail for $10).
Lobster tail bouquets
Don't have a sweet tooth? Share your romantic tale with a vibrant bouquet of ... lobster tails! For the first time ever, Maine Lobster is making it easy to give the sweet, succulent flavors of the sea in a styled bouquet. Lobster lovers can order the bouquets online from Hancock Gourmet for $82 (four tails) and Maine Lobster Now for $110 (six tails). Shipped frozen and raw to houses nationwide, the packages include the lobster tails, a red and white checkered wax cloth, a cottage chic burlap sack napkin, a ribbon attached to poetic cards and instructions on how to put it together easily.
Chicken nugget bouquets
Tyson is bringing back its limited-edition, heart-shaped chicken nuggets to bake in the oven and transform into a crispy bouquet. The catch? Chicken lovers will have to win a contest in order to get a bag.
Beginning Monday, fans can enter by creating their own chicken nugget bouquet and sharing a photo on Instagram or Twitter @TysonBrand with the hashtags #NuggetBouquetContest and #TysonNuggetsofLove. The contest will run through Feb. 17. One grand prize winner will receive $5,000 for a staycation and a year's supply of Tyson chicken nuggets. Another 150 winners will receive one bag of the frozen Tyson Nuggets of Love.
For those who don't win or who want to be sure they get their nuggets in time for Valentine's Day, Chick-fil-A is selling heart-shaped platters of 30 chicken nuggets, hot and fresh from the fryer. They can also opt for a 10-count of Chick n Minis (the sandwiches), a 6-count of chocolate chunk cookies or a 2-count of chocolate fudge brownie halves. The trays are available at participating restaurants nationwide and for delivery now through Feb. 13.
Chocolate-covered strawberry bouquet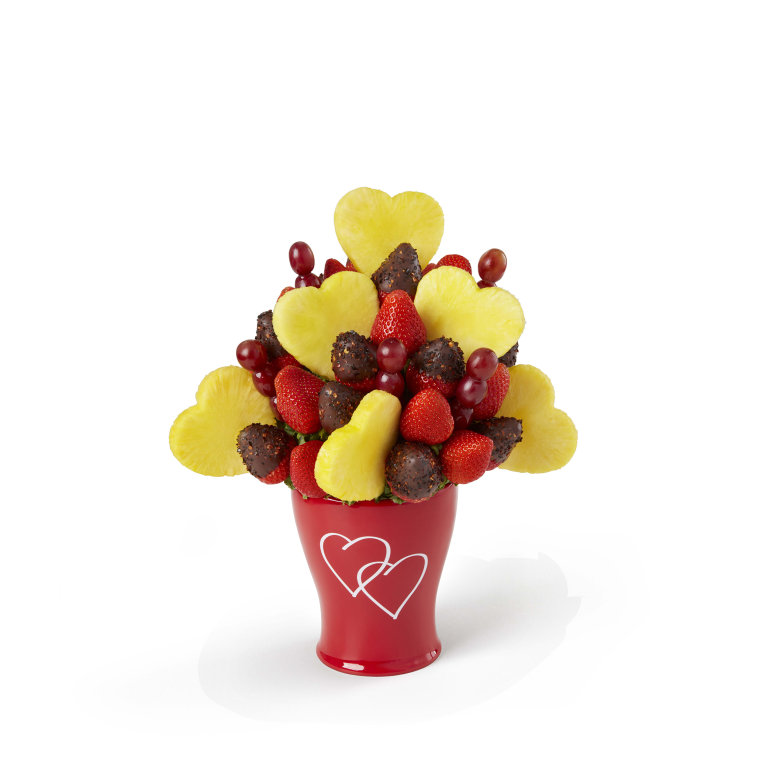 Whichever kind of food "flower" arrangement your heart desires, Edible Arrangements has the sweet stuff covered. From fresh fruits dipped in yogurt to rich chocolate-covered strawberries and heart-shaped sponge cakes, the brand that's always been all about beautifully arranged treats has different vase and platter sizes ranging in price from $50 to $143.
Salami bouquet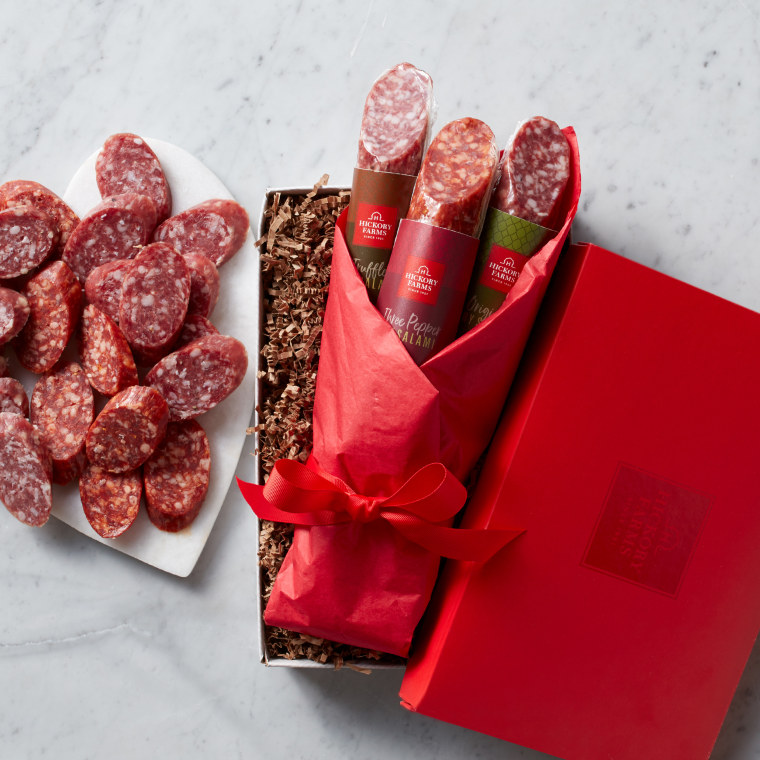 Is your valentine a fan of cured meat? If so, Hickory Farms prepared a pairing of three dry salamis: Original Dry Salami, Three Pepper Dry Salami and Truffle Dry Salami. Each savory stick is wrapped up festively in red tissue paper and accented with a ribbon. A set is $49.
Pickle bouquets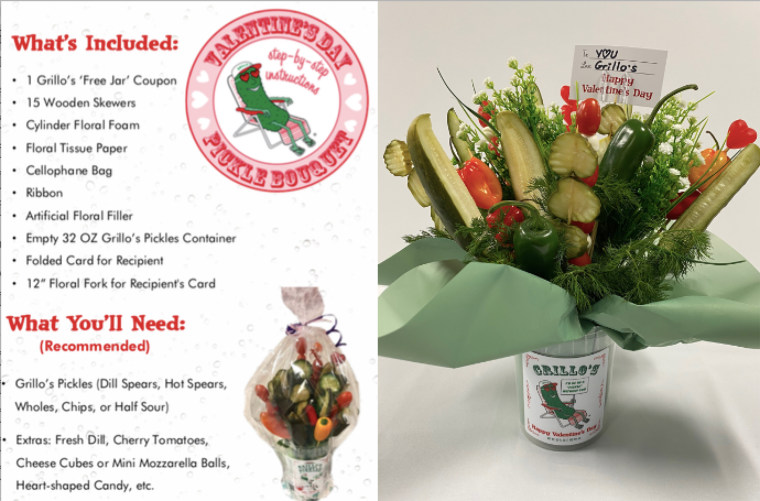 Grillo's Picklesshowed TODAY Food how to make pickle bouquets from scratch in 2019, and since then, the company has made it even simpler. Available online, Grillo's DIY pickle bouquet kits cost $25 (plus tax and shipping). The kits include wooden skewers, floral foam, floral tissue paper, a cellophane bag, ribbon, artificial floral filler (don't eat this part, please), an empty Grillo's container to use as a vase, a card for the recipient, instructions and a coupon for a fresh jar of Grillo's pickles from your go-to grocery store (including Target and Walmart).
And don't forget to reserve the brine: There are plenty of recipes that use pickle juice to enhance flavor and potentially romantic feelings?
Suckerpunch Gourmet, another purveyor of fine pickles, took its bouquet one step further by creating a simple tutorial for turning pickle chips into roses. Just watch the GIF and get to work for that special someone who's the pickle to your brine.