Big, ponderous wines are about the last thing I want to drink in the heat of August, and that's why it's important to consider the alcohol level when you buy wine. High-alcohol wines are more tiring to begin with, and the heat can compound the effect. With that in mind, I generally look for wines with alcohol in the 12- to 13.5-percent range, perhaps a bit more in some cases.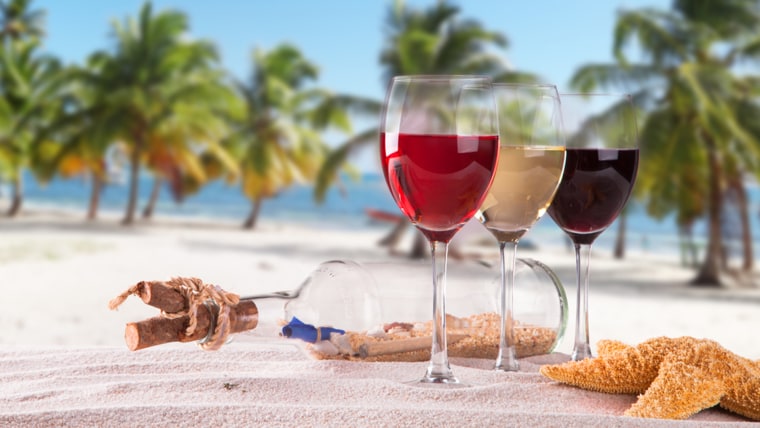 You'll find the level of alcohol on the label, often in fine print. Many people never bother looking for it, but it provides a key insight into the kind of experience you're likely to have with a wine. Along with acidity, it helps to determine how it will feel in your mouth (big and brawny or lean and elegant) and how easy it will be to drink. You'll find moderate- and lower-alcohol wines more refreshing and less tiring, making them better choices for the warmest months.
6 great ideas for making wine, beer and booze portable this summer
As always, the challenge is finding wines with character. Fortunately, I've tasted plenty of them this summer, not only in my regular tastings but at Vinexpo 2015, the world's largest wine fair, which I attended in Bordeaux in June, spending four days sampling wines from all over the world.
All you need is mango sorbet and sparkling wine for a delicious cocktail
Rosés almost always fall into the lower-alcohol category and that, combined with their versatility, is why I'm such a big fan of them. Among whites, ever-popular chardonnay can often be high in alcohol (and oak), an oppressive combination in summer, but there are leaner chardonnays to consider, including non-oaked offerings, and plenty of lesser-known white varieties. As for reds, there is also no shortage of delicious and delightful lighter wines, and they'll be even more pleasing if you chill them slightly.
Whites:
Domaine de Bernier 2014 Chardonnay, Loire Valley, France $11 A real bargain. Crisp and citrusy with a nice mineral touch and just a hint of oak. Alcohol 12%.
Santadi Villa Solais 2014 Vermentino di Sardegna, Sardinia, Italy. $12. Vermentino is Sardinia's signature white, and this one is fresh and lively with green apple, lemon and mineral notes. Alcohol 12.5%.
Sigalas 2014 Assyrtiko, Santorini, Greece, $20. A beautiful example of assyrtiko grown in Santorini's famed volcanic soils. Complex, with apple, lime zest and floral notes. Alcohol 14% (but feels lower).
Rosés:
Hecht & Bannier 2014 Rosé, Languedoc, France. $12.This blend of syrah, grenache and cinsault shows spicy strawberry and cherry notes with a touch of cream on the finish. Alcohol 12.5%.
Bodegas Aragonesas 2014 Solo Rosado "Centifolia," Campo de Borja, Spain. $13.Made from garnacha (grenache), aromatic and complex with tastes of strawberry, tropical fruit and spice note. Alcohol 13.5%.
E. Guigal 2014 Rosé, Côtes du Rhone, France. $14.Another classic blend of grenache, cinsault and syrah with red berry, herb and spice notes, including a touch of cinnamon. Alcohol 13.5%.
Reds:
Tom Gore Vineyards 2012 Cabernet Sauvignon, California. $15.Balanced and accessible with pretty red and dark fruit tastes, an herbal touch, subtle oak and refreshing acidity. Alcohol 13.5%.
Bodegas Borsao 2014 "Viña Borgia" Garnacha, Campo de Borja, Spain. $7.Refreshing, bargain garnacha made without oak, showing black cherry, minerals and spice. Alcohol 14%.
Domaine de la Chanteleuserie 2013 and 2012 Borgeuil "Cuvée Beauvais," Loire Valley, France. $16.Both vintages of this cabernet franc are superb, with ripe cherry and dark-berry notes, fine tannins and hints of mocha. Alcohol 13%.
Edward Deitch is a James Beard Award-winning wine critic. Find many more of his wine reviews and commentary on his blog, Vint-ed.com, and follow him on Twitter.